More Than A One-Time Problem
How single use products are hurting AU's progress with minimizing waste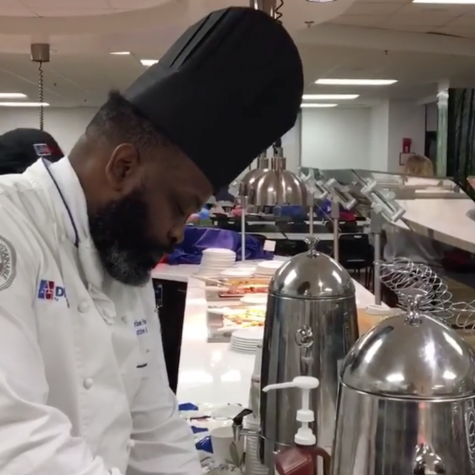 Courtesy of: AU Dining
On Wednesday, Mar. 21, American University was closed due to weather conditions. Students were told that the Terrace Dining Room would operate on normal dining hours, but other school buildings may be closed. Trekking from Anderson Hall in the snow, freshman Colleen Baldwin went to TDR for lunch.  Immediately upon entering, she saw students carrying paper plates, plastic cups, and plastic utensils.
"What is happening? Where are all the washed utensils and plates?," Baldwin  said. "It really frustrates me because a lot of people will see a lot of waste happening and they won't do anything about it. If you're a green person, saying you want to protect the environment you should follow those policies," she said.
After angrily eating her lunch, Baldwin decided to ask one of the employees collecting the students' trash in front of the dish-conveyor belt what was being composted.
"He said, 'yeah, all this goes to compost' but how can the plastic utensils and cups be composted?," Baldwin said. "They didn't have the labels and it's just the same thing that happened before with cross-contamination if it does."
In an email from American University's One Card and Dining Office they said, "As the entire dining management team is new, and we are currently reviewing sustainability efforts within AU Dining, we are not available to interview with you at this time."
In 2010 AU developed their Zero Waste Policy with the goal of diverting 100 percent of the school's waste from landfills. The year before, the AU's Office of Sustainability, established a three-tiered approach to engaging students, staff, and faculty in their sustainability initiatives. According to the AU Policy on Sustainable Purchasing, their mission is to  limit "The social and environmental costs and benefits resulting from a product over its lifespan, from raw material acquisition, manufacturing, distribution, use, maintenance, and end of life management."
American University's strategic plan calls for "an active pursuit of sustainability" on campus, whose goal is carbon neutrality by 2020. The 2014 sustainability plan is to reinforce the action items to all aspects of sustainability. Several of the goals include purchasing greener products and sending almost no waste to landfills.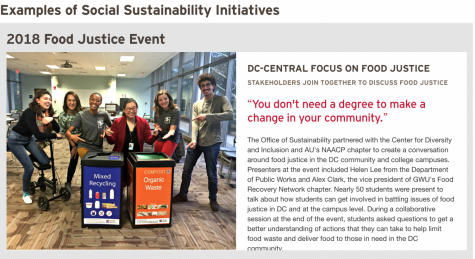 Screenshot From AU's Social Sustainability Page
The most important elements to single-use product reduction involve the current incentives of the AU Dining Office. Aramark, AU's dining services provider, incorporates sustainability into their food purchase and recipes. "Meatless Mondays" in TDR highlight the environmental benefits of a reduced or meat-free diet and the trayless dining hall to reduce food waste. Similarly, AU prides itself on offering a Farmers' Market, bringing seasonal fresh foods right to the students' door.  
Aramark partners with Green Thread, their environmental sustainability platform, to "reduce the environmental impact within our operations" as noted on the AU Dining website. Implementing policies such as supporting local farmers and composting have taken great strides toward Aramark's sustainability goals. However, the single-use products the university continues to use perpetuates a lifestyle full of continuous waste. This needs to end.  
Admittingly, AU is much better than most Universities in regards to sustainability efforts. Ranked by The Princeton Review as one of the top twenty most sustainable schools in the nation, student criticism must ensure to promote continual change.
The dining services on campus continue to hand out plastic utensil sets wrapped in plastic. The problem with these sets is that even if a student only needs a fork, they must get three more pieces of plastic that must be recycled. It's the infrastructure that matters: the laws, the economic relationships, the physical structures we inhabit. To use some righteous hippie language, it's the system that's gotta change, maaan. We have to establish a system in which it's easy and natural for people to live sustainably. AU is getting there, but it isn't there just yet.
"Every time TDR's machines break they use non-compostable plastic utensils,"  sophomore Ellie Sagan, an environmental science student, said. "A lot of the buildings have gross water fountains with weird water bottle fillers and there are no water fountains in dorms besides the ones in the lobbies so it makes sense students buy water," Sagan said.
But water fountain issues are not the only problem with single-product usage on campus. Students can also run into difficulty with sticking to technology usage in terms of attempting to reduce their paper consumption. For example, rather than taking notes with a notebook some students want to be more green by taking notes on their laptops. While professors encourage "technology-free-classrooms", students that strive to be a more environmentally friendly struggle with finding a middle ground.
"Most of my professors have been fine when I say I do it because of environmental reasons," Eden Skopp, a junior majoring in biology, said. "I bought a stylus so I can handwrite my notes – when I remember to charge it – and the rest of the time I take notes on my laptop. It works for me and it helps the planet so I call it 'going digital'," Skopp said.
The culture around recycling is positive if it gets people to act towards change. That same mentality can be dangerous since it can lead us to feel that even though we're consuming lots of plastic, paper, and meat, we're still helping the environment. In reality, we'd all do better to consume less in the first place.
The introduction of the single-stream collection means that people can put all of their recyclables in one place. The shift from deliberate sorting to a hodge-podge method proved the skeptical AU student's subtle fear was true: our composts were going to landfill for more than a year. In 2016, AU renewed the contracts with the facility that had suspended the University in November 2014 after receiving contaminated waste, an issue Baldwin is worried about happening again.
"I get really frustrated because they won't separate their trash," Baldwin said. " I go into my lounge and see plastic water bottles in the 'Trash' bin, so I move it. Or people don't turn off their lights and should. They need to commit to recycling, composting, and using less energy," Baldwin said.
There is a positive side to the sustainable efforts on campus. For example, all of the single-use products given by the Davenport Coffee Lounge are either compostable or recyclable. Similarly, Starbucks on campus follows the same policy as any other independent-Starbucks, giving students 10 cents off if they bring their own personal cup. Again, it's the small victories that show improvement but it's the criticisms that allow growth.