Students have new meal options this fall, including a Panera Bread on the first floor of Mary Graydon Center and a future Qdoba in the Tunnel.
American University Dining also added new stations in the Terrace Dining Room and renovated Starbucks and Subway, according to Assistant Vice President of Campus Auxiliary Services Michael Scher. 
Starbucks and Subway hadn't been renovated in 10 years, Scher said. 
The changes came after some students criticized TDR and asked for different food on-campus last semester, according to a March AWOL article. 
Panera Bread will serve sandwiches and other cafe dishes like pastries, soups and flatbreads, according to American University's DineOnCampus website.
TDR staff members now run and stock stations serving new foods, such as rotisserie meat, allergen-friendly salads and smoothies.
In the Tunnel, there is now a renovated Subway with new furniture, walls and branding. Starbucks, also in the Tunnel, gained a new lounge, ordering counter and is also now serving nitrogen cold brews.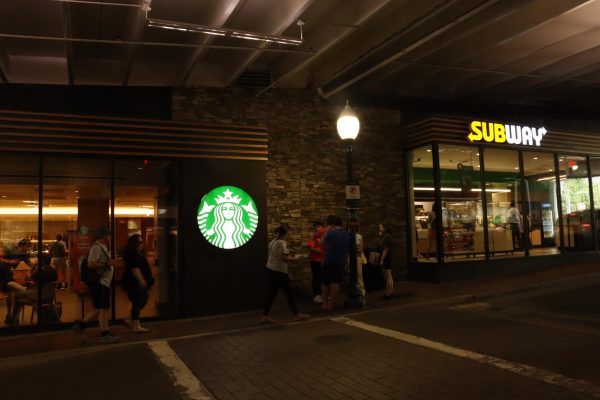 However, Qdoba may not be open until as late as October, according to AU Kitchen Resident District Manager Lou Christopher. Christopher said the fast-casual restaurant is still under construction and requires a certification of occupancy, a business license and a health inspection.
Christopher said AU Dining will offer free samples of Qdoba food in the MGC tavern until Qdoba opens, but did not say when and how often the samples will be offered. 
Internal Communications Manager Jasmine Pelaez said students can order from Panera starting the first week of classes during its soft opening and the restaurant will be fully open Sept. 4.
"During a soft open, we will test orders and make a limited menu with limited hours at no cost to our community while we ensure we are ready to fully open," Pelaez said.
Christopher said that AU Dining had not acquired a health inspection for Panera as of Aug. 23. Pelaez said they will acquire one before Sept. 4.
When Panera fully opens, people will be able to order from 7:30 a.m. to 8 p.m. Monday through Thursday, 7:30 a.m. to 6 p.m. on Friday, 8 a.m to 6 p.m. on Saturday and 8 a.m. to 8 p.m. on Sunday, according to a dining hours document provided by Pelaez.
Students can use meal exchanges at Panera Bread to buy bagels and oatmeal for breakfast, according to a meal exchange document provided by Pelaez. 
For lunch and dinner, students can use meal exchanges when ordering two dishes from a menu of soups, salads, sandwiches and bowls in addition to a side of fruit and a beverage, according to the meal exchange document.
AU Dining changed meal plans over the summer in addition to adding and renovating venues, according to a July AWOL article. 
Meal plans now renew meal exchanges every week, according to the AU website. Students using all-inclusive premium, plus or standard plans can use meal exchanges 21, seven or five times per week, respectively. Students using the all-inclusive basic plan cannot use meal exchanges.
AWOL toured Panera's kitchen, which is stocked with produce, meat, bread, a walk-in freezer, a Baxter oven and a bakery proofer. Panera replaced Einstein's Bagels and Paper Lantern on the first floor of the Mary Graydon Center.
Scher said Einstein's Bagels opened on-campus in the Fall 2003 semester. Before that, Scher said, the space was occupied by two other venues, but did not say what those venues were.
Paper Lantern opened in the Fall 2022 semester, according to AU's website.
Auxiliary Services staff will also add booths and working spaces in Panera's surrounding area, Scher said, making MGC's first floor "a full-on cafe space."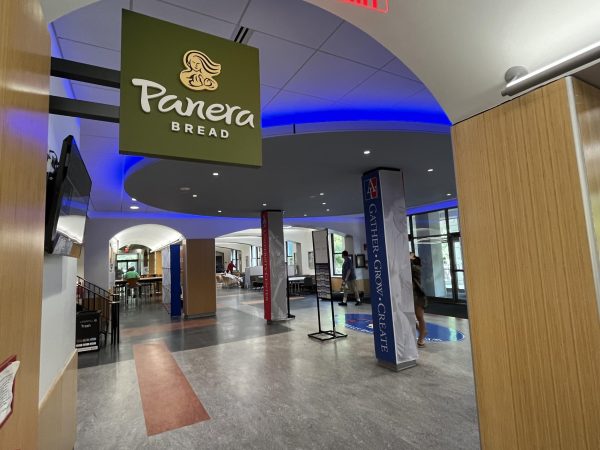 Scher said the cafe space will be designed to offer breakfast, lunch and dinner. He said students often only ate at Panera's predecessor, Einstein's Bagels, in the morning.
Unlike Panera's week-long soft opening, people will have to wait until they can order burritos, nachos, bowls, salads and tacos from Qdoba.
Once open, students can use meal exchanges for one of those items filled with veggies, chicken, ground beef, chicken pulled pork or hot sauce, according to the meal exchange document provided by Pelaez.
The dining hours document provided by Pelaez said students can order that food from noon to 9 p.m. Monday through Thursday, noon to 7 p.m. on Friday and Saturday and noon to 9 p.m. on Sunday.
AWOL also toured the newly renovated Terrace Dining Room, which has new options for breakfast, lunch and dinner. 
Christopher said the dining room now serves smoothies for breakfast, with staff cycling through one fruit smoothie and one veggie smoothie every day. The smoothie station replaced the pastry station from last semester. Christopher said students can now pick up pastries near the salad bar.
Scher said AU Dining staff brought back a soft serve ice cream station in TDR based on student feedback. The staff also added a nearby coffee bar and a pasta station next to pizzas.
On the other side of TDR, students can order fresh slices of rotisserie meat at what used to be an omelet station. Christopher said rotisserie meats were highly requested by students, and a "fantastic oven" will ensure the meats stay fresh.
Although the rotisserie station replaces an omelet station, omelets will still be available at TDR, Christopher said. 
Christopher said that the new United Table station serves a variety of "authentic cuisines." The station is near the rotisserie station and is next to the new allergen-friendly salad station.
Christopher said the AU Dining staff chose the locations for the new stations based on the infrastructure needs of the dishes, including water and electricity usage.
Starbucks also has new menu options for students and members of the community.
AU Dining installed two espresso machines that can serve cold brews and nitrogen cold brews, which AU did not offer previously, according to Pelaez.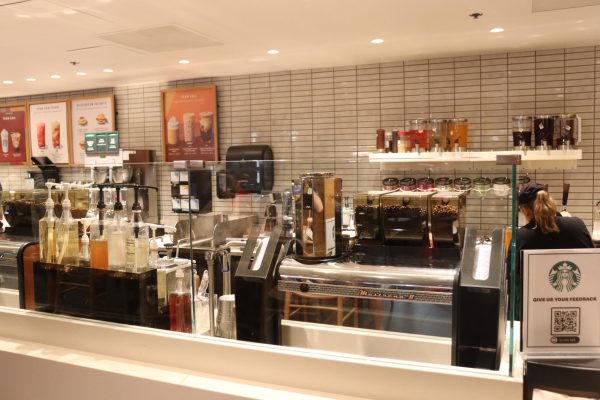 "With this upgraded system, we have a more efficient process for serving all cold brew drinks," Pelaez said.
Students can enjoy their coffees and baked goods amidst a renovated Starbucks interior with new furniture, a new ordering counter and a new back wall, Christopher said.
Christopher said Starbucks required those changes when AU renewed its franchise license. The license required franchisees to follow standards for delivering drinks and foods, according to Article 9.3 of the Starbucks Standard Terms & Conditions of Purchase.    
AU Dining staff also had to renovate Subway as part of their franchise renewal, Christopher said. Subway franchises are expected to remodel every five to ten years, according to Subway's franchise FAQ.
AU's Subway remodel included a new ordering counter, a new floor, a neon sign of Subway's "S" logo and reorganizing the chip display.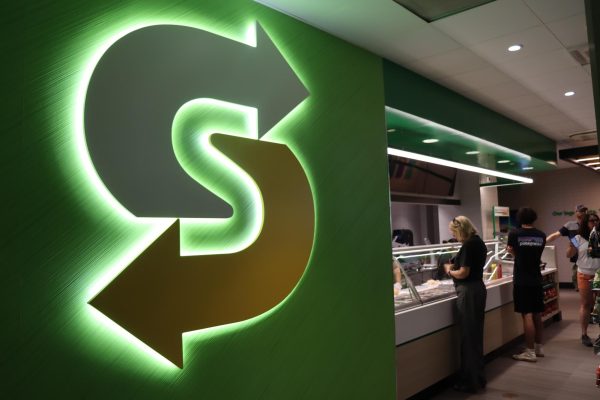 Scher said both Subway and Starbucks had not been renovated in about ten years. Students told AU Dining it was time to bring new venues to campus and change TDR, he said. 
Christopher said they replaced Einstein's Bagels with Panera Bread because ordering data showed students weren't eating at Einstein's Bagels throughout the day and would often spend EagleBucks at the Panera Bread in Tenleytown.
Scher and Christopher said student feedback forums like the Student Dining Committee and Dining with Directors events helped inform their decisions. Information on those events were posted on AU Dining's Instagram last semester.
Christopher said 10 to 15 people usually attend Dining with Directors meetings, but he would like 30 people to attend. He said about 10 people attend the Dining Committee meetings.
AU Dining leaders invited students to meet with them Wednesday during move-in week "to answer all of your dining questions," according to a post from AU Dining's Instagram.
"The goal is to meet everyone," Christopher said.