Freshens plans to add more food options two months after its initial opening
Freshens, one of AU's newer food venues, plans to offer more options at their storefront after spring break, according to a university news release. American University said on March 1 that they would add new fruit produce to match the spring season along with other beef and vegetables.
The new food service, replacing Build Pizza, first opened its doors Jan. 17, according to an Instagram post from AU Dining, along with the East Campus Grocery, which sells fresh produce. The additions come over two months after the store was able to solidify its offerings.
Freshens currently offers fruit smoothies, rice bowls, melt sandwiches and quesadillas, according to the displayed menu. The store now sells boxes of various fruits and vegetables for 69 cents to $3.29 each and is located in the middle of the East Campus convenience store, replacing a few shelves of food. 
From 9 p.m. to midnight, the Freshens venue offers a late-night menu under the brand Cravetown, according to American University's DineOnCampus webpage and a Jan. 19 email addressed to the AU community sent by AU administrators. 
First-year student Morgan Davidson said the new venue was appealing to her. 
"This is useful because I can use my meal swipes for something that's both good for me and also not expensive on my end," Davidson said on the first day of the soft opening. "If I'm going to be paying for a meal plan, I might as well get good food for it."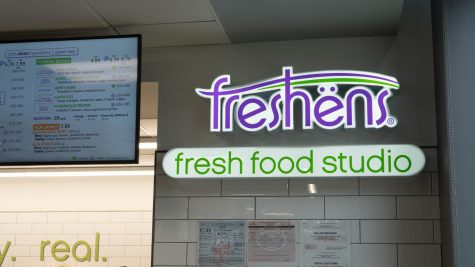 One meal swipe purchases a small or regular smoothie or one of Freshens' other nine entrees in addition to a drink and a side of chips or fruit, according to an AU Dining sign at the East Campus store. The same sign says students can also use meal swipes to purchase Hissho-brand sushi or Jack & Olive products from the East Campus store, which were available last semester. Meal swipes cannot purchase produce, however, according to AU's DineOnCampus website. 
Davidson said Freshens seems like a better option to her than other on-campus options like the Terrace Dining Hall. 
"I feel like there isn't really a lot on-campus that I really view as being fresh or nutritious; TDR is definitely not up there on that," she said. "I was looking for something that definitely could give me a fulfilling meal without feeling like it was too heavy."
Students' health consciousness is what inspired AU to bring in Freshens and the East Campus Grocery, according to Kelly Combs, a marketing manager for Chartwells, AU's dining services provider. 
"Halal Shack came and replaced our smoothie concept, Create, that we had in MGC, so the goal was really to bring smoothies back as well as some other fresh, maybe healthier-seeming foods for students," Combs said. "We find that there's a big demand for salads, sandwiches, and more fresh, healthy food concepts and the student population here definitely likes smoothies."
AU Dining opened Freshens earlier than expected because of that demand, according to Combs.
"Really, the goal with that is to bring more grocery, market-type items as close to campus as possible," Combs said.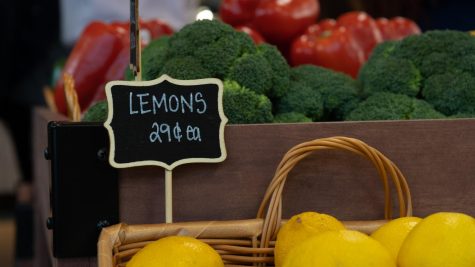 According to Combs, AU Dining used Freshens' soft opening to figure out logistics. 
"I know we had some shipment issues getting every single thing on the [Freshens] menu with this shipment," she said. "A lot of the foods are fresh, so we want to make sure we can get it in fresh."
That involves working with local suppliers, including, but not limited to, Airlie Berkshire Farms, to determine the permanent menu, Combs said. In addition, she said, AU's dietitian, Taylor Guskind, was consulted to ensure the menu accommodates dietary restrictions.
"It's kind of been a whole collaborative effort, doing a little bit of research in the area, making sure we can get our hands on it and making sure it's nutritionally adequate for multiple groups of people," Combs said.
Jacob Fishman said he saw the new food and thought of past safety issues in MGC. 
"I think AU's past with food, in general, makes me skeptical that they're bringing in things like fresh produce, knowing that they need to be well-kept, which was a big issue last semester," Fishman said. "It makes me a little wary of eating it."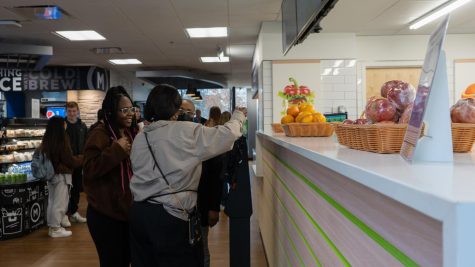 MGC's Sept. 28 health inspection report said the venue lacked trash cans, thermometers and health inspection reports in appropriate places and food handlers were not frequently washing their hands.
MGC health inspection reports from Sept. 21, 2022 and March 23, 2022 said venues had problems with their appliances and tools, too. Refrigerators were too hot, sinks had issues with hot water and blockages, food surfaces weren't clean and utensils and food were stored improperly.
The reports also said MGC venues didn't have permission to cook sushi rice and were improperly recording food safety. Additionally, the report said that MGC were incorrectly making their license and inspection reports available to consumers.
In addition to Fishman's uncertainty about the safety of the store's produce, he said he isn't sure of the venue's variety. 
"It's definitely an improvement to what they had before, but I don't know if I could get everything that I need here and not have to go anywhere else," Fishman said.
Sophomore Kennedi Rush said she thinks the on-campus produce will lessen the demand for groceries in local areas.
"I feel like it's nice because it's closer to campus than having to go to Tenleytown and going to Target," Rush said. "A lot of the time, the Target is going to be out of a lot of things because a lot of AU kids go there. So I think it will stop the flow a little bit more and help keep the stock going."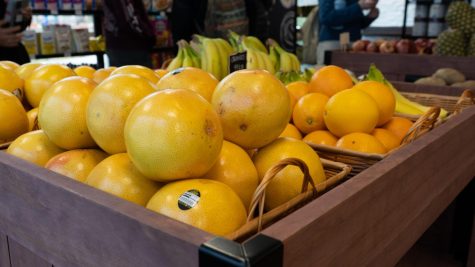 Rush said she hopes the new options will improve productivity and long-term health and make walking between classes easier.
"It's quick and easy and it has good add-ins that a lot of college students don't really get," Rush said. "I feel like a lot of college campuses have a lot of greasy foods [that are] bad for you." 
AU Student Government President Chyna Brodie said she's glad students enjoy Freshens and Cravetown at the grand opening. She also praised AU Dining staff, thanking them for the venues. 
"Keep enjoying it, keep eating it; Let's go Freshens!" Brodie said.