#HandsOffGianna: AU students protest in solidarity with black student pulled out of her room
Black students and allies protested against police treatment of a black female student on campus Monday afternoon. 
Black organizers led students from Constitution Hall to the Mary Graydon Center and directed them to form a barricade, blocking the entrance of MGC. White allies stood in the front with black students elevated on the higher steps. 
As the protest continued, numbers grew from around 30 participants to over 130, with several students who saw the protest in progress deciding to join in. 
The protest stemmed from a video shared around AU's community showing AUPD and MPD officers forcibly removing a black AU student from her room at Frequency Apartments. Other AU students, including Junior Emma Kendrick, were told to remain in their apartment during the arrest when they looked out to see what was going on, said Kendrick. 
Organized by students with the help of Black Lives Matter DC, the protest "HANDS OFF GIANNA" aimed to recognize the experience of black students on campus and question the police response to the student's case. 
Students chanted "Black students matter," "Shame," and "Say her name" through megaphones to a crowd of students and faculty members. 
"We're people – not props," said Helen Luffy, one of the protesters who chanted through a megaphone. "We're on all of these pamphlets and things, it's always 'look how diverse AU is,' but then the inclusive aspect is forgotten otherwise." 
According to protest organizers, the student was accused of assaulting a white student whose identity has not been released to the public or to the black female student. AWOL has reached out to the university's Communications department to verify this statement. 
The protest was held today because a conduct hearing was held in Constitution Hall on East Campus to determine whether the black female student had violated the Student Conduct Code. The student had not stepped onto campus in a month, according to her friend Shelly Pevchin.
"The administration has been very fickle," said Pevchin. "We want the university to see that we know what [they] are doing and we're not going to let them get away with having these discussions behind closed doors." 
Other student protesters said they felt they attended the protest because the issue hit close to home for them. 
"That could be me," said Clara Lawton, a black student who protested outside MGC. "It makes me feel unsafe to be on this campus."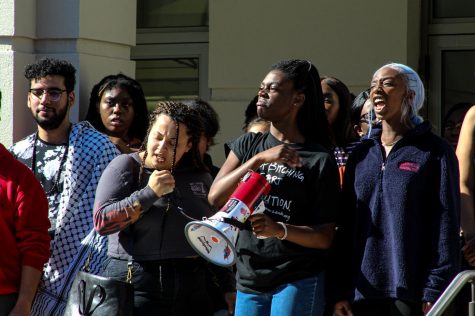 "I want [President Burwell] to make it clear that black students matter on this campus," said Lawton. Lawton said that a response from President Burwell and the administration would show that "they saw us, that we did something that mattered."

AWOL has reached out to the Office of the President for comment and will update this story with their response. 
Monday afternoon, the conduct council decided that the student did not violate the university's conduct code.
Chyna Brodie, an AU freshman who helped organize the protests, spoke to AWOL after the student left her hearing.

"I am so happy, this is not the end it is truly the beginning," said Brodie. "Women of color and black people on this campus have been abused and discriminated against, to see them make this decision, the right decision, truly means a lot."
Brodie said that if the administration does not respond to their protest it would be a "declaration of where they stand on people of color on this campus." She said that protesters want more than an "email" or a "twitter thread." 
"This isn't an issue just for black people, this is an issue for everyone," Brodie said. 
The Center for Diversity and Inclusion will not be making an official statement and told AWOL reporters that they are playing the role of "CDI Switzerland. We are neutral. We have to be inclusive. We stand on the side of justice." 
The university released an official statement Monday afternoon following the protest. 

Protesters like Luffy and Lawton said that they hope the continued protests could reshape AU culture and make students of color feel more welcome on campus. 
 "To be a black student at AU means that you are constantly aware of your race … we want to be seen as more than our blackness and as actual students, as human beings," Lawton said.  
UPDATE: A previous version of this article listed the student's full name. This has been changed due to privacy and safety concerns.
Grace Vitaglione, Shane Ryden, and Benjamin Weiss contributed reporting and multimedia to this story.