Video Shows Police Carrying Student Out of Her Apartment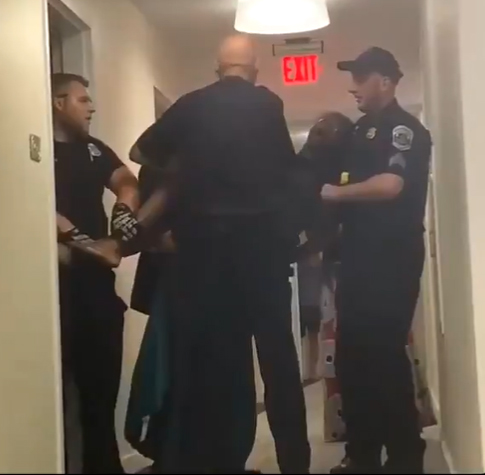 A black female student was carried out of her apartment by police Friday night, inciting outrage on American University students' social media pages. 
A video posted Friday by a former AU student on twitter showed police carry a student out of her apartment:
URGENT: @AmericanU has allowed for their clientele and DC PD to violently attack and remove a young Black student from her home without proper evidence. When is it EVER ok for a young woman to be attacked by MULTIPLE cops. AU doesn't care about its Black students. #HandsOffGianna pic.twitter.com/7NZP0gyCHC

— Aminta (@tangibleunknown) September 27, 2019
The incident in the video happened at Frequency Apartments, which AU leases out for juniors and seniors. 
It has not been confirmed whether or not it is American University Police or the Metropolitan Police at this time. However, the university has confirmed that AUPD was involved in the incident. 
There is no evidence of racial bias at this time. 
Director of Campus Life Fanta Aw issued a statement saying that the university knows students "may be concerned." 
"AUPD and DC Fire followed standard operating procedures when addressing the situation and ensuring the safety of all involved," said Aw in the same statement.  
Following the incident, the university tweeted a statement out: 
Complex situations such as this one often involve more than what is seen in a short video or a social media post. We must be careful before making any conclusions based on limited information.

— American University (@AmericanU) September 29, 2019
AUPD, the Office of Campus Life, the Counseling Center and Housing and Residence Life were all involved in the incident, according to the university. 
AU students have been tweeting using the hashtag #HandsOffGianna to demonstrate their outrage. 
tw: police brutality @AmericanU is this how you treat black students? i don't care what the circumstance is; this is horrendously violent, invasive, and unacceptable. #HandsOffGianna https://t.co/24Cc0ny9te

— grim (@TlDDIES) October 1, 2019
This happened at my school four days ago. Four. They just released a bs statement and no one else has said anything since.

Why is no one talking about this? Why is no one questioning this? No one should be treated like this. #handsoffgianna https://t.co/m5Ij3Qnvwh

— Ngakiya Camara (@kiya_cam) October 2, 2019
AWOL has reached out to American University Police for comments regarding their involvement and were referred to the Office of Campus Life. At this time, there is no verified information about the student's location. AWOL will not be releasing the student's name.
This story is developing and will be updated as AWOL receives more information.