Angela Davis was "inspiring" to students, some disappointed with the "institutional" framing of the event
The iconic abolitionist left students questioning racist institutions
Black feminist and prison abolitionist Angela Davis spoke to American University students about sustainable activism, the global prison industrial complex and antiracism during a Zoom event on Sept. 18. Speaking as part of the Black Lives Matter series, Davis helped students to question the role AU plays in perpetuating harmful systems.
Davis was a Black Panther, the Communist Party's Vice Presidential nominee in 1980 and 1984 and a prominent activist against the Vietnam War. She is also the author of a number of books on abolition and anti-capitalism that have gained new popularity amidst the increase in Black Lives Matter demonstrations since early this summer.
"This is a unique historical moment, but it is also an extension of age-old struggles," Davis said. "I think we experienced a unique convergence of a number of developments that could never have been foreseen or could never have been predicted… Who would have ever imagined that the largest antiracist demonstrations in the country would occur under these conditions?"
Davis also discussed the Black lives matter movement, practicing self care, and the power of education. She spoke to the importance of intersectionality, referencing the Combahee River Collective and their statement.
"Of course racism is the original sin of this country, but I think we still tend to think in masculinist terms," Davis said. "We have an example of a Black woman [Breonna Taylor] who was also killed by the police during this period. Tony McDade, a trans man, was killed by the police. We continue to struggle to perceive and apprehend with an intersectional framework.  We have to remind ourselves that the struggle is also about Black women's liberation, it's about Black nonbinary people's liberation. It's about the liberation of us all."
Senior Lama Mohammed and Junior Kelcy Ramirez were both familiar with Davis and her work before the event.
"I already had this total admiration for her. She is always as awesome as ever," said Ramirez, who described herself as "an abolitionist already."
For Mohammed, the event humanized Davis and made her feel closer to her.
"She's an iconic figure, and she almost doesn't seem real," Mohammed said. "It definitely made her more personable and very human. When we look at icons, [we see them as] very invincible people … but they're people in the end."
Cheryl Holcomb-McCoy, dean of the School of Education, moderated the conversation. Questions were provided by sponsoring student organizations and audience members. to the Kennedy Political Union and Dean Holcomb-McCoy.
Junior Arden Lesoravage said the event surpassed the expectations of Students for a Just Society, a nonpartisan research-based criminal justice organization working to open up discourse amongst members and the community.
"Hearing her words of activism was really inspiring to us, and it makes us really excited to know that someone who's older and more respected in the field has faith in the youth of today," Lesoravage said.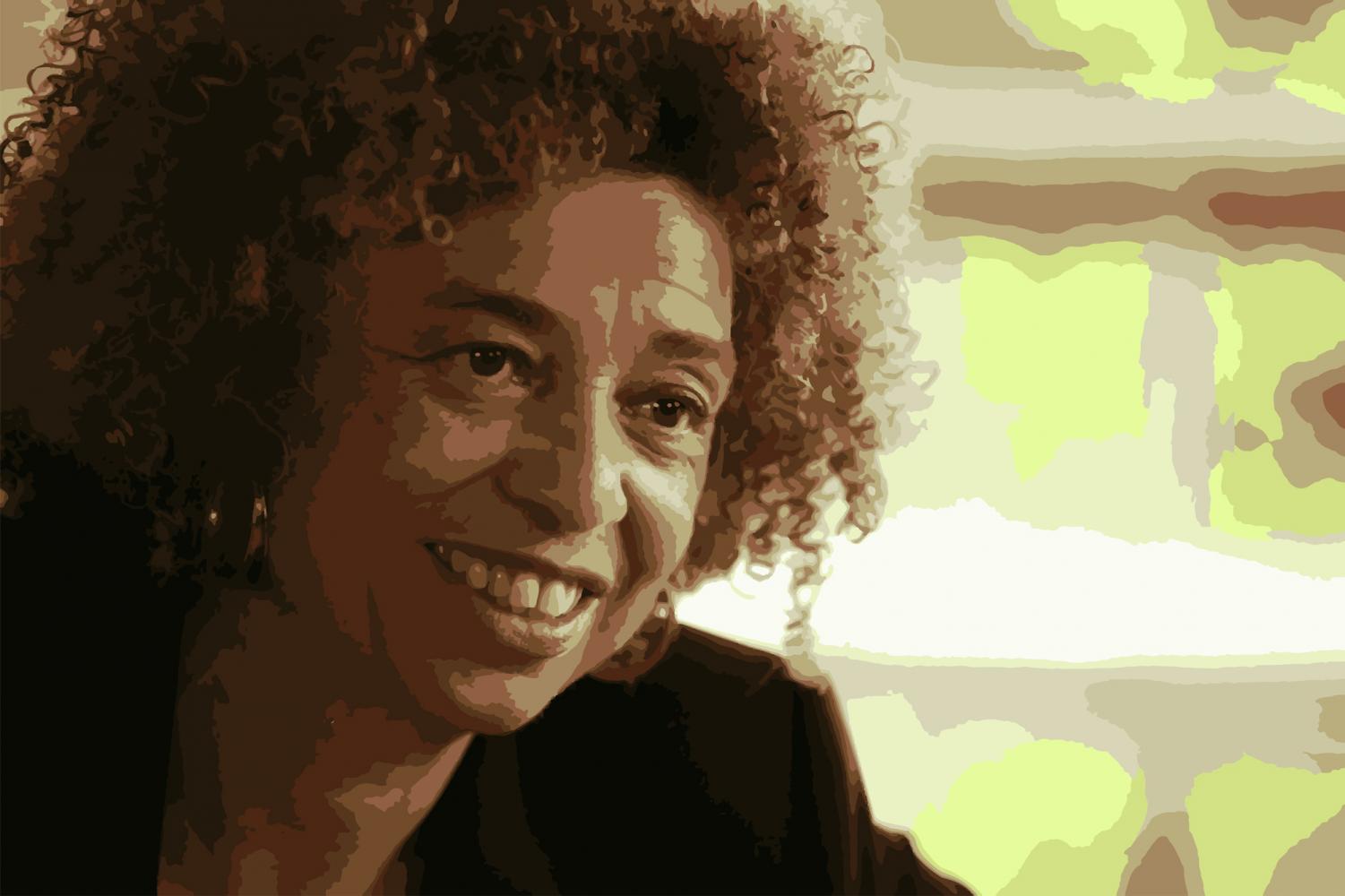 Despite praise for the event, both Mohammed and Ramirez wished the event had focused more on student questions. Ramirez characterized the questions as coming from "the institutional organization" rather than the students.
Mohammed submitted a question about the culture of silence for Black women and other women of color when speaking out about violence within their communities that Holcomb-McCoy did not ask Davis. Mohammed explained that Black, Indigenous, and women of color are often hesitant to speak out when men in their communities are violent to protect the men from possible backlash, and that there is an idea that "women have a responsibility to protect the men in their communities, regardless of what happens to [women]."
"I wanted her to emphasize more on what women can do to break this culture of silence about violence within our communities and what role men have to do to empower and believe the stories of Black women," Mohammed said, who recently wrote an article on the topic for The Blackprint, specifically about Megan Thee Stallion's experience.
At the end of the event, Davis asked for a list of unanswered questions and said she would address them in other forums.
Ramirez said she felt that some of the questions were unnecessary because Davis is such a well-known figure and that Davis gave diluted answers due to the set-up of the forum. For example, Davis was asked if it was necessary to move away from capitalism to create a socialist society.
"We need some kind of socialism," Davis said. "Capitalism is not working now — as we see, the wealth of the planet is increasingly concentrated in ever-smaller numbers of people."
Ramirez said she believes Davis mentioned the need for socialism before communism "mostly for the audience."
"She's already said that she's a communist," Ramirez said. "I feel like she was kind of pressured into saying that because although AU calls itself liberal, the institution itself is not liberal."
Mohammed also critiqued AU as an institution that serves its white majority that often acts hypocritically. She felt that the Zoom format allowed for more listening from non-Black students.
"I love AU, I'm glad that people are really active about social justice, but I feel like sometimes because we go to a predominantly white institution (PWI), [white students'] need and want to do the most can silence other people from speaking about their actual experiences," Mohammed said.
When Holcomb-McCoy asked Davis about antiracism, particularly at AU, a PWI with one of only two antiracism centers in the country, Davis highlighted the need for justice and real solutions.
"Don't assume that simply establishing diversity and inclusion offices is the answer. People are always looking for easy solutions," Davis said. "Every university campus has a diversity and inclusion office or something like that. Are you going to simply diversify and engage in policies of inclusion within structures that remain exactly the same as they were when they were responsible for the lack of diversity and for exclusion?"
Less than a week after Davis spoke, rapper and activist Noname participated in the second keynote conversation of the Black Lives Matter series.
The series is a collaboration between the Women's Initiative, the Kennedy Political Union, The Black Caucus Committee, the Student Union Board, and the Antiracist Research and Policy Center. This summer, the Antiracist Research and Policy center hired interim co-directors Christine Platt and Malini Ranganathan. They told AWOL that one of their goals was to connect more with students and student organizations.
"I think [the Black Lives Matter series] restores my hope in the future of the Antiracist Research and Policy Center," Mohammed said. "I feel like this re-emphasizes that AU does care about their Black students and that they're actually trying to educate the community."
CORRECTION: A previous version of this article misspelled the Dean of the School of Education's name.