Accountability, Transparency and Diversity: A look into AUSG candidates' spring campaign promises
In preparation for this week's election, American University Student Government candidates have been posting campaign promises and plans for their term the past few weeks. The most prominent agenda items included accountability, transparency, increase of diversity and Founders Ball reform.
"We want all the same things. Everyone wants to lower tuition and everyone wants more money for clubs and more money for all sorts of things," said Tom Lebert, a senior who previously served in Angela Chen's cabinet. "Everyone wants to cut the Founders Day budget. But, you know, how are you gonna get these things done?"
Out of the 10 candidates running for AUSG official positions, all included the words "diversity and inclusion" and six have  included "transparency" in their platforms. Seven out of nine have outlined concrete initiatives for diversity and inclusion. Below is a table of candidate proposals and plans.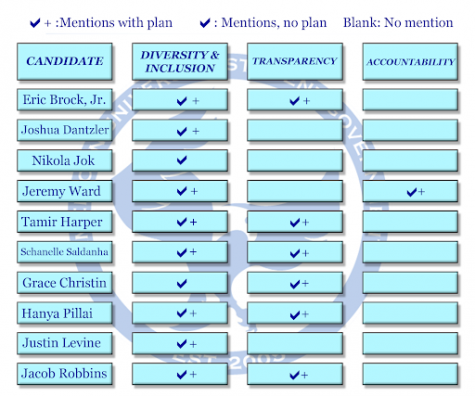 Many plans are targeted towards advocating on behalf of the student body to the administration. For example, presidential candidate Jeremy Ward proposed advocating for an increase of faculty of color on campus. Vice presidential candidate Schanelle Saldanha proposed a post-event survey on whether the event promoted diversity and equity and provided concrete results to the Anti-Racist Research and Policy Center.
Statements or events that advocate for an issue or cause are often, but not as a requirement, sent to the Center for Student Involvement to be reviewed, according to Secretary James Kwon. Kwon said that CSI has never forced them to revoke a statement.
Others have plans that involve using the AUSG allotted funds for events or implementing additional programs. Many candidates proposed increasing the amount of money used to co-sponsor events with affinity groups on campus, such as the Black Caucus and AU Pride.
All AUSG purchases are subject to four financial guidelines, with the exception of Kennedy Political Union, Student Union Board, Women's Initiative and Founders Committee. The guidelines include the use of each account for its intended purpose and that the purchase must benefit the student body as a whole.
"You're always going to see the slogans and the broad and vague statements and things I don't think that's changed. And I don't I don't necessarily think it needs to but it can't be the only thing that props up your campaign," Lebert said.
One of the largest campaign promises throughout the years has been Founders Ball reform, where candidates have proposed or advocated for ways to reduce the amount of money that is spent on the event.
The Founders Committee account is not controlled by the comptroller and therefore follows a different set of guidelines than the ones listed above. However, as part of the Budget Advisory Committee, the President, Comptroller and the Chair of the Undergraduate Senate Finance Committee are able to advocate for reducing the amount of money allocated to Founders, according to Comptroller Bobby Zitzmann.
The Budget Advisory Committee is composed of representatives from AUSG, Student Media Board and AU Club Council.
Both vice presidential candidates this year have proposed Founders reform policies in order to reduce the amount spent on the event. The vice president has the responsibility of appointing a Founders director, and therefore is able to be as involved as they desire in the process of planning the Founders Ball, according to Zitzmann.
The vice president does not sit on the Budget Advisory Committee and therefore does not have control over the amount of money allocated to the Ball.
"It's next to nothing from the Vice President," said Colin Colchamiro, the Founders Director for the past year. "He was like a great sounding board and I would run ideas past him but it was never really like asking for permission or him kind of bringing his own ideas."
Colchamiro said when it comes to Founders reform, there needs to be a balance between quality of the event and how much money the Committee spends.
"Founders could exist for a lot less money if it was held in Bender Arena. And if there was no food," Colchamiro said.
This academic year, the Founders committee was allotted $135,000. Out of that total budget, $125,000 is set aside for the Founders Ball that is held every Spring semester, with the remaining used for Founders week activities, according to Colchamiro.
Both vice presidential candidates have proposed finding a cheaper venue, which Colchimaro said is completely up to the Founders Director's discretion. He said every director has to set their own priorities for the venue, and his focus was metro accessibility. But, he said that the choice is made up for the directors by the end of the venue picking process.
"The process kind of narrows itself down because most of those to look at won't work for a price or, you know, date availability or space," said Colchimaro. "And then [the director] makes the final decision."
While there are difficulties in making campaign promises become a reality, AUSG Secretary Kwon said that large promises are not necessarily negative.
Kwon said, "You got to be realistic but at the same time you got to still push the envelope when it comes to y'know what we accomplish. For example, with the Counseling Center. Is it possible to create an entire new building? Probably not but could they move the space? Maybe."
Voting for AUSG is begins today and ends Thursday, April 16 on Campus Labs. You can vote by clicking here.