"Zoom bombers" interrupt AUSG debate with explicit messages and images
WASHINGTON — An American University Student Government electoral debate held Wednesday on Zoom was interrupted by multiple "zoom bombers," who shared sexually explicit content.
The debate for president and comptroller, which was hosted by American University College Democrats, began at 7 p.m. Around an hour later, an individual began sharing their screen. Their browser showed sexually graphic images and a page from pornography website Pornhub.com.
"All was going well," said Julia Larkin, president of the AU Democrats. "Then someone zoom-bombed pornographic images. We kicked them off the call, right when it was happening."
About 30 minutes later, zoom bombers began flooding the comment section with inappropriate and explicit messages. AU Democrats promptly ended the call.
The identities of the individuals who disrupted the call are unknown.
"This was an issue on Zoom's end, and we weren't able to lock the meeting, or invalidate the meeting ID," Larkin said. Zoom's support website said that users should be able to lock calls.
"Zoom bombing" is a recent trend where hackers interrupt video meetings, usually to wreak havoc by using offensive language or sharing inappropriate media.
Rather than hosting another debate, AU Democrats will be posting AUSG candidate-submitted videos on the AU Democrats website to compensate for time lost to the disruption.
Many candidates released statements after the debate expressing disappointment with the incident and condemning the sexually explicit comments made about women.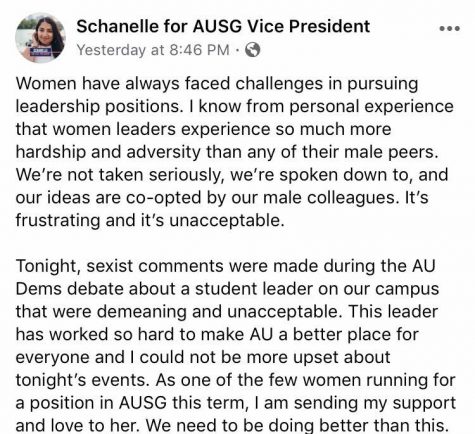 "Tonight, sexist comments were made during the AU Dems debate about a student leader on our campus that were demeaning and unacceptable," said Schanelle Saldanha, candidate for AUSG vice president, in her official statement. The statement went on to say: "We need to be doing better than this."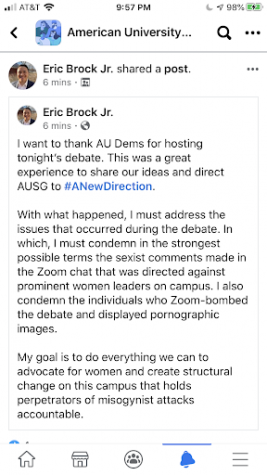 "We're not surprised that we have a lot more work to do at AU," said Tamir Harper, candidate for AUSG vice president. Following the debate, AU Democrats released an official statement addressing the incident.
"We do not know who took over the Zoom call but they should be embarrassed of their actions and recognize the harm they caused to everyone on the call," the statement said.
Content warning: Viewers may find the image disturbing due to sexually explicit comments.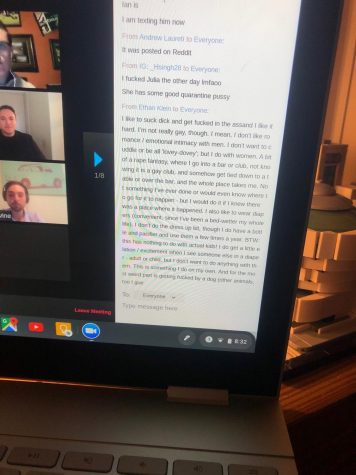 This story will continue to be updated as we receive further information.