Mardi Gras at the Wharf 2020
What happens when you take the celebration outside of New Orleans?
An elderly man with a voluminous golden wig and a splatter-painted green and purple suit stands on a bench. He cheers as swarms of people of every shape, size, color and age pass by him, trying to catch a glimpse of a parade float. Among the crowd are others  that seem to be wearing every article green, purple or gold clothing they own.
Beads, masks and hurricanes, the signature drink of the French Quarter, adorn the crowd as a catchy zydeco beat flows from the speakers. Everyone seems to be smiling. Mardi Gras at the Wharf 2020 is in full swing.
"It doesn't pale in comparison, but it's a good college try," said Louisiana native, Diana Hill, as she compared her Mardi Gras experience in her home state to the one at the Wharf.
This was the third year that the Wharf Association organized the event, which was free and open to all ages.The Wharf Association held the event to bring a bit of New Orleans to Washington.
The festival began with a parade featuring Batalá, a Brazillian-influenced all-women's drum corps, and floats from Wharf businesses.
The Crawdaddies, a cajun and zydeco influenced band, performed afterwards. Cajun and Zydeco music blend styles of Louisiana folk, French accordion, and rhythm and blues, with Creole and Indigenous music.
A fireworks show concluded the celebration.
"But it's fun. It's what Mardi Gras is; just an opportunity to celebrate the culture, have a good time with family and friends, enjoy good food, good drinks," she added.
A young woman who had just returned to Washington after visiting New Orleans tugged at her gold sequined jacket and layers of golf ball-sized beads. "I thought everyone was going to dress the way we did!"
She motioned towards a sea of averagely dressed passersby wearing a few beads, dotted with the occasional head-to-toe getup that matched hers.
Austin Huddleston, sporting an emerald green mask and a captain's hat, said, "I think at first the energy wasn't there, but I think it's budding."
As more people find out about the event, even more will come next year and it will continue to grow, he said.
Kayla Marsh, an event staff member, estimated that as many as 20,000 to 40,000 people showed up to the event this year.
"I think once people caught word of it, they were really excited about it because D.C. is a very commuter city where you do have a lot of people that grew up in New Orleans or are Saints fans," said Marsh.
Although Mardi Gras at the Wharf is a way to expose Washington residents to a different tradition, there can be some risks  to taking a unique cultural experience out of the city where it was born.
Daisy Neala Huck is a senior at American University from New Orleans. She has celebrated Mardi Gras since she was little, and her parents have even taken part in the parade.
Huck said she was weary of Mardi Gras celebrations that take place outside of New Orleans.
"I feel very protective of New Orleans and our culture," said Huck. "So it makes me feel a little uneasy when people try to…almost appropriate traditions that we have, and our lifestyle."
Huck said that the topic of appropriation is a touchy subject, since Mardi Gras itself is "appropriation of an appropriation." The celebration blends cultural practices, such as Carnival in Brazil, with French and Catholic traditions and formed its own entity in New Orleans.
Huck said that when places outside of New Orleans try to recreate Mardi Gras, there is a risk of such attempts coming across as a gimmicky knockoff. She said that for some people who aren't familiar with Mardi Gras or New Orleans, they may leave with a false impression of what the celebration is really about, or what New Orleans' culture truly is.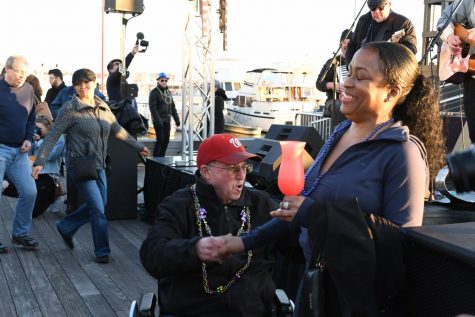 "You know, we do like to eat beignets and have parades and I do go to Bourbon Street sometimes, but those get really blown out of proportion and twisted," said Huck.
Mardi Gras isn't just "girls flashing people and beads and stuff," said Huck. "It means a lot more than thatIt's really about the people and connectedness and the family that is New Orleans."
Lots of work and celebration build up to the holiday. Throughout the entire year, teams of people build parade floats. Each one has a distinct theme.
Traditions such as exchanging King cake begin months before the holiday as well.
A tiny plastic baby is placed inside King cakes to symbolize baby Jesus, but more secular interpretations view the plastic baby as a symbol of luck and prosperity.
"Every Friday a different kid would bring a King cake and you would slice it up and if you get the slice that has the baby in it, your parents would get one for the next Friday and that would continue for a couple months," said Huck.
There is also the tradition of Lundi Gras, another celebration that falls on the day before Mardi Gras. Huck said this often takes form as a party for adults.  Festivals, parades, and festive lunches happen throughout the city on Lundi Gras as well.
In order to get an authentic Mardi Gras experience, Huck encouraged those who are curious about the celebration to visit New Orleans.
"I think that if you want to have the experience, you really need to go to New Orleans and have it," said Huck. "We want you there. We want you to experience how it is."
Check out Ava Kowalski's photo essay that accompanies this piece here.