Women's March on Washington 2020
Thousands of protestors gathered for the Women's March on Washington on Jan. 18, demanding justice on reproductive health, climate change, and immigration. 
After facing criticism on the lack of inclusion and intersectionality, the march has dwindled in attendance. 
In its first event in 2017, the March attracted almost a million people in downtown Washington. But this year, only a few thousand were in attendance. 
Opposition and Complaints This Year
Despite the attempts to improve the leadership and promote a more inclusive environment, organizations and individuals still boycotted the March.
The American University Democrats was one of the critics. 
AU Democrats posted a statement Jan. 17th, explaining they will not be participating this year because of the March's past failures to include "ALL women" in the conversation. The full statement is below.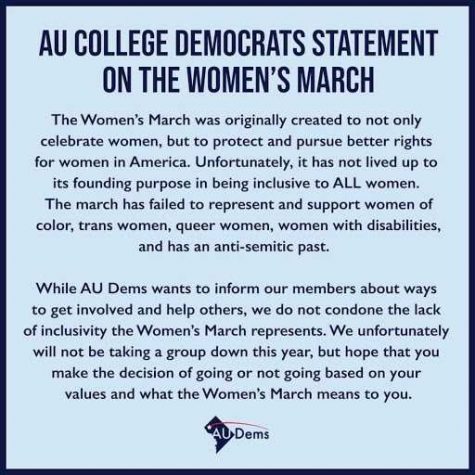 Many American University students did not attend this year's March for several different reasons. Students said they had work, overslept, or were not aware of the March. Others were more intentional in not attending this year. 
"It's just issues with intersectionality, so, I'm not fully behind it," said American University student Maria Ross. 
American University student Jules Losee said that she went to the March this year, but recognized the event's problematic history. 
"I feel like maybe the leaders of the Women's March are problematic, but the people that actually go to the Women's March have good intentions and champion intersectionality," Losee said. 
Many participants in this year's March, like Faith Lynd, said the event is a great concept in theory, but there is a need for improvement. Lynd said that one of the reasons the March is not inclusive enough is because intersectionality is not a widely known term. 
 "A lot of it has to do with intersectional feminism not being necessarily a concept that is talked about as much as it should be," said Lynd. 
Meg Vonada, another participant, said she saw a sign with penises crossed out, but the same person was holding up a sign saying "intersectional feminism." 
"That makes no sense!" Vonada said. 
Vonada also said the March has room for improvement.
"Is it fully exhausted? No. The women's march is a step in the right direction. There is still a lot of room to be more inclusive," said Vonada. 
Vonada also explained the more subtle points of inclusiveness that need to be recognized. For example, buses and metro lines were restricted this weekend, making the March inaccessible to many this year. 
Even though Lynd and Vonada do not fully agree with how the March is handled now, they both said they would still attend. 
"Every year, it gets smaller and smaller. But, I meet more and more passionate people each year," said Vonada.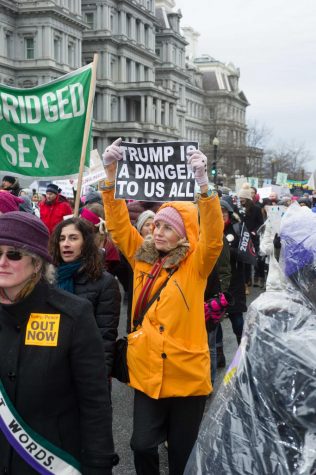 Despite the several critiques, thousands were happy to attend the Women's March this year. 
Participant Emily Speirman came because of her opposition to President Trump.
"I want Trump to be a one-term president or less," she said.
When asked if she thought the march was inclusive enough, Speirman said that she did not realize people thought of it as not-inclusive. 
Many other participants expressed that they did not realize the March was not considered inclusive of all, but that they understood that equality and recognition for all is important. 
"I think that we are here to support all people, not just white women, not just straight women, we are here to support everybody," participant Ainsley Cragin said. 
The March's History
In 2018, Carmen Perez-Jordan and Tamika Mallory, two members of the March's original leadership, were accused of anti-Semitic statements to a fellow original board member, Vanessa Wruble.
According to Wruble, Perez-Jordan and Mallory told her that American Jews bore responsibility for leading parts of the American slave trade. These claims are highlighted in the Nation of Islam leader Louis Farrakhan's book, "The Secret Relationship Between Blacks and Jews." 
Perez-Jordan and Mallory have denied these statements several times in the past, but the claims have caused many to boycott the Women's March. 
But, the March has made efforts to improve the structure and members of the board. In September 2019, the Women's March announced the appointment of 17 new members. In this transition, Mallory was one of the leaders to step away from the March. But, Perez-Jordan has remained on the board. 
"Founding Board Member Carmen Perez-Jordan will continue to lend her expertise to the new board of the Women's March. Perez-Jordan aims to use her position on the new board to build bridges between communities and mentor a new generation of feminist leaders," according to a press release from the Women's March. 
The March also made a point to appoint a diverse selection of people to combat the critiques of the lack of inclusion.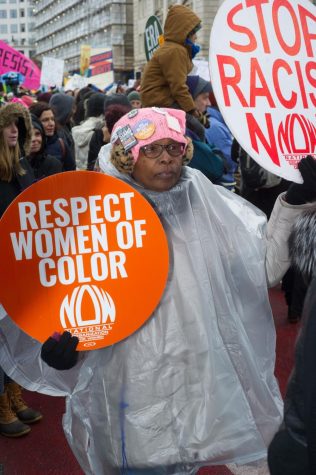 "The new board consists of leaders from a wide variety of communities, disciplines, ethnicities, religious beliefs, gender identities, and experiences," according to the press release.  
The board now includes several religious leaders, a former legislator, several Jewish women, and others.
In addition, a large set of organizations help co-create this year's March, as well, such as Planned Parenthood, Greenpeace, and SisterSong Women of Color Reproductive Justice Collective. But, organizations such as Black Lives Matter were not included in the event. 
Opening Statements and Speeches Took a Step Towards Inclusion
This year, the Women's March had a diverse selection of speakers to kick off the event. The rally began with a land acknowledgment from Hope Butler, an enrolled member of the Piscataway Conway Tribe, and is on the board of directors for the nonprofit "Indigenous Vision."
Martin Luther King III was also in attendance, and introduced his wife and known activist, Andrea Waters King, to speak. 
Waters-King highlighted that Jan. 18 is the 100 year anniversary of women winning the right to vote, and urged the audience to "use this milestone as a time of rededication and renewal."
"This can be the decade. New responsibility for each other, and new dignity for human behavior. Today I call you to remember the power that resides with you and within each of us, to remember the power that we can embrace the vision that another world is possible. We can dare to hope again," Waters-King said. 
During the March itself, the thousands of protestors performed the Chilean protest song "A Rapist in Your Path." When the group arrived at the Trump International Hotel, the thousands pointed to the building, shouting "And the rapist is you!"
Watch the Chilean protest song be performed around the world here.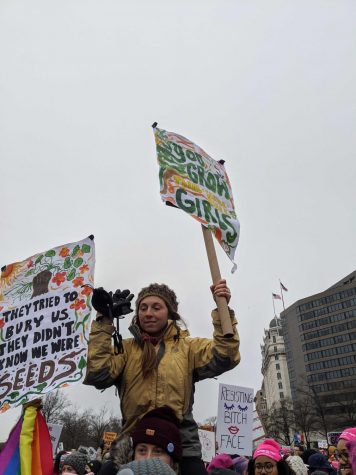 Protestors Against Protestors
Many people came to the Women's March to speak out against this year's justice themes, especially those on reproductive justice. 
Individuals held up posters of bloody children in protest of abortion rights. One poster stated "Equal rights for all women. Preborn and born."
Far-right reporters were also in attendance, such as the outlet "Info Wars." Some protestors engaged in the counter-protestors, but others refused to speak with them.