AU Swipes
The termination of a program allowing students to donate meal swipes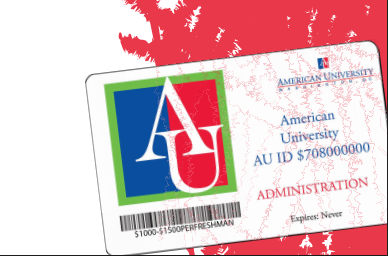 This story first appeared in the Fall 2019 print edition of AWOL.
American University student Nickolaus Mack received an email on Oct. 22, 2018, asking for the immediate termination of AU Swipes, a program where students with remaining meal swipes donate them to those who can't afford additional meal swipes or a meal swipe program. 
On Aug. 11, 2017, Mack was asked to cease and desist by the university. Faced with student conduct charges, Mack shut down the transactional portion of the program. 
AU Swipes went one academic year without any complaints from the university. During this time period, AU Swipes reached out to AU One Card and Dining Services to schedule a meeting but did not receive a response. Mack also reached out to the associate director of One Card & Dining Programs Auxiliary Services, Keesha Ceran, to talk to her about the program, but the scheduled meeting never occurred. 
"So we were pretty much like, 'okay we read the dining policy, there's nothing against it, so we're just going to move ahead,' assuming that their silence is consent on the issue," Mack said. "It was not until the second year that issues arose." 
AU Swipes recruited volunteers, typically freshman students, to join their program. Focused on food insecurity, rather than profit, Mack said that it was made clear through a new member orientation that the program would not make students rich. However, students receiving swipes  were encouraged to make a recommended, though not required, donation of $5.00. The organization recommended students giving swipes to accept any donations through Venmo and not cash. 
Ceran explained in an email to Mack in October of 2018 that the program violated Section 17, Part D of the American University Housing & Residence Life License Agreement for 2018-2019. The section states that meal swipe credits are non-transferable to individuals or accounts. Section 17, Part E also says that fall meal swipes do not roll over to the next semester, and those not used are forfeited.  
AWOL reached out to Ceran, but was referred to the Administrative Coordinator of University Communications and Marketing, Maria A. Edmonds, who responded that she was not the right person to ask because she had "never been to AU Swipes."
At the group's first meeting with Dining Services, Mack said, "We had the question with AU admin that why was our program in particular in violation of the dining policy? I told them that we were and everyone on the university campus were keenly aware that students were exchanging meal swipes between each other on a day-to-day basis."
In 2014, Julia Reinstein, a junior at AU, created Swipes for Swipes, a program where people with extra meal swipes contacted those in need through Tinder. If a student had extra meal swipes, they would put that in their bio. The program received coverage from the Washington Post, Time Magazine, and Bustle. 
"I was in the library procrastinating and everyone was either looking for meal swipes or had too many that they were trying to use up," Reinstein said. She then went on Tumblr and posted a blog with directions on how to use Tinder to get involved in donating remaining meal swipes.
When asked if she had any issues with AU after starting the program, Reinstein said that the university never contacted her with any issues. 
"I think if it had become a big thing maybe they would have done something," Reinstein said. " I don't know that it's not allowed though. You're allowed to swipe people in. We know that they've been weird about stuff like this in the past. I hope this is not the truth anymore."
According to Reinstein, AU previously collected swipes to redistribute to students in need. Reinstein said that she remembered a program in the past where AU allowed students to donate their swipes at the end of the semester, but they capped the amount at such a low number that it did not make a difference in food insecurity on campus.  
AU Dining partnered with Capital Area Food Bank in 2016 to give extra meal swipes to those in need in the D.C. area. Starting in the Fall of 2018, AU Dining, in a partnership with Capital Area Food Bank, started donating up to $10,000 in unused meal swipes to The Market, AU's food pantry located in the lower level of Letts Hall. The school does not have an existing program that allows students to donate to other students. 
Food insecurity continues to remain a problem among college students. According to an October 2016 hunger study published by the National Student Campaign Against Hunger and Homelessness, 48% of college students surveyed reported food insecurity. Data collected in 12 states found that 57% of Black students reported food insecurity compared to 40% of non-Hispanic white students.
The average cost of one meal swipe at AU is $10-15. AU requires freshmen to purchase the 175 Block Plan costing $2,442 per semester and requires sophomores to purchase the 100 Block Plan or above cosing $1,588 per semester. A freshman with 100 meal swipes left at the end of the semester has wasted $1,000 to $1,500 on unused swipes.  
Although AU no longer allows students to donate their extra meal swipes, the university has started to put programs in place to address food insecurity, such as opening The Market in the 2018-19 academic year. 
Mack said that he wanted to continue to work with the university toward a solution to food insecurity, but that it was hard to schedule an appointment with AU Dining. When Mack asked AU Dining about the specific charges they were accused of violating, he received no answer and contacted the AU Conduct Office. 
"Conduct said that our best bet would be to talk to AU Dining, who would not reply to emails on the issue," Mack said."It was never clear what we were to be charged with violating."
When asked if Mack thought the reason for the conduct charges was that his program threatened AU's profits, Mack replied, "It was mentioned by a third party in a meeting between Chuck Smith, Keesha Ceran, and Professor [William] Bellows, that this issue was rising through the AU Admin." According to Mack, someone mentioned that Doug Kudravetz, the AU Chief Financial Officer and Treasurer, was not in favor of this program particularly because it operated in such a way that it could threaten AU profit margins.
Executive Director of Auxiliary Services & AU Airlie Auxiliary Services Charles Smith, Kogod Professor William Bellows and Vice President and Treasurer Office of Finance & Treasurer Doug Kudravetz all did not respond to requests for comment.
Lana Green is a sophomore studying communications, law, economics and government (CLEG).