AU faces more federal investigations into its handling of sexual violence cases than any other university
Each year for the past five years, a new investigation has been opened into American University's Title IX Office regarding their handling of sexual violence cases.  
Office of Civil Rights cases are filed after an individual feels that the University failed to handle their case properly and decides to take it to a federal level. The investigations are no longer conducted by the University.
The fifth case was filed this year on March 12, putting AU at number one for most ongoing federal investigations regarding sexual violence.
AWOL previously reported on complaints filed in 2015 and 2016. The Eagle reported a fourth Title IX investigation being filed on Nov. 7, 2018, but there have been no recent reports on the fifth case. 
The Eagle's staff released an editorial discussing the University's lack of transparency on Title IX cases filed on campus.
No other university in D.C. is facing an investigation into its handling of a Title IX case related to sexual violence at the time of publishing of this article.
Regina Curran, the Title IX program officer in the Office of Campus Life, said that she was unable to comment on the exact number of cases filed against the University.
"We know that sexual violence is underreported, relationship violence is underreported, stalking is underreported," said Curran. "For my money, any increase in reporting in those areas is still a good thing."
According to data available on the Department of Education website, since 2015, there have been five investigations into "sex discrimination" at AU filed with the OCR as of Nov. 1. All of these remain on-going, according to OCR records.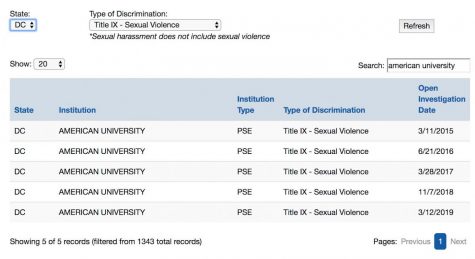 "Community members who believe they maybe were not served by the process, or did not get something that was guaranteed, if they choose to they can file a complaint with the Office of Civil Rights," Curran said.
A student will go to the OCR if they have a "grievance with what the school did or didn't do." These cases can come both from the original complainant and the respondent.
The OCR is currently investigating 346 complaints regarding sexual violence at universities around the country.
Curran said Title IX investigations at AU usually involve a number of factors that can prolong an investigation. Some of these factors include timing and the availability of witnesses were critical in determining the speed in which a complaint is addressed, said Curran. 
"Certainly, I would say, if you have so many reports that you can't close investigations in a timely manner, that is challenging," said Curran. "People become frustrated, or they just sort of give up on the system." 
Curran said that there were key changes made under the Obama administration that led to an increase in Title IX complaints filed with the OCR. Under Obama, complaints against universities' handling of Title IX began being publicized, and more in-depth investigations were promoted. According to Curran, the Obama administration encouraged complaints in order to reform the Title IX process.
These several-year-long programmatic reviews were a "huge undertaking" for the administration, said Curran, because she said she believed they lacked the proper staffing and resources to follow through. 
Betsy Devos became the Secretary of Education under the Trump administration, stating that they will be accepting less complaints and would no longer be conducting programmatic reviews, according to Curran. 
Curran said that the Department of Education has the choice to accept complaints or not.
With AU's five sexual violence complaints dating back to 2015, there has yet to be any sign of closure.
"They've never closed an investigation against AU," said Curran. "They opened the first complaint in 2015, we still have no outcome to that." 
According to her, the Title IX Office reviews and updates its policy in the student conduct code every year. 
"We've made any number of changes since the first [complaint]," said Curran. "It would actually be nice to know what they thought. At this point, we're just awaiting closure."
While AU does not have the most federal investigations into Title IX cases overall, it does have the most into its handling of sexual violence reports.
University spokesperson Kelly Alexander said in a comment for the story that "AU is fully confident of its process and adjudications of cases."