"College is a Debt Sentence": AU students protest the Board of Trustees
Board lowers tuition hike from 4% to 3% for fiscal year 2020 and 2021
Following a student protest, the Board of Trustees voted Friday to raise tuition by 3 percent for the 2020-2021 academic year. This raise is less than the originally proposed four percent increase.
The protest during the Board of Trustees meeting on Thursday was led by the student group College is a Debt Sentence and its head organizer, senior Mitchell Lenneville. Initially, the group planned the demonstration in response to the proposed price increase for meal plans.
According to Lenneville, both he and his group of 30 organizers had been planning the protest for around two months. However, when AU backed down from the proposal amid outcry from students during a town hall forum, the group changed their agenda and instead focused on the proposed tuition increase.
Thursday's protest
At 10 a.m. on Thursday, College is a Debt Sentence, and 30 supporters with signs in hand gathered outside of Bender Library to voice their discontent with the proposed four percent increase to AU's yearly tuition.
The protesters, whose number increased throughout the morning, chanted, "How much does Sylvia Burwell make?" and "Students and teachers must unite! Education is a human right!" through a megaphone.
In between chants, members of the crowd and fellow organizers would give personal anecdotes about their grievances with the Office of Financial Aid.
After protesting at Bender Library for an hour, the majority of the group marched to Constitution Hall on East Campus where the Board of Trustees were meeting.
A few other members stayed behind on the quad, chanting, "Does anyone have $2,000 I can have?" in reference to the four percent tuition increase, and "Hey hey, ho ho, tuition hike has got to go!" in an attempt to encourage students to join the protest. The few who chanted on the quad then rejoined the others on East Campus.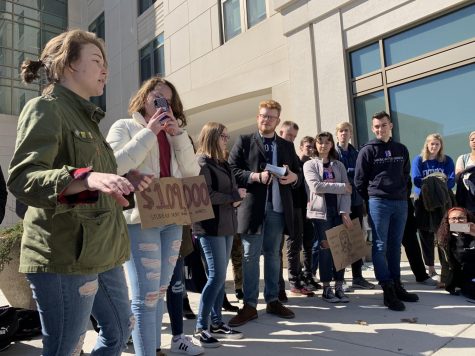 Their stories
Outside of Constitution Hall, the group grew to a crowd of 51 as protesters and bystanders continued to share personal anecdotes. They included stories of financial hardship placed on families by the cost of tuition and being forced to transfer to a more affordable institution.
"I'm a first generation student here at American, and I had a lot of high hopes going into this," said Kamelle Ruano, a freshman at AU. "But my parents are barely able to make up the money outside of my financial aid. So to see the tuition increase is happening, it's gonna fall on me next."
Ruano also said she understands that AU wants to use the tuition increase to make improvements to the university, but does not agree with doing so at the expense of the students.
"To see that this is the future that my younger sister has to walk into someday is absolutely terrifying," Ruano said.
Freshman Renaldie Paul also described the financial burden that AU's tuition and lack of financial aid had caused her family.
"My family members have lives, and I don't want to burden them," Paul said. "AU is always saying that my education is worth it, but I'm consistently seeing that my education is not worth it to them on a more emotional sense. It's worth it to their bank accounts."
Freshman Quinn Steffy, another protester, said they thought AU's tuition increase showed that the school is focused on revenue and not about education.
"The for-profit [attitude] of AU and the increase in tuition really shows they are no better than a corporation," Steffy said. "It's not about family; it's not about education. They just care about their money."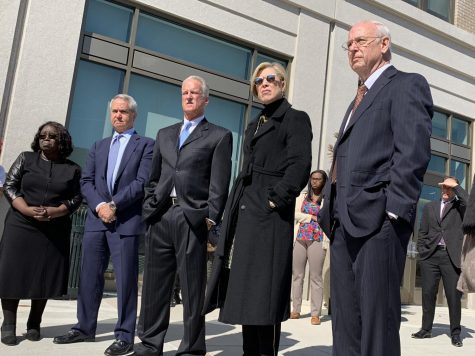 Board Members address the crowd
As the protest went on, some AU faculty began exiting Constitution Hall to watch the demonstration. Eventually, Board Member and AU parent Maril MacDonald, who was appointed to the board in May of 2018, walked through the glass doors to address the crowd.
"I stepped out of the board meeting to be here," MacDonald said. "We [The Board] were talking about how we've gotta change [ AU's] dependency on tuition," MacDonald said.
MacDonald was referencing AU's dependency on tuition and fees, which was 81 percent of AU's revenue in 2018, according to AU's 2018-2019 budget report.
Other protesters, such as freshman Hana Mengasha, voiced concerns in an interview about the possibility of being forced to transfer because of their finances.
"I love international relations and being in SIS is such an amazing opportunity," Mengesha said. "I love the professors and the education I'm getting. But if the tuition increases or if I lose my financial aid, I can't stay."
This concern was also addressed by MacDonald, who spoke about the issue of retention at AU.
"Increasing tuition hurts retention. So it's in our interest to get more external support." MacDonald said. "We want people when they come here to finish here."
After talking with the crowd, MacDonald said that she needed to return to the board meeting. Fanta Aw, Vice President of Campus Life and Inclusive Excellence, announced that other Board Members would address the crowd at noon.
As the clock struck noon, trustees Pamela M. Deese and Thomas A. Gottschalk, as well as Chairman Jack C. Cassell, came outside to speak with the protesters.
Lenneville asked the three Board Members why AU's 60 page five year plan only addresses the issue of college affordability once.
"My colleagues and I wrestle with this problem," Gottschalk said. "Frankly, we have to do better at increasing our endowment and getting more money dedicated to scholarships. Otherwise, only tuition-paying students are financing additional scholarships."
Gottschalk also said that the university would soon launch a "capital campaign" with the hope that the money raised can prevent further tuition increases while also providing more funds for scholarships.
One protester voiced her confusion to the Board Members about how the budget is distributed, using the example of professors who have to work two jobs.
Jack C. Cassell responded by telling students that tuition increases are necessary for the increased cost associated with the university, such as increasing salaries for returning faculty and the cost associated with hiring first-year advisors, who lead the now mandatory AUx curriculum for first-year students.
Before the Board of Trustees returned to their meeting, Lenneville handed Cassell a so-called  "Action Plan" written by College is a Debt Sentence. The document outlines what the group sees as injustices and problems not only at American University but with higher education in the U.S in general.
College is a Debt Sentence proposed Action Plan
The Action Plan requests that AU be more transparent about its finances.  This includes the release of information about how money is allocated by the Office of Finance, the Treasurer, and the President's Office. It also requests the salaries of executive management, specifically AU President Sylvia Burwell, to be made public.  
Salaries of specific faculty members are not made public by AU, but the university spent over $6.1 million on "executive compensation" in the 2016 fiscal year, according to ProPublica.
The proposed Action Plan says that College is a Debt Sentence does not specify how they would like the university to save money due to the lack of public information about AU's budget.
Although the Board of Trustees said that college affordability is a concern of theirs, freshman Renaldie Paul said that she believes AU is focused on profit more than the education of its students, and that the Board of Trustees is out of touch with the average student.
"I know they have deep pockets and I know that their names are on a lot of buildings," Paul said. "I know that it essentially means they're detached from a lot of the needs of a lot of people."
Mark Story, AU's Director of Strategic Communications, has a different perception of the Board of Trustees than Paul.
"It's important to note that the Board of Trustees, who are very invested in the university, understand the critical nature of the affordability of education, as well as the cost of scholarship," Story said.  
Inflation and tuition
One of the systemic issues outlined in the proposed Action Plan is the fact that cost of higher education has increased eight times as fast as wages since 1980, and that private colleges cost 129 percent more than they did in 1988, adjusted for inflation, according to a CNBC article.
Another issue that the group has with the proposed tuition increase, according to the Action Plan, is that a tuition increase of 4 percent does not correspond with the rate of inflation. 
In 2017, The Eagle reported that the Board of Trustees Chairman, Jack C. Cassell, justified a tuition increase of four percent for fiscal years 2018 and 2019 due to inflation and the need to raise faculty salaries. 
For both the 2016-2017 academic year and the 2017-2018 academic year, tuition rose by four percent for full-time students. The average inflation rate from 2017 through 2019 was only 1.96 percent, according to The Balance, a website that specializes in financial news.
The tuition increase for the 2019 fall semester is three percent, and the projected inflation rate for 2020 is 2.1%, according to The Balance.
Financial Aid Office encourages students to reach out for help
In response to some of the concerns raised by protesters, Shirleyne McDonald, the Associate Director of Financial Aid at AU, said that the office does its best to emphasize outreach and hopes that students will come to the office whenever they have issues.
"I'm actually surprised to hear about this because of the amount of outreach that we do have with our students and their families," McDonald said. "We really make sure that we are proactive. Please come and see us if something has changed in your financial situation."
McDonald also responded to AWOL's questions about the Kerwin Family Emergency Financial Aid Fund, which is supposed to help students in emergency financial situations. The fund is mentioned in The Eagle's article about Max Durbin, an AU student who was cut off financially from his family when he came out as transgender.
The fund was also brought up by Quinn Steffy during the protest on Thursday. Steffy said that they would have to transfer next year because their family cut them off after coming out as transgender and queer and that the Office of Financial Aid has done nothing to help them with their situation.
"We spend about six million dollars each year helping students through individual cases, but we must adhere to the federal rules when awarding funds," McDonald said when speaking about helping students in emergency financial situations.  "When emergencies happen, we have students go through the appeals process to see if we can award them more aid."
McDonald said that although former AU President Neil Kerwin and his family did create the emergency fund for situations such as the ones mentioned, the fund is still too small to help any students.
"Up to this year, that fund had less than $3,000 available to students," McDonald said. "But that fund is being built up to hopefully help students down the line."
College is a Debt Sentence believes protest made a difference, still want more transparency
After the rally on Thursday, Claudia Stephens, a freshman, and organizer of the protest was optimistic as to whether the protest would make a difference.
"I actually think it went really successfully. I was happy with how open they were for conversation," said Stephens, an organizer of the protest. "After our conversation, I feel like there will be an actual impact."
The day after the protest, the Board of Trustees raised the cost of tuition by only 3 percent in 2020 and 2021 according to The Eagle, which is less than previous tuition increases.
Lenneville said that although he is pleased by what has been released so far, but he still wants more transparency from AU's budget.
"I'm still anxiously awaiting increased transparency and documents before I have a final opinion on the new plan, but I am pleased with what has been released so far," Lenneville said.
Lenneville is also proud of the work that College is a Debt Sentence has done and believes that the group has demonstrated that unified student activism can have an impact on decisions made by AU's administration.
"I'm grateful for the help of every student that got out the word and came to protest," Lenneville said. "I'm also grateful for students representatives pushing for affordability inside the Board of Trustees meeting, including the AUSG President, President of the RHA, and the Student Trustee."
College is a Debt Sentence does not plan on stopping. Lenneville said he hopes to expand upon the current movement in the future.
"We're looking into partnering with student leaders at other DMV colleges to stage a larger college affordability protest in the near future," Lenneville said.