Student activists hold town hall on tuition increase, AUSG president says tuition increase inevitable
Protest lead by "College is a Debt Sentence" planned for Thursday
College is a Debt Sentence, the group of American University students who plan on protesting at the Board of Trustees meeting and created the Facebook event "AU Protest: Tuition Increase," held a town hall meeting to discuss AU's proposed four percent tuition increase, and college affordability in general, in Kerwin Hall on Monday night.
"Ultimately, we need to attempt to solve this systemic issue where college is becoming much too expensive for anybody to afford," said Evan Lenneville-Hutchinson, a freshman and organizer for College is a Debt Sentence. "My sister was only able to go to college for a couple years, and she's still paying off her student loans for a degree that she doesn't have."
Students recount their personal experiences with Financial Aid
The mission for the town hall meeting was for College is a Debt Sentence to unify their message and gain support for their upcoming protest on Thursday.
"We talk about the cost of college, but nothing is ever done about it," said Mirashaye Basa, a freshman at AU and another organizer. "So I hope there's more action and more accountability held to those who are raising the cost."
Many spoke of close friends who had to leave AU because of the high costs or due to family financial emergencies that the school would not help with. To preserve students' privacy about their personal situations, their names are not given with their stories.
"Three of my best friends transferred because of finances, and they're brilliant," said one student. "They should be here."
"My friend is not any less because her parents can't afford to send her here," said another student. "She deserves to be here."
Some students are so burdened by the cost of four years of college that some stack their schedules with the hopes of graduating in three years, eliminating some costs.
"I love going to school at AU, but I have to graduate a year early from a community in which I've found a home just because I can't afford it," said one student.
As the evening wore on, many students told stories of frustrating interactions with the Office of Financial Aid. The anecdotes ranged from failing to help with extenuating circumstances to withholding helpful information.
One student talked about how she had called multiple times over the summer to ask about her financial situation and how it related to her aid at AU but said that the Office of Financial Aid "wasn't even good at answering questions."
Another said the office told her that she should "feel lucky she was getting anything" in terms of aid.
This kind of relationship between the student population and the Office of Financial Aid is not applicable to every university. One attendee who was present on behalf of the Georgetown Press said that the situation is different at Georgetown. While the student journalist admitted that Georgetown's endowment is much bigger than AU's, she said that doesn't completely justify this situation.
"My friends at Georgetown have been able to go to the Office of Financial Aid, and the university helps them out," she said. "This is not normal."
AU's Office of Financial Aid failed to contact AWOL for comment after numerous attempts were made before publishing.
AU emergency fund not being used, hard to gain access to
Others also referred to an emergency fund that AU supposedly has for students who are cut off from their families, but said that they had not received aid from that fund when they found themselves in that exact situation.
That particular story is reminiscent of a 2017 article by the Eagle about Max Durbin, an AU student who was cut off from his parents after coming out as transgender. Finding himself short of funds to finish the semester, he went to the Office of Financial Aid to ask for help. According to the article, the Office of Financial Aid "made no effort" to keep him at the school and told him to transfer.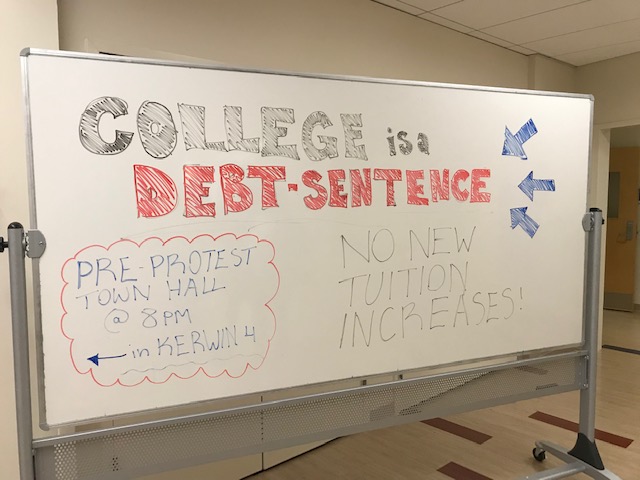 AUSG president's comments called "condescending" by attendees
At the end of the town hall AUSG President, Valentina Fernández, spoke about her own experiences with financial aid and said that the tuition increase was "inevitable" and that stopping it would mean cuts to student services.
Some attendees expressed their frustration after the town hall with what they felt was a condescending speech from Fernández and called for better representation from the student government.
"I felt belittled and patronized," said Mya Zemlock, a junior at AU who attended the event. "The town hall held this evening was an opportunity for the student government to explain how they are advocating for American University students. Instead, they condescended."
Zemlock feels that the student government is not looking out for the students' best interests, and is instead "advocating for the administration."
"AUSG members are supposed to be representatives of what the students are asking for," said Claudia Stephens, a freshman at AU and an event organizer. "We already have one administration to fight; we don't need another one."
In response to her comments at the town hall, Fernandez said that AUSG is representing the tuition increase in a way that serves students interests.   
"As SG President,  I have been vocal in the boardroom and with other university leaders about  advocating for a higher tuition discount rate to increase the overall amount of financial aid available, the lowest possible tuition increase that provides necessary funding for student support services, and more funds allocated for emergency or unexpected circumstances," Fernandez said.
Fernandez also said that she hopes that AU will diversify its revenue soon and depend less on tuition. Currently, tuition accounts for 82 percent of AU's operating revenue, according to American University Budget Report for 2018-2019.
College is a Debt Sentence will protest all day Thursday, hundreds expected to attend
Mitchell Lenneville, one of the lead organizers of the protest and the face of  "College is a Debt Sentence," said that the discussion held at the town hall was one of the most honest conversations he's seen at AU and hopes that the momentum from the discussion will transform into action on Thursday.
"The town hall last night was one of the most intellectually honest and affirming nights of my time at American University," Lenneville said. "The one clear message that I heard last night is that we have to take a stand, and we have to take it now. We have to do everything possible to get AU students out in force on Thursday."
The proposed tuition increase will be voted on by the Board of Trustees on February 28, and College is a Debt Sentence, and the nearly 200 students who have RSVP'd on Facebook, plan on protesting the meeting.
The protest will begin at 10 am at Bender Library, and will be followed by a march through campus, stopping at various spots for speeches by student and faculty members. The group will then protest at the Board of Trustees meeting, which will be held on East Campus or Butler Board Room Thursday afternoon, according to 25 Live, a service that allows for rooms to be booked for events on campus.
"We don't have power in this system," said Mitchell Lenneville, a senior at AU and the main organizer of the event. "We just get told what debt we can take on, and we take it on."