Divesting from Disagreement
The polar ice caps are melting. Earth's temperature is increasing. Wildfires are raging. For environmental activists at American University, one way to curb climate change is for AU to divest from fossil fuels.
Divestment is a movement that focuses on the removal of money from the oil and gas industry, whether that be in stocks or other forms of investment.
"It's getting right at the root of the matter," said Gracie Brett, a junior in the School of Public Affairs and member of Fossil Free AU (FFAU). "Divestment is a strong act against the [oil and gas] industry and it would set such a ripple effect."
FFAU is a student-led organization on campus which seeks to halt all fossil fuel industry investments from the endowment while freezing future fossil fuel investments.
In control of the decision to divest is the Board of Trustees. This is the governing body of AU that makes all decisions on the endowment. There are 27 members and one student trustee-elect. Of these 27 members, there are four who do not possess voting power, including President Sylvia Burwell and the current Student Trustee, and President-Elect of Student Government, Valentina Fernandez.
The campaign for divestment lead by Fossil Free started in December of 2012. At the time, students campaigned for two years to get the Board of Trustees to discuss divestment at a board meeting. In November of 2014, the Board released a memo stating that the University would not divest. Since then, the Board has not publicly released any statement on divestment.
Burwell's new tenure as president of AU renewed the divestment debate.
****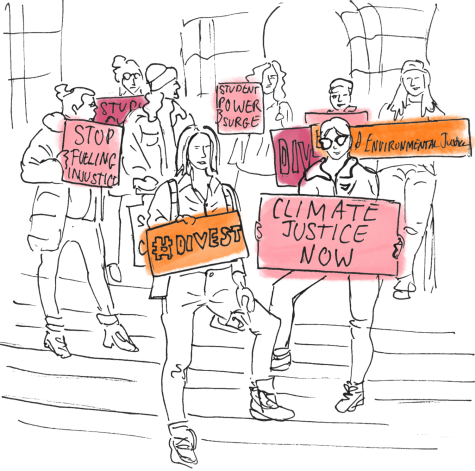 In 2013, FFAU published a student referendum, in which 79.1 percent of the student body who voted supported the Board of Trustees divesting from fossil fuels.
In response to this referendum, a group of faculty, and three students were formed to make the Advisory Committee on Socially Responsible Investing in 2013. The group facilitated discussion with Cambridge Associates, who advise the Board of Trustees on endowment matters.
The Committee was tasked with reviewing the students' divestment proposal. After researching the proposal and what it would mean for AU, the Committee provided their recommendation to the Board.
"The [Committee's] recommendation was for a sort of thoughtful, careful divestment strategy," said Daniel Fiorino, a professor in the School of Public Affairs and a member of the committee.
In November of 2014, the Board presented a campus-wide memo outlining its decision based off of the committee's recommendation. They decided to not divest from fossil fuels.
"The Board has thoroughly reviewed fossil free investment as part of a campus-wide effort that involved public discussion, data analysis and work done by a team of faculty, staff, students, alumni and trustees," said Jack Cassell, Chairman of the Board, in an email statement made to AWOL. "The outcome of those discussions (2014) defined our current policy – that divestment is not an option the Board can take to express a position on climate change."
One of the main points of the memo was that true divestment from fossil fuels posed too much of a financial risk to donors and the endowment.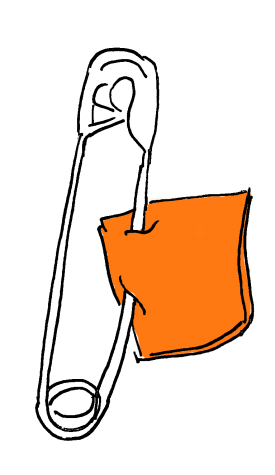 Nana Gongadze
"These donors have relied on the Board's fiduciary stewardship to generate the maximum, risk-adjusted return to support the scholarships, fellowships, professorships, construction and other purposes for which the funds were given, regardless of the personal views of board members on climate change or other issues," said Jeffrey Sine, former Chair of the Board of Trustees in the memo. "The Board's primary responsibility is to fulfill its fiduciary duty to the university."
According to the memo, divestment would double its annual management fees from $1.1 million to $2.2 million. Four percent of the $558.1 million endowment is tied to fossil fuels.
In an email statement made to AWOL, Mark Story, AU's director of strategic communications, said that AU does not directly invest in fossil fuels. This means that AU does not have any direct investments in fossil fuel companies.
Investments are tied into commingled funds. These are assets from several accounts mixed together. Because they are entwined, the board cannot cherry pick what they do and do not want to invest in.
Instead of divestment, the Board decided to start the Green Investment Fund to offset the effects of fossil fuel investment. The Green Investment Fund is an investment portfolio that is dedicated to investing in stocks that are not connected to the fossil fuel industry. This fund, now called the Fossil Free Fund, is not tied to the endowment.
Professor Todd Eisenstadt, president of the Faculty Senate and a non-voting member of the Board of Trustees, was a member of the Board while the divestment conversations were being held after the 2013 referendum.
"They decided against [divestment] at that time… they did create a green fund portfolio, which is… still very small, to be honest, but they did make that move," Eisenstadt said.
The Board of Trustees also directed Cambridge Associates to make sure that managers of the investments related to AU's endowment evaluated the environmental practices and policies of a prospective investment.
"Recommendations from the campus community have inspired vigorous discussions and prompted the board to look at meaningful ways to remain true to AU's values and support of green initiatives without jeopardizing the board's fiduciary responsibilities," the memo said. "The divestment movement has highlighted the challenges of global warming as an issue requiring serious thought and ongoing action at AU."
Fernandez held similar beliefs and said that while she agrees with divestment as a whole, it poses many financial risks to students.
"I think it's a really nuanced complex problem and like I'm open to having those conversations but I think me saying 'let's support, let's divest,' is very risky," Fernandez said.
However, the Advisory Committee has stated otherwise in reports on the issue of divestment, published on American University's Advisory Committee on Socially Responsible Investing webpage.
"Our analysis of AU's mission and core purposes suggests that the Board would, indeed, fulfill its fiduciary responsibility by adopting a strategy of divestment," the report read.
The question of profitability has been a burgeoning issue in the divestment movement.
According to The Guardian, as of 2015, companies and portfolios that had invested in the fossil fuel industry grew 62.2 percent in five years, while companies and portfolios without fossil fuel investments grew 69.9 percent in the same five years.
****
FFAU is seeking Burwell's endorsement of divestment because they hope it could sway the Board of Trustees to change their stance from 2014.
In January, Brett, along with several other FFAU members, met with President Burwell and some of AU's Board of Trustees to discuss divestment.
"Her main schtick was that divestment is one tool in the environmental advocate's toolbox and that we should just pick another tool," said Lauren Peressini, an FFAU member and a senior in the School of International Service.
FFAU members saw their meeting with Burwell as a unique opportunity to represent the student's voice, according to Peressini.
The Office of the President did not respond to several requests for comment on the relationship between Burwell and the Board of Trustees.
Hannah Klaus, FFAU member and a junior in the College of Arts and Science, as well as other environmental justice advocates, argued that AU is harming their students' futures with their decision to keep investing in fossil fuels and that it's the students who have no power to change this.
"It's our [students'] responsibility to use our power to direct [the Board of Trustees] into making choices that are better for communities now and in the future," said Klaus.
While Fernandez does not have voting power, she consistently maintains a line of communication between the Board and students.
"A student trustee is there to remind trustees and engage trustees in how decisions impact students and communities," Fernandez said.
To Fernandez, it would be beneficial if there were more students on the Board because they often seek the opinions of students like the student government president.
"I think they're very good about like, when they're having a student conversation, looking at the students in their room and [calling on them]," Fernandez said.
****
Faculty members who are not on the Board have voiced their dissatisfaction with the administration's lack of support for the divestment campaign.
"The Board of Trustees need to wake up and smell the coffee, and smell the sulfur and smell the pollution and smell the methane gas and smell all that the fossil fuel industry is emitting," said Professor Barbara Wien, from the School of International Service.
The students and faculty of AU are not alone in this movement. Other institutions of higher learning, as well as businesses, religious institutions and cities, have also decided to divest.
"Other universities like Syracuse have divested their holdings, and some localities and local governments have also started to do that," Eisenstadt said. "That may be in our future, I would expect this issue to come up again."
Recently, New York City committed to divest its pension funds from fossil fuels and is taking legal action against the industry. The city is suing BP, Chevron, ConocoPhillips, ExxonMobil and Royal Dutch Shell, claiming that these companies knew that burning fossil fuels would intensify global warming, according to EcoWatch.
FFAU seeks the same accountability for AU.
"We all do this work because we love AU and we want AU to do better," Peressini said.
According to Cassell, the Board strongly affirms that AU must deal effectively and promptly to combat climate change. However, the Board does not have plans to change their divestment policy at this time.
"We applaud the commitment of AU students and the dedication shown to address the serious issue of climate change through a wide range of efforts," Cassell said in an email statement made to AWOL.
As of now, Fernandez said she will not put the topic of divestment on the report that AUSG presidents give to the Board as president. However, she is open to having conversations about such a nuanced problem.
"I wouldn't put divestment directly, but I'd be more than willing to work with Fossil Free AU to find ways to hold the university accountable and [on] their environmental justice goals," Fernandez said.
Faculty supporters like Wien want to remind students that even though taking the initiative on global issues like climate change seems daunting, they have the potential to influence change.
"Be creative, think outside the box, get a grip on your imagination and project the future," Wien said. "We can create a different future."