Too Little, Too Light: Media Representation of Latinas
Originally published in Spring 2017, Issue 21.
Illustrations by Maria Carrasco
Infographics by Casey Chiapetta
In 2015, Popsugar ran a post titled, "Kylie Jenner is Basically a Mix of All Your Favorite Latina Celebrities." It said her style reflected stereotypical Latina fashions, like winged eye liner, hoop earrings, defined lips and a curvaceous body. But she's not Latina. Jenner is mostly English, with some Dutch, Irish, Scottish, German and Welsh ancestry.
The article was criticized by several news outlets like Cosmopolitan and Teen Vogue, prompting Popsugar to issue an apology a week later. It reads,  "we know Kylie is not Latina and never meant to imply that she was; we were simply trying to point out the influence our strong, passionate community has on others.."
The choice of Kylie Jenner, a non-Latina, as a Latina beauty icon demonstrates the lack of representation of Latinas in mainstream media. This can make it difficult for young Latina women, who lack role models that look like them.
"[The] idea of what is possible is limited," said Bernadita Yunis, a professor teaching "Latinx Identities and Stereotypes in the U.S." at George Washington University. "Being able to break through and become things we have not seen takes a lot of effort."
In 2015, only one cover of Cosmopolitan featured a Latina: Demi Lovato, a light skinned, half Mexican celebrity not widely known for her Hispanic origins. In 2016, the number remained the same. Jessica Alba was featured—also a light skinned, white-passing Latina.
"I don't see Latinas portrayed very much and I think if they're lighter Latinas,  you can't really see what their ethnicity is," said Abigail Zapote, vice president of League of United Latin American Citizen Youth Nationals at AU, an organization that aims to advance the rights of Hispanic Americans.
This trend is called colorism, where people of color with light skin are seen as superior to those who are dark skinned.  The Latinas who pass as white are more often on Cosmopolitan covers, while darker skinned Latinas are rarely featured. This can lead audiences to believe there is one common type of beauty, limiting diverse representations of Latinas.
"So you may ask, 'What is a Latina then?'" Yunis said.  "You should let people tell you who they are."
Not only are Latina representations limited, but those represented are often hyper-sexualized. Think of Sofia Vergara as Gloria on Modern Family and Eva Longoria as Gabrielle on Desperate Housewives. Both play stereotypical fiery Latinas that wear skin tight clothing and use their sexual prowess to get what they want.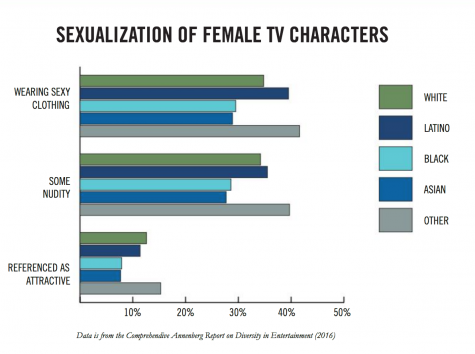 "The Latinas presented in mainstream culture are loud, fiery, and always have something to say," Zapote said. "There's not a lot about showcasing [women] doing community work and giving back to their community."
When these stereotypes are applied in everyday situations, they can enforce intersectional biases. Latinas face discrimination and experience oppression both as people of color and as women. Some Latina women face the challenge of not receiving immediate respect because of the few portrayals of Latinas.
According to the National Hispanic Media Coalition (NHMC), "Latin[x]s comprise over 16 percent of the U.S., but only own a handful of TV and radio stations." The lack of Latinx representation in media ownership is one contributing factor to their white-washing and oversexualization in the media.
Frances M. Beal in the pamphlet, Double Jeopardy: To Be Black and Female, says Latinas' identity is simultaneously shaped by their female gender and their Hispanic ethnicity. Therefore, they face a 'double jeopardy' because their identity is partially formed by both sexual and racial stereotypes.
"Many times I feel like [Latina] women are used as objects, rather than for their expertise and true value. It often makes me feel valueless,"  said Sheila Escobedo Zazueta, a Latina student and a member of the Latinas Promoviendo Comunidad/Lambda Pi Chi sorority at American University.
However, Yunis and Zapote say television finally has a popular TV show that represents a Latina straying from the norm: "Jane the Virgin." Gina Rodriguez plays Jane Villanueva, a dark skinned, independent, young writer and mother that does not wear hyper-sexualized clothing, has a loving personality and pursues her academic goals. In real life, Rodriguez is actively involved with National Hispanic Foundation for the Arts and other Hispanic-oriented organizations.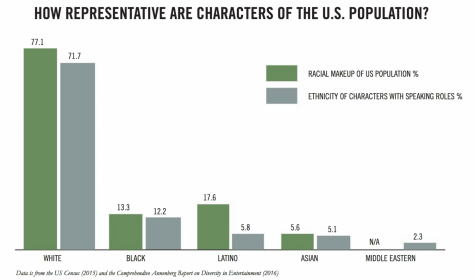 Yunis says the fact that the character Jane is focused on her career is important, but mainstream media should get to the point where these roles are the norm.
"Rodriguez has been deliberate and intentional with the choices she makes as an actress. … She wanted to make sure she didn't participate in promoting those stereotypes," Yunis said.
Rodriguez pushes boundaries not only in her acting, but in her professional life as well. She is the co-founder of Naja, a women's lingerie company. Its website says it seeks to create a brand that empowers women instead of objectifying them. The women's poses are not hyper-sexual or geared towards the male gaze. It also says it primarily employs single mothers or female heads-of-households, while providing above-market wages and healthcare benefits.
Naja recently launched its Nude for All collection, which features women who are not models in its ads. The women work in all ranges of fields, from software engineer to professional ballerina. Nude for All features seven styles of nude underwear, which is meant to include women of all shapes, sizes and colors.
Overall, we are taking a step towards more representation of Latinas. However, there is still more work to be done. The mass media is a tool for the reinforcement of preexisting norms, and with those, come racial and gender stereotypes. As shown by Sofia Vergara's character in Modern Family, there is a tendency, within entertainment industry, to oversimplify the portrayal of minorities partially due to weak identification with them.
"You are losing out on a culture by not representing them well," Zapote said.
Allison Tovar is a first year studying Communication, Legal Institutions, Economics, and Government (CLEG).