Though the mystery of who's under the Clawed Z. Eagle mask at any particular time still remains, Clawed has been a uniting figure for American University students, as they cheer alongside him at sports games, take pictures with him on the quad and dance with him in TikTok videos.
For the Spring 2023 semester, AWOL's multimedia team produced a documentary about school spirit at AU, seeking to learn how AU's mascot contributes to students' opinions on school spirit. The team talked to a former Clawed, AU's athletics director, student athletes and non-sports fans to assess the state of AU's school spirit.
Cynthia Bland, a former Clawed who wrote a children's book about a day in the mascot's life, donned the suit from 1999 to 2003 while studying statistics at AU.
"School spirit was never really like an AU thing when I was there," Bland said. "There was low pressure to be the mascot because there were so few people in the gym most of the time."
AU's Director of Athletics and Recreation, David Bierwirth, said the student support during athletic games is great.
"I think it's one of the highlights of American University, the way that the students come out to support our student-athletes, whether it be through the Blue Crew or just a lot of activity on social media," Bierwirth said.
However, some student-athletes see school spirit differently.
First-year Avery Barber, a member of AU's D1 swim team, said she doesn't see much of a school spirit culture.
"I definitely feel like the different teams support each other, which is really nice," Barber said.
"Everyone supports each other, but I wouldn't say there's an overarching, rah-rah kind of culture."
While Barber said there aren't many students that show up to sporting events, she said she thinks it's extra special when she has a larger audience.
For other athletes, like basketball players, there's an additional level of support with AU's pep band. Sophomore Pep Band Member Elliot Parrish said that school spirit is alive at AU.
"We serenade the whole place with the fight song, with popular songs that everyone knows such as 'Happy' by Pharrell Williams or 'Shake It Off' by Taylor Swift. And in between songs, we cheer as loud- ly as possible," Parrish said. "I think it's important because it shows AU does have school spirit. We do like to support our teams. And the pep band is the greatest example of that."
From athletes to pep band members to fans, students have varying opinions on school spirit. First-year Ethan Kauffman said he thinks that school spirit means having camaraderie.
"People like being happy with the school that they go to," Kauffman said. "And having a community where people can rally around something, and we just don't have that. Like this is a playoff game and there's not that many people there. So, I feel like there could be more school spirit, but I also don't think the games are advertised that well."
Some students, like first-year Jasmine Shi, said there isn't much attention given to fostering an environment of school spirit.
"I think it's because we don't know about it, because they don't really do a lot to promote it," Shi said. "Or you have to follow a very specific Instagram page to be at the right place at the right time."
First-year Brooklyn Spathies said she sees Clawed as something that brings AU students together.
"I think everyone loves seeing Clawed at the basketball games and stuff," Spathies said. "My vibe is he promotes 'yay AU' like people want to be a part of AU when they see Clawed."

 While Clawed can be seen as a uniting figure today, the mascot wasn't created until 1927, when The Eagle published an article advocating the creation of an eagle school mascot. It wasn't until 1976 that the first person stepped into the bird suit and the unnamed mascot garnered a new identity: Clawed the Eagle.
Thirty years later, the familiar name Clawed Z. Eagle was born.
"[Clawed] is not going away," Bierwirth said. "I think it's a great tradition that the university has. Yeah, I think we're sticking with it."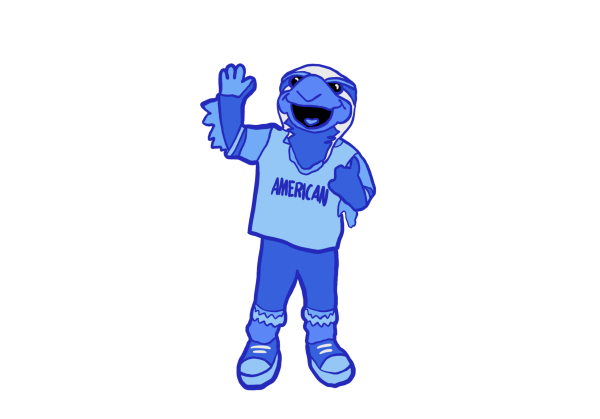 To learn more about the process of becoming Clawed, the mascot experience and students' opinions on school spirit, visit AWOL's YouTube channel.