Fall festivities at AU
The Fall Festival and Farmer's Market draw students to the quad.
The Fall Festival overtook the quad with featured live music and various booths on the afternoon of Oct. 5. The festival was an addition to American University's weekly farmer's market.
Students like freshman Cara Leonardi said they go to the market every week.
"I think it's always nice to have some fresh produce for people," Leonardi said.
Leonardi attended the festival and bought an acorn squash, an apple crisp cobbler, Ethiopian food, lavender honey and a crystal. They said they had no intent to buy a specific product but were delighted to find such a diverse selection. 
Being able to get fresh ingredients right on campus allows students to try something new and cook something themselves, said freshman Mia Faingold, who also attended the festival. 
"It gives us a chance to eat outside of the on-campus restaurants like TDR," Faingold said. "You can get ingredients along with the kitchens that you have at the dorms and things like that. So you can actually cook meals."
At the festival, there were pumpkins for people to paint, free festive drinks and several products, such as honey, crystals and seasonal produce. 
Also on the quad that day was AU's farmer's market. The university's farmer's market is back this fall after a 2-year long hiatus due to the pandemic, according to the AU farmer's market website.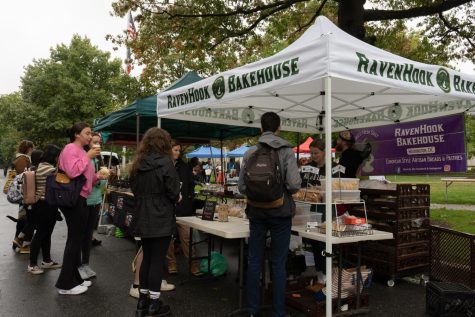 RavenHook Bakehouse, Mesisam the Ethiopian Eatery and Airlie Farm were some organizations routinely at the farmer's market. They sold freshly baked bread, pastries and produce. 
The university's farmer's market features produce, pastries and products for students and university employees to purchase. 
This year, the farmer's market was held on the quad every Wednesday from Sept. 21 to Nov. 2, according to the AU Farmer's Market website. 
Lauren Lightcap, a freshman, said fewer products were available at the weekly farmer's market than at the Fall Festival. 
"I think it could be [better] if it was larger and they actually had fresh produce," Lightcap said. 
"So more traditional stands, that don't necessarily have to be meat, but [could be] more like fruit and vegetable related because I think people would eat those things, but they're just not available to us in this current farmer's market form." 
While many people appreciated the selection of baked goods and other prepared foods, there was a lack of produce, said freshman Megan Williams.

"I wish there was more variety with fruits and vegetables," Williams said.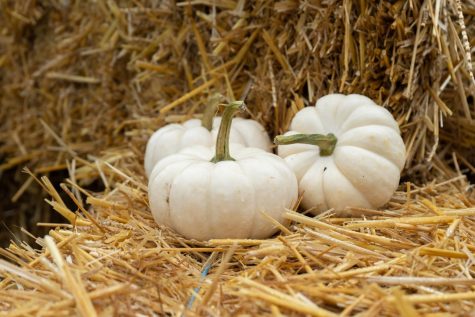 Additionally, the Fall Festival featured gluten-free options, but Williams said this was not always the case with the farmer's market.
"I know other weeks, they didn't have gluten-free options," Williams said. 
While the Fall Festival brought more options for people, it was a one-time event. 
Outside of the university, farmer's markets in Washington, D.C., were still available to students when the university was online, said Andie Rowe, director of Employee Wellness and Work-Life at AU.
"Our faculty, staff and students as a community could go onto our AhealthyU website, which is our program, and then they could put in orders," Rowe said. "Then they would make arrangements to either pick it up at the farmer's market or have it delivered." 
Rowe said the weekly farmer's market is essential to the university community. 
"I feel like it gives people the opportunity to purchase healthy food on campus," Rowe said. "They don't have to go to Giant or Whole Foods. It's convenient." 
Rowe said the university also wants to expand the farmer's market beyond sales.
"The AU dietitian reached out to us and said they want to do a cooking demo at the farmer's market. So they ended up taking their beef and doing beef stew," Rowe said. "We're thinking about using that platform to do more kinds of cooking and showing students how to prepare things."
Rowe said the farmer's market achieved its goal of boosting overall campus wellness and engagement. 
"It really brought the community together, which from my point of view, was wonderful to see because people were enjoying themselves and connecting with each other," Rowe said. "In our hybrid work environment right now I think people are really craving that social interaction." 
Students could pay using a card or cash at the Fall Festival. Additionally, multiple venues accepted EagleBucks. EagleBucks are included in many of the university's meal plans and are used at on-campus stores, restaurants and specific off-campus locations. 
Students like Williams said paying with EagleBucks made navigating the festival harder. 
"So you go to stand, you say that you want to use your EagleBucks and then they pull out an old pad of paper, like they're a waitress, and they write down the price of the product," Williams said. "Then you have to go to the main table where they're giving out the apple cider and they just swipe your card and give you a receipt. Then you go back and you get to take the thing you paid for."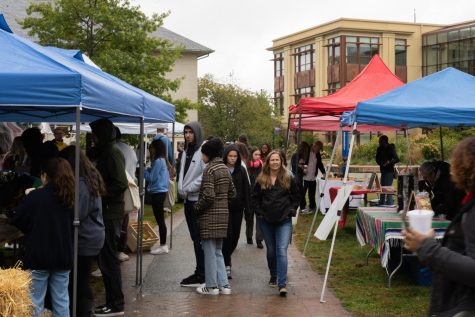 Williams said long wait times could turn away future customers.
"At another stand, they said it was gonna take like a minute and a half to walk over," Williams said. "There's already a line and it seems inconvenient. So I ended up just paying with my credit card." 
While students have the option to pay in a currency other than EagleBucks, there is a larger demand for EagleBucks.
Freshman Allie Burt said her experience with paying and gluten-free options at the Fall Festival was simple. 
"I did not find the process to pay with EagleBucks complicated because I simply asked for the gluten-free brownie and was given a receipt for it," Burt said. "And then I was able to walk over to the table where there was no line and hand over my receipt and my ID and they used my EagleBucks." 
Burt said that the farmer's market offered a place for students to gather and buy fresh food for the fall semester.
"I think that it serves as a great way to bring the community out to the quad together and to get local businesses involved on the campus," Burt said. 
This article is from AWOL's 31st print edition.
Aidan Jacketta is a freshman studying journalism and economics