2019 Wonk of the Year awarded to John Kasich
Former Ohio governor, congressman, and Republican presidential candidate from the 2016 election
The student-run Kennedy Political Union (KPU) and AU College Republicans cosponsored The Wonk of the Year event on March 21, awarded to John Kasich.
Saying he was honored to be Wonk of the Year, Kasich said that he loves speaking at college campuses because he wants all the students to do well and "realize their hopes and dreams."  
"I want everybody to realize how special they are," Kasich said. "I want them to be idealistic. I want them to be kind. I want them to be compassionate. I want them to be resilient. And this doesn't mean you can't have strong views. You just shouldn't disrespect others in the process."
However, this sentiment did not cause Kasich to shy away from speaking openly about politics, so AWOL asked Kasich whether or not he was running again in 2020.
"I tell people, my options are on the table but you know, I wouldn't run if I didn't think I could win," Kasich told student media in an interview before the event.
When asked whether he was worried about a Democrat winning the 2020 Presidential election, Kasich said it would be unfair to assume a Republican would be worried about a Democrat winning.
"I'm an American before anything else," he said.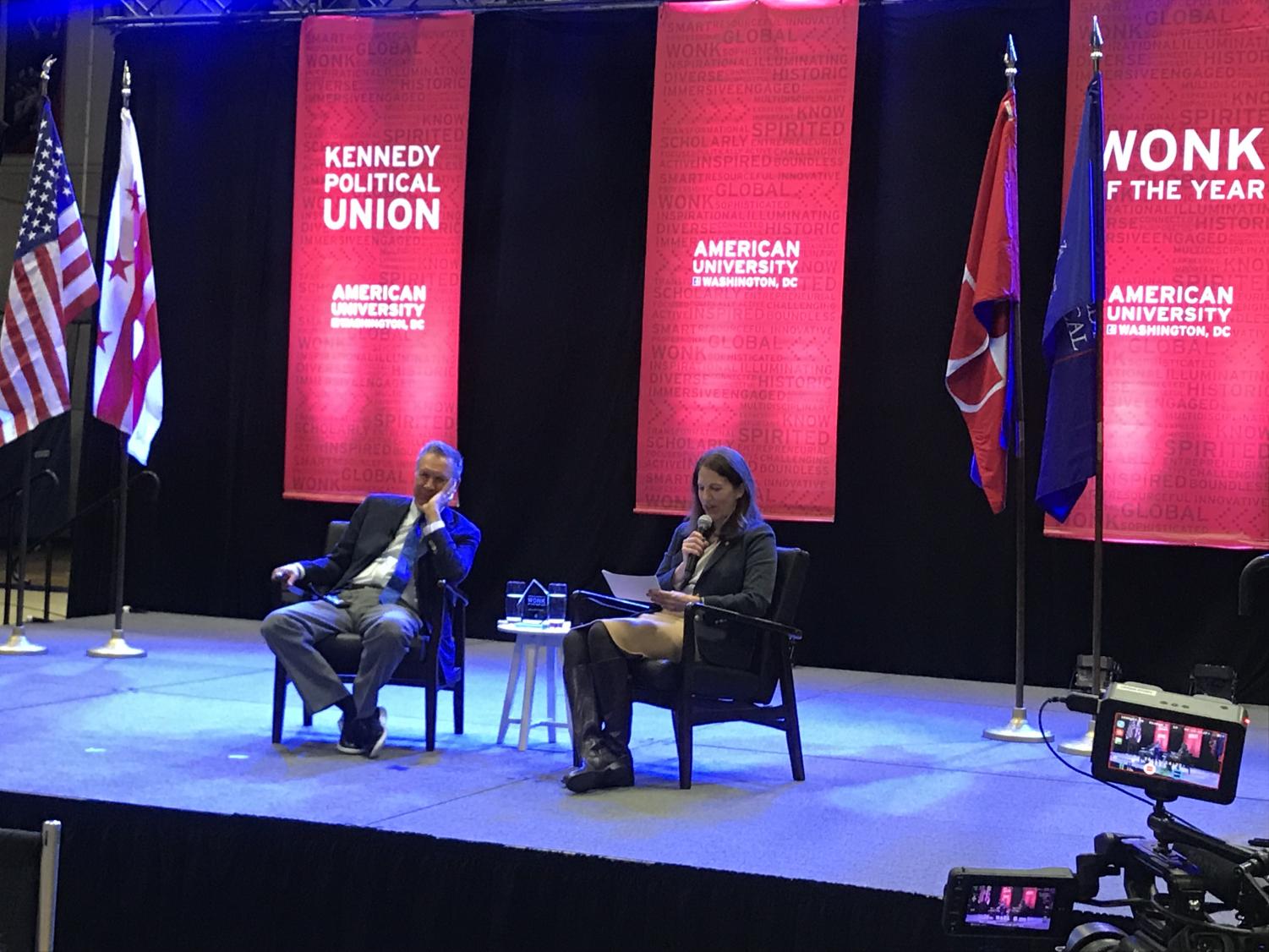 Pointing out that he didn't want to attach any statements to some of the Democratic Party's freshman representatives, Kasich did say that while the "socialist agenda" may be being blown out of proportion, "free stuff for everybody and basically a free enterprise system, doesn't work and I don't think is constructive."
Kasich went on to say that the "good things of capitalism" have seldom been discussed. Meanwhile, the weaknesses of the system include people being left behind, particularly due to layoffs in areas where one industry, or even one factory, employs the majority of the town. Taking the example of the General Motors plant being shut down in Lordstown, Ohio, Kasich talked about the 1,435 hourly workers who were impacted by the changing economy.
"If your mother or father or your older brother or sister were working at this plant, it is like tearing somebody's heart out," Kasich said. "They've got nowhere to go and there's a responsibility, I believe, on the part of people in business to try to help solve this problem."
While Kasich emphasized bipartisanship, the event had some students objecting to KPU's decision to pick Kasich due to his conservative background.
"This year, we wanted to award someone who prioritizes bipartisanship and values reaching across the aisle," Yazan Hanouneh, KPU Director, said. "John Kasich had built his political reputation on coming together to find bipartisan solutions."
When asked by an interviewer about President Donald Trump's administration, particularly after the crude tweets regarding John McCain, Kasich said, "Have normal people holding public office. That's all."
He joked about not getting these types of answers out of most people, saying "you aren't going to hear this from anyone else." He added that what he is most interested in are people with different opinions and values from him, but can still articulate and discuss and civilly debate.
Kasich continued to speak on party divides that occur under presidential administrations, stating that "presidents don't matter that much" in terms of legislation or people's daily lives.
"They can affect our mood, they can affect certain things to come, like what to do with the border and who to kick out of the country, but at the end of the day, that's not what affects you," Kasich said. "What affects you are the people you live around, your roommate, your mother, your father, where you live, what you do on a day-to-day basis, the things that you're interested in and care about."
When asked if he had any advice about students interested in politics, Kasich said, "Acquire some skills that are real and make something of yourself and then you can dabble in politics."
"It's better not to just get locked in there for 20 years and you can't get out," he said. "If you want a career in politics, maybe you should major in English or psychology, something where if this whole political thing doesn't work out, you've got somewhere to go."
Referencing the popular phrase "young people are the future," Kasich emphasized that millennials are engaged, well-informed and passionate about a variety of issues from civil rights to mental health to climate change.
When asked what are some of the biggest lessons he learned from his presidential campaign, Kasich added, is that politics is not really about the issues.
"It's about letting people know that you care about them and that we all need to slow down and engage," Kasich said. "The other day, I was coming out of the gym and this guy asked how I was. I said, 'I'm fine, how are you?' and he never answered. He was in a hurry. He wasn't interested in how I was doing. So if we slow down a little bit, we find that we have a better life instead of speeding through everything."