First World Problems: The West's indifference towards the Rohingya crisis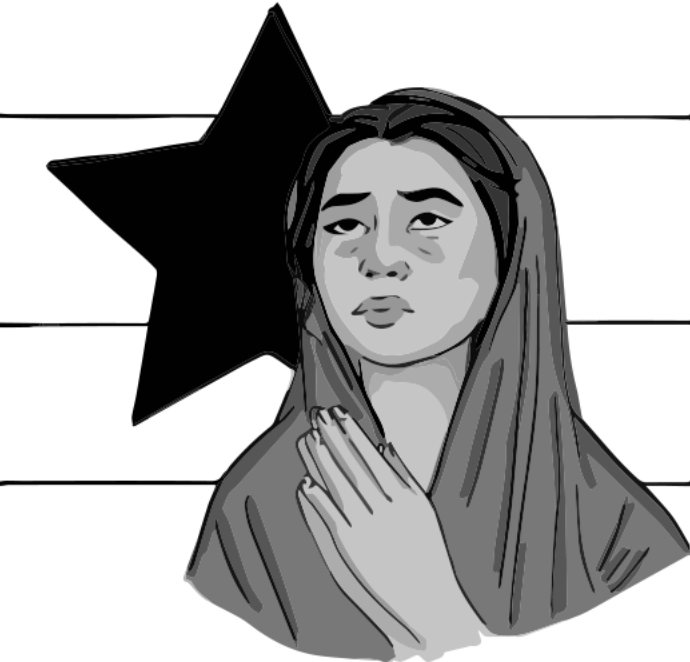 In the past year, over 700,000 Rohingya asylum seekers have fled from Myanmar in search for cramped refugee camps and an improved life from their troubled homelands. The Rohingya, a Muslim ethnic minority group of the primarily Buddhist Rakhine state, have fled in large numbers to the neighboring state of Bangladesh after Myanmar's military launched a crackdown in response to attacks on border posts by Rohingya rebels.
The government of Myanmar denies the Rohingya citizenship on the basis of their minority status in the state and sees them as illegal immigrants from Bangladesh. Though this crisis has been ongoing since the 1970s, recent years have seen an upsurge in political violence instigated against the Rohingya, as well as an uncontrollable refugee crisis.
Their case is one of textbook ethnic cleansing — yet many believe that Western media hasn't provided the issue enough coverage.
According to the 2017 United Nations definition, ethnic cleansing is rendering an area ethnically homogeneous by using force or intimidation to remove persons of given groups from the area. Despite fitting all of the criteria of a genocide and gaining recognition from international organizations, these atrocities have received a lack of attention from the international community.
Myanmar's de facto leader and nobel laureate Aung San Suu Kyi, who is known in her position for defending democracy, has not condemned the acts of terrorism that the military junta have enacted.
"What makes this situation interesting is that the nobel laureate, who has the freedom of defending democracy, is defending her government against the Rohingya," said American University professor and Diplomat in Residence Anthony Quainton "The Rohingya are abandoned by the people who support democracy. The leader thinks these people don't belong. The international community isn't forcing [Myanmar] to do anything. These people are simply tragically stuck in the corner of Bangladesh."
Other than the U.N. noting that the Rohingya situation is the "world's fastest-growing refugee crisis," little to no action has been taken. There seems to be a general consensus that there is injustice happening, though the discussion on sanctions has been muted. A particularly prominent issue is the perceived lack of press coverage by Western media with regard to the crisis.
"This is both about how media affects foreign policy and how foreign policy affects media," Quainton said. "If the media doesn't pay any attention to a problem it's very unlikely you'll get a critical mass of citizens unless they're already predisposed to this issue like the Burmese Rohingya refugees are."
However, according to Krishnadev Calamur, foreign policy columnist at The Atlantic, this is not a surprise when it comes to covering non-Western affairs.
"Journalists in any capital city around the world are very officially driven process. If the prime minister of a state says something, it becomes news automatically," Calamur said. "The city covers government, so we cover government. It's the mindset that if they aren't talking about it, then what's the point of writing about it. Whether that media coverage is supportive or critical, it is still influenced by the leader of a country."
Unlike other conflicts, such as the Syrian refugee crisis, the Rohingya Muslim Crisis does not affect Western politics directly since the Rohingya are seeking refuge in Bangladesh and other South Asian neighborhood countries. The lack of U.S. involvement makes it less relevant for American media consumers, according to Imam-ad-Dean Ahmad, Muslim chaplain of the Kay Spiritual Life Center and American University Physics department professor.
"The media is interested in what will sell to them, and they do not see the Muslim community as a market, so they don't have the incentive to put the effort into it that is required," Ahmad said.
Quainton said that the reason why some genocides may get more media attention than others would have to do with the democratic constituency present.
"Not only students, but the American public as well tends to listen, when there's a credible spokesman from the aggrieved group," Quainton explained. "People have seen the pictures of the camps in Southern Bangladesh but there are so many pictures like that that these are no worse pictures than so many others. This is very sad, but there's just a kind of sense of 'what can we do now; they just don't get the attention that they deserve."
It is important to look at how this issue may affect students in American University's School of International Service. American University currently prides itself in its international relations curriculum, its status as the eighth best school for international relations, and its Princeton Review rank as the most politically active student body in the nation.
Yet, the student body seems to remain concerned about issues that are centered around U.S. foreign interest or are popular or heightened by the media.
"Even in the course I teach where we are talking about genocide, there's a fatalistic sense of 'its too bad,'" Quainton said. " There's very little sentiment among the students and the current administration does not have any care towards this cause. I don't get the feeling that students or faculty want to see the U.S solving everyone else's problems."
Although the Rohingya crisis may not be directly affecting the U.S., it is still a crisis. Ahmad believes that it deserves attention from the international community.
"Even though there's no attention by the U.S., government, there should be an interest in making our students acquainted in this issue because the issues that come up with this genocide are issues that will come up in the future where there will be US government interest," Ahmad said.
Furthermore, Ahmad said that this problem begs students to delve into it more deeply.
"To speak now as a scientist, I think social scientists should also think, where there's a social phenomenon happening in your place of study, you should be interested in pursuing it and understanding it."
Regardless of the bits of relief provided by the UN to these persecuted groups, there remains a sense of stagnancy in terms of the problem progressing. Although humanitarian groups and the Western nations recognize the Rohingya as a persecuted minority, the government of Burma and an overwhelming majority of its people see these people as a foreign group with a separatist agenda that is fueled by their distinct and erroneous religion, Islam.
But, Calamur said that regardless of how severe this problem may be, it is hard to measure the way it can impact people abroad, even if they were to be exposed to the problem.
"You can't force people to feel. Being attuned to human suffering takes effort. And we take effort only with things that benefit us. In the case of the Rohingya, nothing is benefitting us to care. If America started taking in a large number of Rohingya refugees, people would know about the conflict here. But that's the thing. Bangladesh takes them. America does not," Calamur said.
This difference in perception is what will make any possible resolution of the Rohingya issue extremely difficult, and especially more controversial within a student body that has political opinions. In the case of educating students in SIS, Ahmad said that it must start with people looking past their self-interests.                                                                                                     
"You can't put pressure on government until you get yourself organized properly," Ahmad said. "You first need to put pressure in education. you have to get the intellectuals to get up to speed and be concerned and to motivate them. Then they can influence the masses who in turn, in a democracy, can influence the policymakers, and create the change we need."
About the Writer
Aqsa Rashid, Writer
I'm a freshman majoring in International Studies with a concentration in the Middle East and North Africa. I've always had a passion for writing, and...