Hey! Ho! Forbidding Activism has Got to Go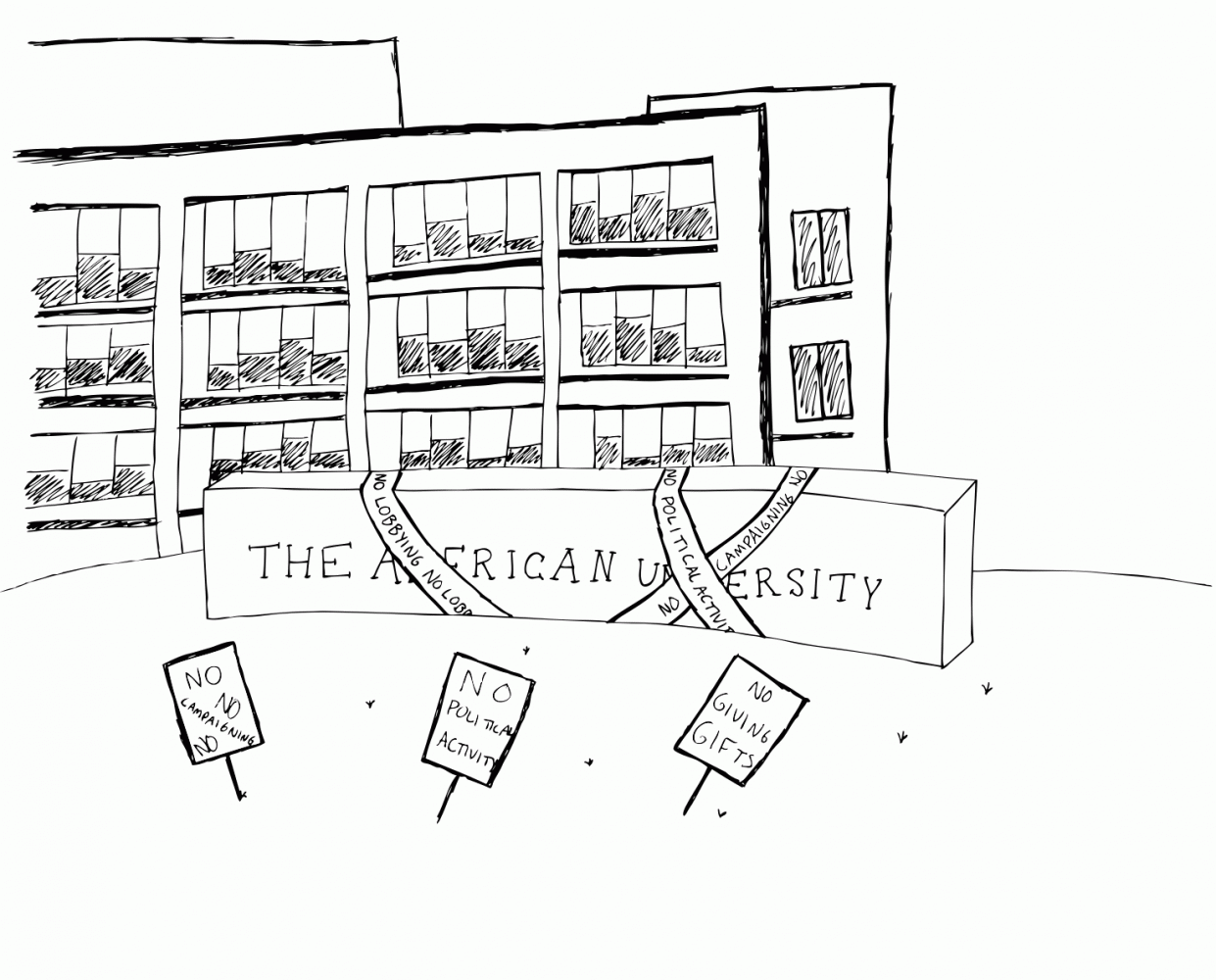 Jimmy Hoover
April 23, 2013
As a school continually ranked by the Princeton Review as one of the most politically active in the nation, here at AU it's worth positing the question: how do ya figure that?
Well, any minor search into the rankings goliath that is the Review will tell you that these results are shady at best. There is absolutely no quantitative analysis of what constitutes political activity. Furthermore, most of their findings come from questionnaires where students "fill in one of five boxes on a grid," the aggregate of which then filed into a database.
Interestingly enough, a lot of what people take to mean political activity is directly prohibited under American University policy due to its status as a non-profit organization, meaning student groups can't technically be politically active.
In the 2011-12 annual report, the AU Board of Trustees declared a total of over $15 million in revenue from federal grants and contracts. Coupled with its tax-exempt benefits, American has a significant interest in maintaining this status. But to do so, the gavel often falls upon unsuspecting heads—namely, student organizations.
"All students, staff, and faculty are strictly prohibited from engaging in lobbying or political activity on behalf of University," according to university policy. The policy goes on to then define these activities within parameters like "participating or intervening" in political campaigns, "lobbying" any government official or his or her staff, and not surprisingly, "giving gifts" to these same elected personnel.
Even using money that comes from somewhere other than the University doesn't fly when you're talking about student groups.
"A recognized student organization is not permitted to hold outside bank accounts, or to privately raise funds for any purposes," Director of Student Activities, Karen Gerlach, wrote in an email. "All transactions and activities of a recognized student organization must be conducted through Student Activities."
So, what does this mean for a political group like College Democrats?
On these restrictions, AU College Democrats President, Kathryn Tinker, says, "We are greatly hindered on activities. We can't campaign," said Katrhyn Tinker, the president of AU College Democrats.
The Dems, who in the past four years have been dealt two strikes by the Office of Student Activities for infringing on lobbying policies, must now toe the line in order to avoid a third, which would be grounds for the club's dismantlement. In one case, a group of AU Democrats travelled to the Human Rights Campaign office in Dupont Circle to phone bank for the repeal of the controversial military policy Don't Ask Don't Tell. But when photos of the students holding up signs were posted online, the university watchdogs caught the scent of foul play.
Tinker has kept the group strike-free since the start of her term in May and sees these episodes as cautionary tales to mind when planning future activities. To avoid future violations, the AU Democrats now have round-the-clock policy wonks to come up with legal quick guides on the dos and don'ts of non-profit organizations.
Tinker says they're even mindful of the speakers they bring to campus. When they invited Virginia's gubernatorial candidate Terry McAuliffe earlier this semester, Tinker remembers specifically warning McAuliffe's aides to "not make this a campaign stop."
In the worst of cases, Director Gerlach warns student organizations and individuals "could have charges filed" against them if they violate the Student Code of Conduct.
But the truth is that many other groups have felt less pressure from student activities when it comes to pursuing their political agendas. Valerie Kielba of the advocacy group Students for Justice in Palestine says that they have managed to avoid any sanctions stemming from policy infringements. But she admits that where the school draws the line can sometimes be pretty opaque.
"Most of the conflicts come from other groups on campus that oppose what we stand for," she said. "When those groups go to AUCC and complain about political statements that were making, then AUCC comes to us."
The example she's referring to took place this past September when a group of SJP students went on a hunger strike on the Quad in solidarity with Palestinian political prisoners in Israel. Although not in the same vain as lobbying, the political nature of the strike was enough to disconcert the SJP's student activities advisor, who then admonished the group to desist. Student activities refused to comment on any specific incident for this story.
Even situated in the nation's political hearth, AU is still an institution greatly stifled in its political expression. Realistically, SJP's hunger strike on the Quad didn't pose any threat the the University's nonprofit status. One would hope students would be encouraged to engage in the political activity within the limits of the law, especially at a school that prides itself as being rated one of the most politically active in the country; however, it makes sense for administrators to be cautious about maintaining the University's tax-exempt status. Even so, it should be on administrators to understand the rules and communicate them to students; however, with the knowledge they will likely err on the side of caution, it doesn't hurt for student groups to take the time to know their rights.
Illustration by Rebecca Bartola