"Plans to Prosper You"; Katzen Museum hosts exhibition on historically Black communities from Montgomery County, Maryland
American University's Katzen Museum is hosting an exhibition focused on historically Black communities from Montgomery County. 
It will include historical artifacts, original artwork, photographs and videos to redefine black history in the county.
The exhibit, titled "Plans to Prosper You: Reflections of Black Resistance and Resilience in Montgomery County's Potomac River Valley," focuses primarily on three communities: the Macedonia Baptist Church in Bethesda, Maryland, the Scotland African Methodist Episcopal Zion Church in Potomac, Maryland, and Tobytown, Maryland. 
Aside from historical information about these communities, the exhibition also features artifacts from recent protests for the memorialization of Moses Cemetery, a historically black cemetery located on River Road.
"One of the primary goals of the exhibit is to rewrite, to restage black histories," said Delande Justinvil, a graduate student of anthropology at AU and the curator of the exhibit. Justinvil and other Anthropology students  worked to put the exhibition together as part of their coursework.
Justinvil said in an interview that he hopes the collection will combat past narratives of black communities that centered around "violence and poverty."
"The exhibition… is inviting the viewers and the audience to think more deeply and more critically about the things they read, the sources that they use," said Justinvil.
Resistance and Resilience: Moses Cemetery 
At an event discussing the exhibition, Marsha Coleman-Adebayo, who is head of the Macedonia Baptist Church's social justice ministry, focused on the community's push for the memorialization of the Moses Cemetery on River Road.
Moses Cemetery was paved over and became a parking lot in the early 20th century, according to the Washington Post. 
In 2017, the Housing Opportunities Commission purchased the land with the intention of redeveloping the plot. 
As previously reported by AWOL, Macedonia Baptist Church members and the Bethesda African Cemetery Coalition are protesting against the Montgomery County Housing Opportunities Commission as an effort to prevent any further land development at the site.
Coleman-Adebayo said that the exhibition shows increased activism and participation of Montgomery County residents in their efforts to preserve the history of historically black communities.
"At the grassroots level that we work at, we see everyday people who are prepared to provide their time and energy and resources to turn the page on a very disgraceful period of history," said Coleman-Adebayo.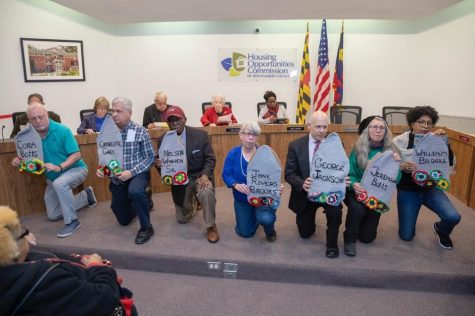 "We are encouraged by American University, we are encouraged by the exhibit which, as you can see, is gaining so much momentum every week, and we are encouraged by everyday citizens from Montgomery County who are saying that the way the county is treating us will not happen on their watch," said Coleman-Adebayo.
A spokesperson for the Housing Opportunities Commission was unavailable for comment at the time of publication. 
Black Joy
An important part of the exhibition's effort to dispel stereotypical characterizations of black communities is by highlighting leisure activities that black Americans participated in as a form of pleasure and escape.
"There was a lot of intentionality in the naming of the exhibition," Justinvil said. "Sometimes acts of resistance and resilience are, in themselves, acts of joy."
Nickole Sharp, another contributor to the exhibition, said that "we often times forget about those instances and those spaces, whether they be small, that really brought some type of joy or solace to a community."
The exhibition features a baseball uniform donated by Ms. Deborah Young, a member of the Scotland Church. The uniform belonged to her father, Dennis Young, who played for the Scotland Eagles, an all-black team that would meet and play every Sunday after church.
According to Sharp, baseball represented a time in which members of black communities were able "to self-express" and to "get away from the ills of society that plagued them every day."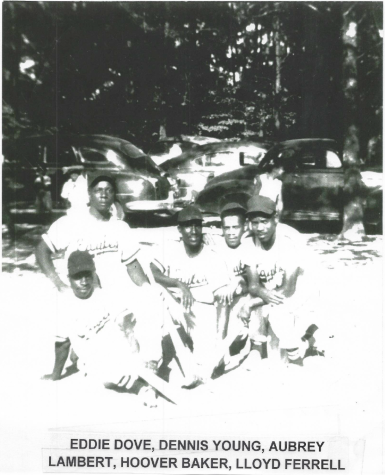 "Playing baseball, smiling, worshipping, singing, those were forms of resistance because they were joyful. … Joy can be seen as a form of resistance when you feel as though you are being pushed up against a wall and you cannot use your voice," said Sharp.
"I want people to walk away [from the exhibition] looking at a community who are very prideful, who found joy in a space where there shouldn't have been any joy," Sharp said. 
Respect
Doctoral students Justinvil and Sharp said when interviewed that they hoped the exhibition would educate AU students and community members about the complex histories of these black communities in Montgomery County.
Justinvil said that he hopes visitors to the exhibition come away with an understanding that "black culture, black history, and black stories are not monolithic."
Sharp explained that she does not want to visitors to feel "guilt" or "sympathy" after visiting the exhibition, but rather a feeling of "respecting these communities and these folks who are trying to make sure they are not forgotten."
Sharp said: "I don't want people to visit the exhibit, to read more about the Scotland community, the Tobytown community, … the Macedonia Baptist Church community, and to come away with a feeling of sadness."
The "Plans to Prosper You" exhibit is free and is open for visitors to explore and review on the second level of the Katzen Museum Tuesday through Sunday from 11 a.m. to 4 p.m. through August 15, and there are plans to release a copy of the archives online within the coming months.