Assessing the Need at the Child Development Center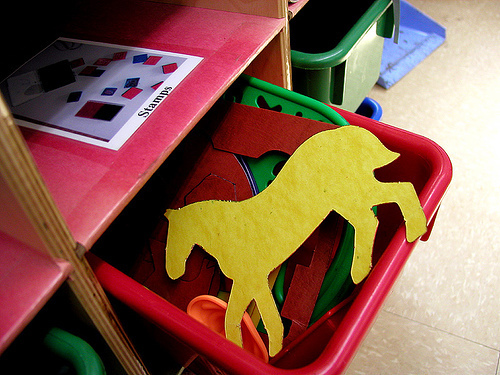 Rachael Wolff
April 22, 2011
00000;">Asel Shakaralieva, an AU student and parent, spoke highly of her experience with the Child Development Center. "The process was really easy, just filling some paperwork in," she said. "In DC, most daycare facilities have long wait lists, and the CDC was able to accept [my son] ahead of the list because I am a student."
Her complaint, she said, is with the cost. As Shakaralieva, who is originally from Kazakhstan, put it, "I understand this is a capitalistic country and you have to pay not matter what. But still, if the CDC has been originally created to help students, they should have discounts for those who do not have any income at this point."
The CDC isn't all finger-painted rainbows and butterflies. While compassionate relationships have built a family, socioeconomic factors — both cost and availability — limit its clientele. Subtle reforms may broaden its inclusiveness and further its progress for years to come.
The CDC was founded in 1978 under the Student Confederation. In 1993, it fell under the leadership of the Office of Human Resources. The CDC currently serves 30 children between 2.5 and 5.5 years old on a full-time basis. According to its literature, it values "fostering the growth and development of the whole child in . . . cognitive, physical, social, and emotional [development]."
The pulse behind the CDC's current state of affairs is Zakia Charfi. A teacher at the CDC since 1992, she was promoted to director last year. As for her duties: "I'm the social worker, educator, babysitter… I am wearing all the hats, but always the teacher at the desk," she said.
Striving to be more than a daycare, the CDC works to carry out a stimulating academic plan, support AU family units and provide an educational supplement for AU students.
"It is just darned excellent," said literature Professor Marianne Noble, whose two sons have attended the CDC. "We agree entirely with their play-orientated philosophy."
The children are guided by a rotation of four full-time teachers and up to four Federal Work Study students. Yet despite the staff's hard work, Charfi lamented that the Center was under-staffed. This lack of hiring prospects is a perplexing problem, leading to the larger debate on the Center's finances. The funds supporting the institution include the cost for a full-time child: $1,025 per month for AU-affiliated families and $1,075 per month for non-AU affiliated families. Openings for part-time child care are limited. If chosen, parents must find another child to occupy the days of the week that their child does not attend the CDC.
As part of AU's Human Resources budget, the CDC's revenues from tuition and sporadic fundraising efforts barely cover salaries and operational costs. Professor and public administration and policy adviser Taryn Morrissey, who has specialized in child care and development, noted that up to 70 percent of child care funds usually go toward labor costs.
Though the CDC is designed to help the university family find child care, discrepancy lies within the definition of "the AU community" and the equality of the constituents. To a great extent, the CDC becomes another gear in the AU system, recycling money from its inputs to benefit a specific group. Enrollment is based on a hierarchy of categories: children of AU students come first, followed by AU faculty and staff, AU alumni, and then Wesley Seminary students' children. If open spots remain, the CDC accepts the children of staff from on-campus organizations like Bon Appétit and UPS and those from the community surrounding AU. At present, 18 children of faculty are enrolled and children of staff, students and community members fill the remaining 13 spots.
This matter is complicated by the fact that the CDC's enrollment is capped at 30 children because of the federal student to teacher ratio and zoning restrictions. Both Morrissey and Noble commented on the unfortunate"list" that develops when child care supply does not meet demand.
"It is about your reputation on 'the list,'" said Noble. "It's like you have to sign up the minute your child is born to guarantee him a spot!"
In any case, it is difficult to assess whether the need for the Center is being met. Charfi noted that the 30-child cap doesn't seem to be enough for AU. "Parents are begging me every day to let their children into the CDC," she said.
Tara Lemerise, Service Delivery Manager of AU's HR, said she sees things differently. "There are definitely a lot more faculty and staff who have children and don't make use of the center," she said.
In explanation, Professor Morrissey suggested, "it probably is a cost issue." She cited a Children's Defense Fund Report that found that in 36 out of 50 states, the cost of infant care is greater than the cost of college tuition at four-year public universities. Labor costs, student-teacher ratios and quality of care leave "decreased room for innovation in terms of economies of scale." The gender wage gap is primarily driven by a "mommy gap," usually beginning with the extended leave some women take from work after the birth of a child. As referenced in one of her articles to be published later this year, "low-quality, unreliable care does not meet children's educational needs…however, high-quality, full-time child care is expensive and difficult to find."
For many using the CDC, its convenience is worth the cost. "I think the tuition is competitive for this area," Lemerise said. "I would obviously like if the cost would be more highly subsidized by the university, but we'd all like child care to be cheaper, right?"
Cost is not the only factor in child care choices for AU. According to the parents interviewed, several elements contributed to their decision to choose (or not to choose) the CDC: on-campus location, quality of teaching staff, accessibility, payroll deduction and diversity of children enrolled.
Most find the CDC a "harmonious, humming, happy, nurturing space," as Noble said, but an overhaul of the system is long overdue in order to better meet the AU family need. According to Lemerise, accessibility to the CDC could improve by having a more flexible part-time student schedule and by more highly subsidized tuition for AU faculty and staff.
Changes may only come with renewed accreditation. Charfi has proposed allocating scholarships for those unable to pay top dollar for child care through fundraising efforts in order to be more "visible in the community." Such a hopeful vision is important to the CDC's future. According to the 2011 Campus Plan as filed March 18, the existing CDC building will be demolished to make room for a new residence hall. It does not appear that there is an alternative location for the CDC yet.
Surprisingly, Charfi was cool and optimistic that the CDC would survive thanks to the role it plays at AU. After all, she said, "Our job is the children…this is their world."
Photo by o5com.