Angela Davis visits AU
AU groups host long-time activist
Angela Davis, a longtime activist, spoke at American University on March 23 about her life and work. 
Davis was hosted by the Kennedy Political Union, Students for Change and Students for a Just Society in the School of Public Affairs. She discussed her life and work and shared her wisdom with what she said was the next generation of activists. Davis said she wanted students to find a way to incorporate their passions into activist work. 
"Based on my own experiences, I would suggest that you get involved in a way that captures your own imagination," Davis said. "All of us are fulfilled by different kinds of things." 
According to the event flyer, Davis is a political activist, radical feminist, professor and author. Davis spoke about her role as an activist during the event, particularly her work regarding prison abolition and how she disagrees with the concept of prison reform. 
"Prisons have always been in the process of being reformed, and the more they're reformed, the worse things get," Davis said.  
Davis also said activist work takes time, and results are not always immediate. 
"Think about the fact that people have been resisting, forever," Davis said. "And sometimes it feels like it's not having an impact, but if it had no impact, we wouldn't be gathered here today. We are here by virtue of the fact that people did the work, even when they were exhausted, even when they thought it was not having an impact. And sometimes you don't really see the impact until years later."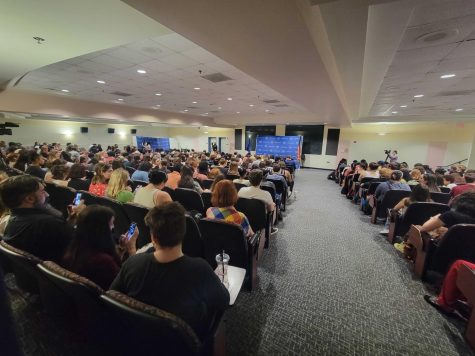 Davis said she began her activist work as a child in Birmingham, Alabama. 
"I always say that my first involvement in an organized movement was when I was 11 years old," Davis said. "I joined an interracial discussion at the church I attended. After that, the Ku Klux Klan bombed the church." 
According to Davis' faculty page at the University of Santa Cruz, where she is a distinguished professor emerita, Davis' activism did not gain national attention until she was removed from her teaching position in UCLA's  Department of Philosophy due to her involvement with the Communist Party. A year later, in 1970, she was placed on the FBI's Ten Most Wanted List. During the event, Davis spoke about her time in prison. 
"I was captured by the FBI," Davis said. "I was sent to jail and faced three death penalty charges. During the time I was in jail, I faced capital punishment. And the only reason I was able to defeat those who wanted to see me dead was because there were so many people who were involved in the campaign for my freedom, from all over the country, and all over the world." 
KPU's Production Director Ben Mermel said KPU is a student speakers bureau that tries to bring educational and inspiring speakers to AU's campus. He said the choice to invite Davis reflected KPU's commitment to bringing diverse speakers to campus. 
"The focus this year was particularly on diversity, equity and inclusion," Mermel said. "So in selecting our speaker choices, we wanted to make sure that who we brought best reflected the needs of the campus."
First-year Chelsea Morton, who waited over an hour to hear Davis speak, said she would like to see more Black women as the next KPU speakers.
"I would love to see more revolutionaries," Morton said. "I would love to see more Black women. I would love to see Michelle Obama. I would love to see Michelle Alexander." 
Morton said her biggest takeaway from the event was Davis' description of freedom as a journey. 
"Freedom is not so much a destination as it is the process of moving in the direction of freedom," Davis said. "Freedom really is about the journey and not the end goal."