Meet Rohin Ghosh, AU's 19-year-old ANC Commissioner
From Silicon Valley to D.C. socialist activist, Ghosh has become one of the youngest Advisory Neighborhood Committee commissioners.
A self-professed socialist, Rohin Ghosh said he began pursuing activism in high school. Ghosh said his parents, who both work in Silicon Valley, were on board with their son's decision to fly across the country to pursue his passions at American University in Washington D.C.  
The full-time American studies student and now commissioner for ANC 3E-08, which represents AU's campus, is involved in several D.C. organizations. Ghosh participates in Cancel Rent DC, the Latino Economic Development Center, Metro DCDSA, Sunrise DC and his role on the steering committee for AU's chapter of Young Democratic Socialists of America or YDSA.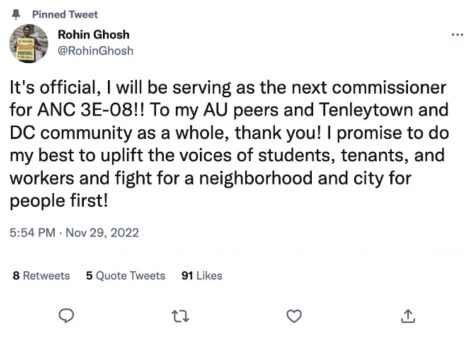 Ghosh lived in suburban Milpitas, California, until the age of 4 when his parents, who gained more status and wealth in the tech world, moved to Palo Alto in the South Bay of Northern California, Ghosh said.
Ghosh said that his diverse cultural background and Indian heritage highly influenced how he positions himself in activism and why he has such a strong inclination toward civic engagement.
Ghosh's family originates from the West Bengal State of India, which Ghosh said is a region rooted in a rich tradition of community-struggle activism, was heavily exposed to social justice advocacy being raised and taking visits to India.
"Growing up around so much wealth in Palo Alto, one of the richest communities in the Bay Area, which is right next to so much inequality, ultimately is what pushed me toward activism," Ghosh said.
Ghosh's high school, Palo Alto High, is across the street from Stanford University. However, Ghosh said a community of people living in recreational vehicles separates the two campuses. Ghosh said this stark juxtaposition of extreme wealth and poverty troubled him.
"That combination of being in the heart of inequality growing up – Silicon Valley – to then also learning about the activism history among people of the same heritage as me together drove me to be passionate about collective action and community issues," Ghosh said.
In looking for what he called "activism-led, progressive universities," Ghosh said that AU stood out to him among his top choices because of its Community-Based Research Scholars program, or CBRS. Ghosh said the program's research about the racism and colonialism behind community service was something he hadn't been exposed to before. He said the program served as a driving force for his application to AU. 
"The fact that the CBRS program existed, drew me in," Ghosh said. "I'd already discovered my passion for community-based work on complex issues but wanted to engage in a way that's really connected to people directly.
The CBRS program is a selective, living-learning community experience emphasizing community-based research through responsible and meaningful community-engaged service and learning opportunities, according to the program. CBRS scholars participate in a research methods course, with projects that are designed in collaboration with a local nonprofit.
As part of the steering committee of AU's chapter of YDSA, Ghosh said he worked behind the scenes by using social media, organizing regular union meetings and bringing staff, adjuncts, graduate students and union members together. The strike ended with workers having several of their demands met. 
Ghosh said his role in the bargaining success of the AU staff union strike, rallying AU community members and banding a strong faculty-student alliance to advocate for equitable staff wages, was an example of collective action.
Ghosh said by fighting for better staff wages or advocating the cancellation of rent to aid students with expensive housing, he has already built strong relations with many AU staff and students. 
Ghosh developed a connection with one of his first-year advisors and AU Experience instructors, Roshan Abraham, a first-year instructor and adjunct professor of Philosophy and Religion.
Abraham was involved in organizing the staff union, which he joined in 2019. Abraham said that Rohin played a big role in organizing to support the staff union and deserves a lot of credit for taking the lead. 
Ghosh said he's focused on creating change and not taking the credit. Abraham said this approach is typical of Ghosh, who he says does the work behind the scenes.
"What I love about Rohin is that you never get the sense that he's doing this for a resume or even for a future career he's envisioning," Abraham said. "He's doing this because it matters to him and he sees value in collective action." 
Since Ghosh and Abraham have a shared community activism background, Abraham said it was easy for them to discuss issues. 
"There is a systemic issue of how staff are treated, paid and supported at AU, and that staff, individually, have no power to do anything about it," Abraham said.
Abraham said Ghosh understood the importance of banding students and faculty together and that Ghosh's motto of collective action strengthened the cause. 
"He understands that oppression cannot be solved at the individual level or even the interpersonal level," Abraham said. "He knows it requires people coming together, united in community, speaking with a united voice against the powers of be and in support of each other. That is what fosters systemic change."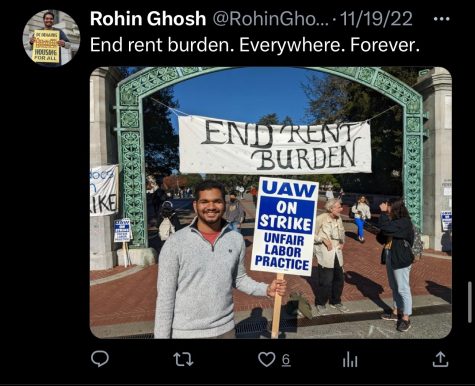 Ghosh didn't waste any time working on community issues, said Abraham.
Abraham said Rohin has a way of not only bringing personal experience into classroom dialogues but also seeing the relationship between what we're talking about on an intellectual level and why it matters on a personal and on-the-ground level, Abrahams said.
"He's intellectual, but he's also got on-the-ground experience," Abrahams said. "It's not just an academic exercise to him. It's something that fundamentally matters to society." 
Ghosh said he wants to create the support structures for the community, and that meant going beyond AU and trying to solve issues in Washington. 
 "One of the things that AU first-years talk about is how they came expecting an incredibly liberal and progressive campus, and they then became disappointed," Abraham said. "I always tell them, 'Look it's not about the administration, it's about the students.' It's a student like Rohin who makes AU a politically engaged, activist campus."