Students: University email about mental health services "incredibly dismissive"
AU students respond to Office of Campus Life's email about Counseling Center grievances
American University's Office of Campus Life added last Sunday to a longstanding controversy between the administration and students over the university's mental health services.
Vice President of Campus Life and Inclusive Excellence Fanta Aw addressed student complaints about the quality of services offered by the AU Counseling Center in an email sent to the entire student body.
Following last Sunday's email, current and former AU students expressed their dissatisfaction with the administration's defense of the Counseling Center and refuted the points Aw made.
Aw said that the student body is satisfied with the Counseling Center, citing statistics from the Fall 2019 semester. According to the data collected from student surveys, 97.5% of students who utilised university mental health services would recommend them to a friend, she said.
"Around 20% of all appointments made at the Counseling Center this Fall were not attended," the email said. 
According to Aw, there were 389 "no-shows;" students who missed their counseling appointments, last semester. 148 students cancelled appointments the day of, she added.
According to a 2018 survey of 571 university counseling center administrators conducted by the Association for University and College Counseling Center Directors, an average of 8% of the 5,096 talk therapy appointments made were "no-shows."
For "psychiatric services," the average rate was around 9% for 1,163 total appointments.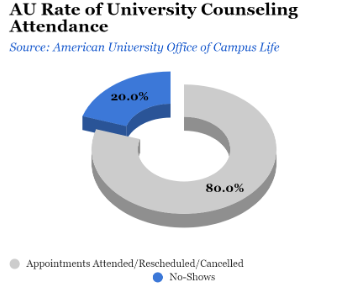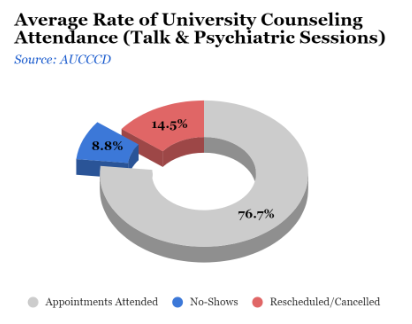 According to Dr. Ryan Patel, the chair-elect of the American College Health Association's mental health section, "a 20-30% no show rate for [university] mental health is not unusual."
At AU, "no-shows" used time slots that could have been used by counselors to see 48 new students or conduct 96 follow-up appointments, Aw said.
According to Aw's email, there has not been a waitlist for ongoing therapy in three semesters.
The AUCCCD report stated that an average of 66.3% of the institutions surveyed did not have a waitlist.
"[The University] found no relationship in the data between the anticipated length of the wait time and the likelihood of skipping an appointment," Aw stated in her email. "In other words, there is no reason to think that clients were failing to show up because they were frustrated at waiting."
According to Patel, there is "not a clear timeframe beyond which students are more likely to miss/skip appointments."
"Many counseling centers encourage students to consider a variety of treatment options while they wait for their appointment with a counselor," Patel said. "These options could be drop in mental health workshops, group therapy, online resources, self-help, or other counselors in the area that can see the student sooner and to contact the counseling center for help if their situation worsens or become difficult to manage."
Camille Perrault, a former AU student who received the message, said she was "caught off guard" by OCL's email, and that she found it "incredibly dismissive."
"Students not showing up to appointments is going to happen regardless of the number of patronizing emails sent out," Perrault said.
"This email shows a lack of warmth, compassion, and understanding for those who are struggling," senior Caroline Jaros wrote in an email response to Aw. "It shows that students are not being listened to and are blamed for the issues at hand."
AWOL spoke to several students about their experiences with the Counseling Center and their reactions to OCL's handling of grievances. As these individuals discussed issues pertaining to their mental health and trauma, several asked to remain anonymous.
Sarah, an AU student who asked to be quoted under a pseudonym, recounted her difficulty securing an appointment with the Counseling Center following a traumatic injury. 
"I went to the Dean and she told me she could get me into the Counseling Center quicker than usual due to the traumatic nature of my accident," she said. "Despite that, I was put on a waitlist for a little over a month."
According to the AUCCCD survey, the average wait for an initial counseling session for AU-sized universities was 7.9 business days in 2018.
While recovering from her injury, Sarah said she missed "one or two" counseling appointments. The Counseling Center closed her case. 
"It sucked. I felt really guilty about it back then. I don't feel as guilty anymore, because I know I was just doing my best with my situation," Sarah said. 
Another student said they awoke to "several harsh voicemails" from the Center after suffering a panic attack and sleeping through their appointment.
"One of the first signs of a mental health concern is not showing up to things or the feeling of not wanting to interact with people or get out of bed," Jaros said. "It says something that students are so willing to spend $20 for a missed appointment than go speak with someone."
Beyond missed appointments and cancellations, some students took issue with the overall quality of care provided by the Counseling Center.
"I was taken in immediately and met with an older woman, who then brought in another woman, a grad student, to sit in because it was part of her training," one AU sophomore said about their treatment for depression.
The counselor had the student rate their suicidal feelings on a scale of 1-10, circle the faces that most matched how they felt and answer other specific questions about suicide, the student told AWOL.
A third anonymous source provided AWOL with an "interventions and treatment recommendations" form given to them by an AU counselor. The source was attending sessions while grieving the death of a loved one.
Suggested treatments include "watch a good Netflix show" and "give phone to roommate for one hour."
According to the International Accreditation of Counseling Services standards, university counseling centers must provide treatment recommendations that "foster client self-understanding and decision-making" and that "determine the most effective intervention strategies possible within the limits of available resources."
In her email response, Jaros said that she had been deemed "too difficult" of a case by the Counseling Center. The counselor she met with "dismissed [her] halfway through the session as [she] watched her stop taking notes."
Another one of the students interviewed said that they did not receive follow-up communications from the Counseling Center after taking a leave of absence. "It felt like now that I was no longer a liability, the university didn't care," the student said.
Regardless, every student interviewed expressed disappointment in the way OCL handled last Sunday's correspondence.
"The university's email felt like a punch in the face," one student said.
"A huge sign of depression and anxiety is avoidance. Students struggling with these things are more likely to miss appointments, out of fear of judgement, the stress of life, or because asking for help is scary," said another student. 
The student told AWOL that they believed the university needed a "more sympathetic outlook" on mental health.
Sarah expressed her disbelief that "the university went and blamed students for exhibiting mental health symptoms as a way to excuse their inadequate services."
"This email shows the lack of understanding the administration has and the disregard for student voices," Jaros said in her response.
AU Student Government President Angela Chen released a Facebook statement on Jan. 26 criticising OCL's email. "The numbers that were shared do not reflect the multitude of valid reasons for why a student may miss their appointment," the statement said. 
Chen announced that she would be meeting with Aw and Assistant Vice President of Campus Life Traci Calandrilllo on Jan. 28 to discuss student reactions to the email. 
Following this meeting, Chen told AWOL on Thursday that she thought she and the administrators were "on the same page" that there is a mental health problem on campus. 
She said that her focus as AUSG president would be on advocating for "obtaining more counselors" and "understanding the limitations on the number of counselors that the physical MGC space of counseling center has now," among other solutions.
"There's too much demand and not enough supply when it comes to the number of counselors in the counseling center," Chen said.
OCL did not respond to repeated requests for comment by the time of publication. 
In a statement to DCist, Callandrillo said that the university wanted to "make sure that everyone understood their role in cancelling an appointment if they weren't going to use it." 
She said that she understood some students struggled to reach out for care, but that "I think a lot of students don't understand that if they don't come for an appointment, someone else can't use the appointment."
Students like Perrault suggested that OCL and Aw missed the mark by focusing on "no-shows" in their email. 
"While I was at AU, I missed maybe two out of the 15 appointments I had at the Counseling Center," she said. "I don't think that makes me irresponsible, I think that means I'm a regular human being with a job and class who's trying to work on her mental health."
CORRECTION: This article's headline has been corrected for quote accuracy.