Broadcast Blues
Following WAMU's debts and money trail
Hang on for a minute...we're trying to find some more stories you might like.
Art by Nana Gongadze and Casey Chiapetta 
In 1960, a small group of American University students and graduates received a FM license for a radio station. The station could broadcast to the greater Washington Metropolitan area, had less static and featured scheduled programs. One year later in 1961, WAMU was officially born. But since then, WAMU has been plagued by financial and staffing difficulties.
Given its success in the early 1960s, WAMU received a non-commercial broadcast license from the National Education Radio Network, the predecessor to National Public Radio (NPR). Shortly after WAMU became one of the founding members of NPR in 1971, AU relinquished much of its jurisdiction over the radio station, despite still owning the license.

According to WAMU Associate General Manager Carey Needham, the Federal Communications Commission gives American University an eight-year ownership over the license to WAMU. It is unlikely that that the license would transfer to a different entity because of the longstanding relationship between AU and WAMU.
This license ownership means that WAMU workers are technically employed by AU and are entitled to all the benefits typical AU employees receive.
"All WAMU employees go through AU's orientation process, which outlines their full benefits package," Needham said. "I would imagine the majority take advantage of the package, but AU would have to comment on participation levels."
However, despite its success, WAMU has gone through some financial rough patches in recent years.
In 2014, WAMU General Manager JJ Yore said in a public statement that WAMU was understaffed. It was also losing money. In 2015, the station ran a $2.58 million deficit after they moved to expensive new offices.  
Several prominent programs had to either be shut down or scaled back. According to a Washingtonian article in 2015, the Metro Connection program went on hiatus and The Kojo Nnamdi show was reduced to a one-hour slot.
These new changes marked a turning point for WAMU. A 2016 press release says that Yore's cuts to the station are part of a five-year plan that will triple the staff, create an investigative unit and increase the number of beats covered by its reporters.
How AU affected this budget crisis
AU is to somewhat responsible for WAMU's financial crisis according to George Washington University Ethnomusicologist Professor Kip Lornell. Lornell is currently writing a manuscript for the Oxford Press on the history of WAMU and the Bluegrass music it once promoted.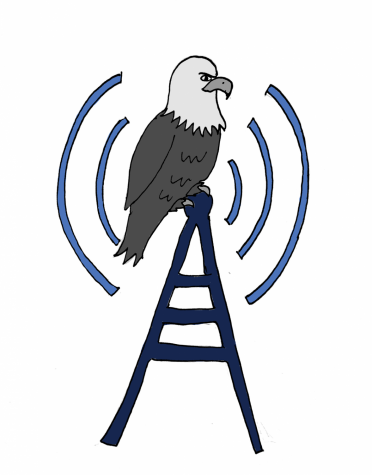 This is because of lease agreements and loan conditions to AU.
When WAMU moved from their old location on Brandywine Street NW––an AU owned building––to a newer building on Connecticut Avenue (also owned by AU) in 2013, WAMU was forced to take out substantial loans.
"The [new] space is larger and nice and the rent [is] substantially higher," Lornell said. "On top of this, the station owes money to American University for a loan to refurbish their new location."
In 2013, WAMU entered a loan agreement with AU worth $6.25 million for the transition. According to WAMU's 2016 financial disclosure, $5.85 million of this loan is still outstanding.
"WAMU entered into an agreement with the Finance Office of AU which outlines how we reimburse the University for overhead, rent and the loan," Needham said. "We have a recurring monthly payment in which all three elements of our obligations are satisfied."
In order to meet the loan conditions of paying everything off by 2018, WAMU would have to pay a yearly average of $2.9 million.
"The terms of [the loan] are reviewed every two-years during the AU budget cycle," Needham said. "Our financial arrangement with AU is constructed to allow us to pay out our obligations to AU and grow our reserve fund, which is crucial to help offset any unexpected losses in revenues and contributions."
AU is also profiting from the lease agreement it entered with WAMU for the Connecticut Avenue property. This agreement is separate from the 2013 loan agreement. As detailed in a 2016 disclosure form, WAMU has paid $13 million, leaving $38 million outstanding. This lease agreement spans a 20 years, WAMU owes AU a yearly average of $2.5 million in rent.
Furthermore, last year WAMU paid $2.2 million to AU from capital lease interest rates. AU in turn is generating revenue from WAMU's borrowing money to pay off a building that was previously under AU's purview. Even more curious is how on the top of the 2016 balance sheet, under the generic subheading "Due to AU", WAMU owed AU over approximately $1.5 million. This figure exists outside of the lease agreements. Despite AU making a donation of $1.2 million to WAMU in 2016, WAMU ended up paying AU upward of $7 million.
In these loans, AU has used its unique position to make a profit off of WAMU, a non-commercial non-profit.
Aside from this financial relationship, WAMU works directly with AU students, providing internships and workshops. They also have a partnership with the Investigative Reporting Workshop housed in the School of Communications.
"WAMU is an important part of American University's outreach beyond campus – to our regional Washington community and nationwide through syndicated programming." Needham said. "Our radio signal is transmitted from a tower which is owned by AU and located on campus. In general, we are part of the broader mission and vision of AU just like any other entity of AU."
Yet, WAMU remains financially indebted to AU.
Francisco Sabaté is a junior majoring in international relations and minoring in political science.