Students Walkout for DREAMers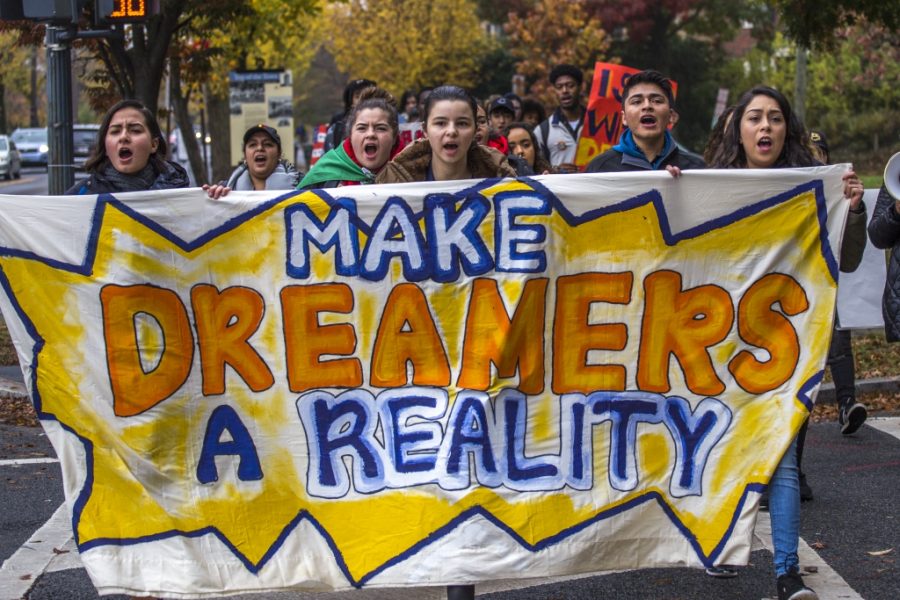 "Let's march for the DREAMers," shouts Erika Soto, a student organizer for United We Dream and American University (AU) student. After weeks of planning, Soto was finally seeing her hard work realized as students rallied in front of AU's Mary Graydon Center to march to the Hart Senate Office Building. on Nov. 9.
The rally was a response to President Trump's decision in early September, to roll back the Obama-era Deferred Action for Childhood Arrivals (DACA) program.
The impact of a DACA roll back would be devastating. Approximately 800,000 immigrants have received work permits and protection from deportation through DACA, according to data from U.S. Citizenship and Immigration Services. That means those 800,000 recipients would be at risk of deportation.
"My community, my brothers, have the same aspirations as us and their status should not define them or have an expiration date," Soto said, explaining her reasons for protesting.
Soto said she wanted to involve more AU students and staff. She began working with United We Dream, a youth-led organization advocating for fair treatment of immigrant youth and families. The organization held walkouts across the nation, and Soto was one of the student leaders organizing in Washington, DC. Hundreds of local high school and college students marched and occupied the Hart Senate Office Building.
"
My community, my brothers, have the same aspirations as us and their status should not define them or have an expiration date. "
"Taking social action by [protesting] demonstrates that DACA recipients deserve to be in the United States just like any other American and are just as entitled," explained Sidi Traore, an AU student who attended the protest.
The United We Dream protest focused on creating a "clean" Dream Act, meaning the legislation should not be attached to policies that would potentially harm immigrants.
The air was filled with chants like, "Immigrants are welcome here," "Deport me/No way/Undocumented/And here to stay," and "El pueblo unido jamás será vencido (The village will never be divided)."
These chants focused on creating unity and love among the crowd and DREAMers in DC and across the country.
"It is my duty to stand up for other immigrants and to make sure that the treatment we receive isn't determined by numbers or a paper but simply by the fact that we are humans," League of United Latin American Citizens (LULAC) president and Peruvian immigrant Romina Martín said. LULAC is a Hispanic civil rights focused organization.
A recent New York Times article, "Post Office Fails to Deliver on Time, and DACA Applications Get Rejected," revealed how nearly 100 applicants were rejected because they had been delayed or lost in the mail. The U.S. Citizenship and Immigration Services agency first rejected the applications but would later allow applications to be resubmitted by those applicants.
AU students can get involved by volunteering and supporting nonprofits like United We Dream and their work for DREAMers. Students can also support their local AU DREAMers and Latinx community by being allies and becoming educated on Latinx identity and issues.