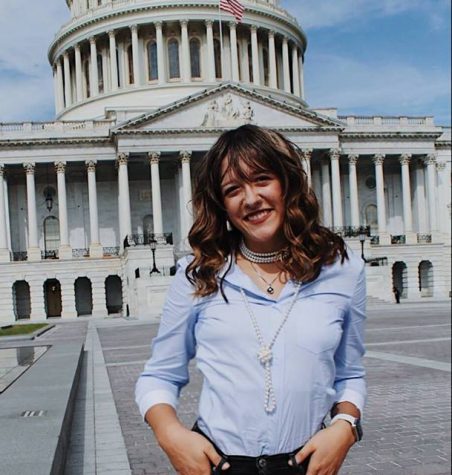 I'm a senior studying Journalism and International Studies. My areas of interest include environmental sustainability, international development, public health, culture, and science news. I have always been intrigued by the way the world works and how so many factors can encompass an entire individual's point of view. Everything and everyone has a story; it's exciting to know that I could tell those stories.
I started writing as a creative outlet when my grandmother sent me my first journal prior to starting first grade. I inherited my mom's affection for reading and my dad's eye for design. A handful of my favorite (ever changing) books are Wuthering Heights, Great Expectations, A Passage to India, "modern" poetry beyond rupi kaur (although she is an amazing writer) and of course anything written by my queen, Anne Sexton.  Finally, I have an insatiable need for travel and if you continue to my fun fact, you'll know why.
Fun fact? I'm almost 20 years old and still trying to figure out my hometown: I was born in Germany, I'm a French-American Citizen, my first language was Greek, graduated from a high school in Tennessee, and currently live in D.C., so you could say I'm having an identity crisis but if you have any overwhelming opinions on the matter let me know!
Katya Podkovyroff Lewis, Editor-In-Chief
Jul 19, 2018

After Wednesday's "Armed Intruder" Scare, It's Time to Talk Seriously About AU Emergency Preparedness

(Media)

Jun 01, 2018

A Silent Epidemic

(Story)

Apr 19, 2018

More Than A One-Time Problem

(Story)

Apr 17, 2018

Ripped From the Wall: Episode 3, American Gets Hazed

(Story)

Nov 20, 2017

Ripped From the Wall: Episode 2, The Firing of Will Mascaro

(Story)

Aug 25, 2017