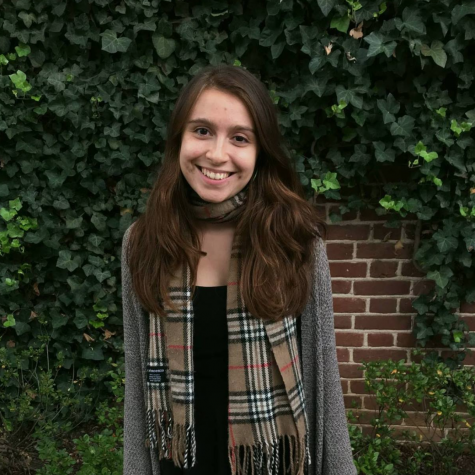 I'm a sophomore majoring in Journalism and International Studies. I'm interested in international politics, LGBTQ+ issues, environmental sustainability, feminism, podcasts and pretty much everything British.
I chose to pursue journalism because I think it's an important method of educating others, investigating topics that are swept under the rug and amplifying voices that are, otherwise, silenced.
Fun Fact? Once, when I was riding my bike, I accidentally crashed into Tina Fey.
Sasha Fernandez, Podcast Assistant
Jun 27, 2019

Climate Action Protesters Host Democratic Debate Watch Party at DNC Protest

(Story)

Apr 24, 2019

Bisexuali-tea, Episode 10: Chosen Families

(Story)

Apr 09, 2019

Bisexuali-tea, Episode 9: Live Edition: The Clog Revolution, LIVE

(Story)

Mar 26, 2019

Bisexuali-tea, Episode 8: Family Matters (ft. Monica)

(Story)

Feb 13, 2019

Bisexuali-tea, Episode 6: Coming out over Fettucine Alredo

(Story)

Jan 29, 2019

Bisexuali-tea, Episode 5: Just The Tips on Flirting

(Story)

Nov 29, 2018

Bisexuali-tea: Episode 4, You Can't Have Sex With Flavored Condoms?! (Feat. Emma)

(Story)

Nov 13, 2018

Bisexuali-tea: Episode 3, I Was On The Bowling Team

(Story)

Oct 29, 2018

Bisexuali-tea: Episode 2, I Took My Guac

(Story)

Oct 15, 2018

Bisexuali-tea: Episode 1, Patrick Swayze is a Bisexual Icon

(Story)