House Resolution-57: Feelin' the Global Groove on H Street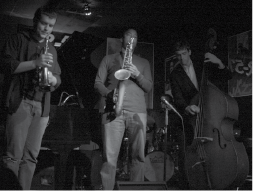 Hang on for a minute...we're trying to find some more stories you might like.
"This show is brought to you by the letters H and R and the number 57," drawls Jimmy "June Bug" Jackson as he strolls toward the stage. "Let's give it up for our guest drummer, Emily!" He situates himself behind his tarnished brass drum set, where a recent SPA alumus sat moments before.
June Bug introduces bassist Marky Mark, who sits downstage left. Marky Mark nods his glistening head at the early-evening crowd before tossing back a swig of liquor from the bottle at his side. Big Paul perches on the edge of a bench in front of a grand piano. Grant, a young professional musician and Boston Conservatory graduate, struts onstage with his saxophone in hand and his head held high. Like the others, he has come to HR-57 for two reasons: to experience jazz and to prove that he is one of the best musicians in DC.
Chatter simmers as music electrifies the air. Musicians shuffle seamlessly on and off stage, trading places with newcomers and regulars. This Thursday night typifies weeknight jam sessions. Performers challenge their skills as they battle to keep up with the established musicians. The intense competition intimidates the talented players who frequent the club.
While waiting for his turn, guitarist Bill Freed admits he still gets nervous when playing here, despite extensive experience playing jazz. Illustrating his veteran status, he points to a canvas on the wall.
"That's me in that painting," he says. In lively hues, it depicts a jam session at the club's former location 10 years ago.
The club was first established in 1993 as a center for jazz preservation. In early 2011, HR-57 moved from Dupont Circle to its current location on H Street, in the Atlas District. According to one musician, the Dupont club was large and ritzy. Owner Tony Puesan sought a venue closer to HR-57's community of players and listeners after his lease expired on the former location.
House Resolution 57, passed by Congress in 1987, inspired the HR-57 Center for the Preservation of Jazz and Blues. The document legally affirms jazz's status as a national treasure. The resolution deems jazz as a unifying force that transcends cultural boundaries, a statement reinforced by the club's clientele.
Representative John Conyers, Jr. (D-Mich.) introduced the resolution in an effort to sustain and advance the culture of jazz. It emphasizes youth involvement as an imperative factor in the perpetuation of jazz as an art form. Young adults struggling to express themselves often find jazz an effective vehicle for communication. This universal language allows individuals not only to participate in this art but also to become connected to one another.
Although jazz began as a distinctly African-American art form, modern jazz culture transcends national and ethnic boundaries. It has evolved as a consequence of historical events and has served as an anthem for the oppressed. African-American slaves, South Africans suffering under Apartheid, and European Jews during the Holocaust sang soulful ballads as they yearned for freedom.
Dr. Clarence Lusane, an SIS professor, discusses the historical interpretations of jazz across cultures in his course, Jazz and International Relations, which he teaches in the spring. Lusane explains jazz culture expanded rapidly and, by the 1930s, had become a global phenomenon. Lusane attributes jazz's immediate globalization to its "universal appeal."
All over the world jazz has represented and continues to represent not only freedom, says Lusane, but the voice of the people. Lusane explains, jazz has taken different forms representing "working class interests, anti-Apartheid interests [and] aspiring middle class interests." In almost all cases, jazz has served as a means of passive resistance. It has proven to be an irrepressible expression of freedom and hope in times of desolation.
The beauty of jazz is its ability to fuse cultural influences. "[It operates] as a collective but [allows] for individuality," says Lusane. By examining the evolution of jazz, one discovers the values of a nation. At the root of the music lies a cause, a dream or a goal. That root is one small but vital piece of a much larger identity. Jazz is a type of peaceful activism, which generates effective international communication.
Washingtonians and Eagles alike can immerse themselves in jazz culture and hear legends like Wynton Marsalis, Hank Jones, Lionel Hampton, Donald Byrd, McCoy Tyner, and Antonio Parker at HR-57. Entry to the club is $8 on Tuesdays, Wednesdays and Thursdays (informal jam sessions) and $15 on Fridays and Saturdays (organized performances). Musicians hint an HR-57 blues club might be on the horizon. News about the jazz club and the HR-57 foundation can be found at www.hr57.org. Visit the club by walking to 816 H Street NE from the Union Station Metro stop or by taking the X2 bus from Chinatown toward Minnesota Ave.