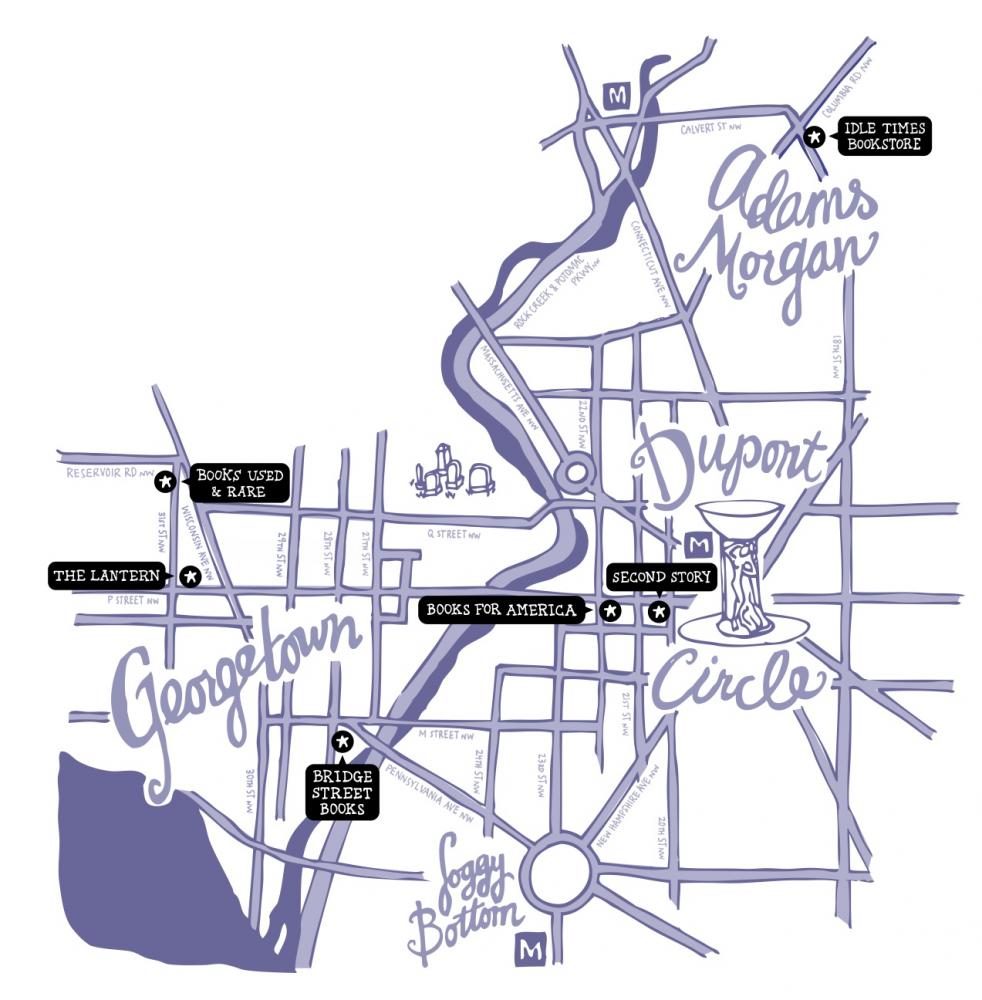 Are you tired of the same old shelves at Kramerbooks? Confused by the organization at Capitol Hill Books? Intimidated by the speakers at Politics and Prose? Then sigh no more, dear reader, for Washington wasn't named the most literate city in America for the second year in a row without due reason. Resident AWOL Overbearing-But-Well-Intentioned Bibliophiles Claire Dapkiewicz and Melanie Germond have traversed the streets of Northwest DC to bring you the top six independent stores in the District that everyone should visit (but may not know about). Rating on the average book price and service, these book lovers know their Penguins from their Signets, and are ready to tell you the dusty facts.
BOOKS USED & RARE
Georgetown, 1660 33rd St NW • Mon–Sat, 10am-5pm; Sun, 12pm–5pm
We begin our crawl directly across from the 30, 32, 34, 36 bus stop at Book Hill in Georgetown. Crowded, creaky and a good deal dark, Books Used & Rare is tailored towards the collector. Its fascination lies in the twists and turns that cut through the basement bookstore, where the shelves are mostly stocked with impressive leather- or cloth-bound editions of literary, political, historical and artistic classics. This is not the store to visit with a title in mind, and the clerk certainly won't help. If collector's feel of Books Used & Rare does not suit you, have no fear. That's a good thing to know earlier rather than later on the trip. Ultimately, Books Used & Rare is worth the stop, not only to get a feel for your book needs, but also to experience the epitome of an unabashedly dusty, bookish atmosphere.
THE LANTERN: A BRYN MAWR BOOKSHOP
Georgetown, 3241 P Street, NW • Tues–Fri, 11am-4pm; Sat 11am-5pm; Sun 12pm-4pm
Just two of the original seven Bryn Mawr Bookshops remain, and Georgetown's Lantern is one of them. Staffed completely by volunteers (including four lovely ladies, all named Elizabeth) the proceeds of the shop go to the Bryn Mawr scholarship fund to aid students of the prestigious all-girls institution.  Buy four books and get the fifth free. Be careful though, a poem pinned in the staircase begs patrons to not buy books simply to display them, but to actually read and love them. The collection comes entirely from donations, and bristles with classics (Shakespeare! Lady Chatterley's Lover!) and curiosities (Urban Gardening! Atlases of the British Empire circa 1900!). Like all donation-driven stores, the selection is variable (and the music mostly symphonic), but it is meticulously tended and familiar to the volunteers, who will graciously send you out the door with where to look next, should you manage the impossible and leave unsatisfied.
BRIDGE STREET
Georgetown, 2814 Pennsylvania Ave NW • Mon–Sat, 11am–9pm; Sun 12–6pm
In a world of price clubs and Amazon.com, Bridge Street Books is the independent store that makes you forget about the book industry and invites you to enjoy the book for what it is: an author's labor of love.  Comfortably packed with such labors, Bridge Street is home to some of the finest curated philosophy, classics, and theology shelves in the city. The staff is incredibly helpful, enthusiastic and somehow they just know what you need better than you do. They understand that sometimes you lose track of time and end up reading Leaves of Grass for an hour on the shop floor (alas, no actual seating area is available), but they never ask you to get up.
BOOKS FOR AMERICA
Dupont, 1417 22nd St NW • Mon, 10am–6pm; Tues–Thurs, 10am-9pm; Fri–Sat, 10am–6pm; Sun, 11am–5pm
Books For America isn't your average charity shop.  It's upbeat, the music in the background is not strictly classical, and all the profits fund the foundation's goal to supply children across the country with a reliable source of books. With everything from cookbooks, new mystery and crime, to classic literature and an impressive history collection—each priced at or below $4.00—there's a lot to feel good about. Take your relationship with them to the next level, and donate all those textbooks you can't sell back at the end of the semester or offer to volunteer.
SECOND STORY
Dupont, 2000 P St NW • Open Seven Days, 10am–10pm
No, there is no physical second story, but don't be put off, for Second Story Books is for both the serious and the aspiring book collector. Rife with ancient leather-bound tomes, used DVDs, CDs (yes, many of them classical) and the average paperback, Second Story works a bit like a treasure hunt: what you came for may not be what you found, but the disparity won't disappoint. A walk through Second Story feels like a crash course in the history of books, and it smells exactly as you expect it to smell­—like the first library you ever visited.
IDLE TIMES BOOKSTORE
Adams Morgan, 2467 18th St NW • Open Seven Days, 11am–10pm
The later you head to Idle Times, the more likely you are to meet Desi and Lucy, the store cats. While this is a fantastic reason to take advantage of their extensive hours—until 10 every night—any time is time well spent at Idle Times. The store's three levels are flawlessly organized—and cross-referenced with handy maps throughout. From DC history to hobbies, they have it all and everything in between; their political section includes several shelves completely dedicated to Noam Chomsky, and their children's section has your old favorites. They also stock greeting cards, calendars, collector's editions, CDs and vinyl. Idle Times is the solution to all your gift giving and collecting needs. There are chairs, stools and poofs tucked away in the corners, plants perched on several of the shelves and the cats that could be in any of the numerous nooks—Idle Times is the epitome of the inviting and homey bookstore, and its just a few mile's crawl away.
Illustration by Hannah Karl.