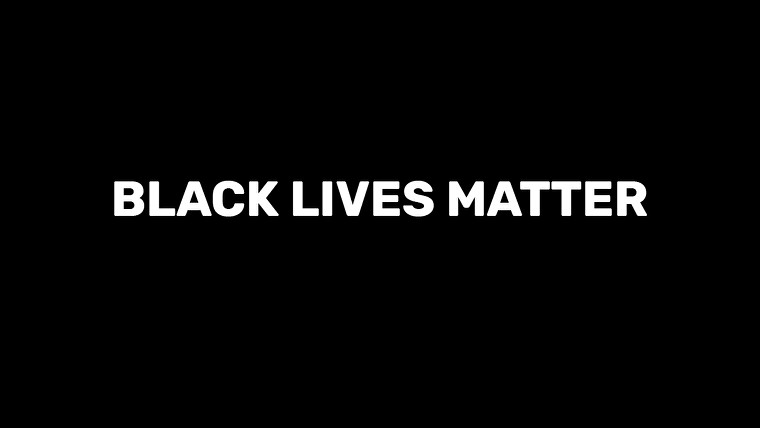 AWOL's editorial board has agreed that as a predominantly white newsroom based at a predominantly white institution, our goal right now should be to amplify black voices. Below, we have compiled a list of resources for American University students and other readers to directly support protesters around the country.
Prioritize your donations to ensure you are donating specifically to local, grassroots organizations. The median annual household income for AU students is $155,300, and 67% of all AU students are from families in the top 20% of Americans in terms of income.
However, remember that support can take many forms.
Protest if you are able. Practice proper sanitary measures to ensure you do not become a vector for COVID-19, which is particularly harmful to minority communities. 
If you are not able to protest, consider participating in community clean-ups and jail support. Donate supplies. Be present.
Most importantly, remember that it should not take the death of a Black person to drive you to support these causes. We can all do better to support these organizations. Consider donating monthly. 

DONATE MONEY
Follow this link to a spreadsheet from Black Lives Matter detailing specific funds to support.
Here's why not to donate to Shaun King.
National bail funds
Split donation between multiple bail funds
Community Justice Exchange (Compilation of bail funds across the country)
Bail funds list
Google doc of bail funds
Twitter thread of bail funds 
National Bail Fund Network 
National Revolving Bail Fund
Freedom Fund (LGBTQ BAIL)
Bail funds by city and state
List of Bail Funds for Protestors | Bail Funds
National Bail Fund Network — Community Justice Exchange
State-specific
Minnesota
Minnesota Freedom Fund (NO LONGER NEEDS FUND, encourages to donate other places) 
Reclaim the Block
Support CTUL! | Centro de Trabajadores Unidos en Lucha PowerBase
Protective Gear for Protesters
MN Bail Fund and Relief List 
Public Goods – A Mutual Aid Project for Minneapolis Public Housing Residents
Gas Mask Fund
Venmo: @Isak-Douah
Cashapp: $Isakdouah
Paypal: [email protected]
Washington, D.C.
How D.C. Bonds work
East Of The River Mutual Aid Fund organized by Black Lives Matter DC
Alabama 
No one left behind fund (Birmingham)
Arizona
Tucson Community Bail Fund
Arkansas
Little Rock – Cash app $LRFreedomFund via the Bail Project
California
LA Bail Fund
Silicon Valley Bail Fund
Peoples City Council Freedom Fund organized by Albert Corado
Black Lives Matter Los Angeles
Covid-19 Mutual Aid Fund Los Angeles
Donations – Silicon Valley DSA (Bail fund)
SF Community Support
Orange County Bail Fund organized by Diana T
Bay Area Anti- Repression Committee Bail Fund
Colorado
Colorado Freedom Fund
Connecticut
CT Bail Fund
Delaware
FNB Bail Fund
Florida
Free Them All Community Bail Fund
Georgia
Atlanta Solidarity Fund
Atlanta Bail Fund (atl solidarity fund)
Atlanta Bail Fund (the action network)
Buy Back Atlanta
Metro Atlanta Mutual Aid Fund
Hawaii
Donate Now | Hawai'i Community Bail Fund by Hawaiʻi Community Bail Fund
Illinois
Black Lives Matter Chicago
Assata's Daughters
Chicago Bail Fund
Chicago COVID-19 Hardship and Help Page
Rockford Illinois Bail Fund
Indiana
Indianapolis Bail Fund
Iowa
Free Our Protesters
Kansas
BLM Lawrence Bail Fund
Kentucky 
Louisville Bail Fund
Louisiana
New Orleans Safety and Freedom Fund
Maine
BLM Portland (Maine)
Maryland 
Baltimore Legal Action Team
Massachusetts
Massachusetts Bail Fund
Solidarity Support Distro
Michigan
Detroit Bail Fund
Mississippi
Mississippi Bail Fund Collective
Missouri 
KC Community Bail Fund Project: Home
STL Mutual Aid
KC Bail Fund (Specific for protesters)
Nebraska
Omaha Nebraska Left Coalition (Write "bail" in the memo)
Nebraska Bail Fund (Nebraska left coalition) (put "bail" in the memo)
Nevada 
Vegas Freedom Fund
New York
Free Them All For Public Health
Trans Emergency Release Fund (LGBTQ+ Led Organization)
COVID Bailout NYC
Brooklyn Bail Fund (No longer needing donations) 
The Bronx Bail Fund
Buffalo Bail Fund
North Carolina 
North Carolina Bail Fund
RDU/NC Bail Fund
Charlotte, NC Bail Fund ($westillhere)
Charlotte Uprising
North Dakota
F-M Solidarity Fund
Ohio
Columbus Bail Fund (@fund_columbus on Twitter)
Cincinnati Bail Fund
Cleveland Pandemic Response
Canton/Akron Bail Fund
Oklahoma
BLM Bail Fund – Oklahoma (Tulsa)
Oregon
PDX Protest Bail Fund organized by Thursday Bram
Pennsylvania
Philadelphia Bail Fund (philly bail fund)
Philadelphia Bail Fund (philly bailout)
Black Lives Matter Philadelphia
Project Safe – Mutual-aid based harm reduction for women, queer, and trans people involved in the street economies of Philly. Kensington based/sex worker focused
Bukit Bail Fund (Pittsburgh)
Dauphin County Bail Fund (Harrisburg)
Lancaster Bail Fund for #BlackLivesMatter organized by Lancaster Stands Up
Rhode Island
FANG Community Bail Fund organized by Sherrie Andre
South Carolina
Charleston, SC Protester Fund (funds bail and supplies)
Pay $sodacitybail on Cash App (Columbia)
Charleston BLM
Tennessee
Just City Memphis
Nashville Community Bail Fund | Providing financial support to individuals who cannot afford to post bail
Donate to the Hamilton County Community Bail Fund (Chattanooga)
Texas
San Antonio Protester Freedom
Community Bail Fund — Restoring Justice
400+1 Bail Fund – www.fourhundredandone.com (Austin)
Luke 4:18 Bail Fund
Bailing out protesters in Harris, Dallas, and Bexar counties
Tarrant County Community Bail Fund
Utah
Covid19 Mutual Aid – SLC (Salt Lake City)
Virginia
Richmond Bail Fund
Washington 
Northwest Community Bail Fund (Seattle)
West Virginia
BLM West Virginia
Wisconsin
Milwaukee Bail Fund
Free the 350
Black Trans Lives Matter
Black Visions Collective
Homeless Black Transgender Woman Fund
Twitter thread: support Black trans/n.b/gnc people

Black-owned businesses
Support small online Black owned businesses 
Google doc of Black owned businesses
Twitter thread: "here's a thread of black small businesses that were destroyed that you can donate to to help rebuild"
gofundme – Black-Owned Business Relief Fund
Twitter thread: "Black owned business that have been affected by the protests that you can help!"
LA Black-owned restaurants doc
gofundme – Rumors Boutique
Twitter thread: "GoFundMe's and donation sites for the local minneapolis/st. paul black and brown owned businesses that need help right now (destroyed at the hands of white supremacists)"
gofundme – Zahalea Anderson (lost her business in Long Beach, CA)
gofundme – Family-owned store burned down in Chicago
Twitter thread: "i'm creating a thread for black owned businesses as well as poc owned businesses damaged by the riots in dallas pls add to it"
gofundme – Somali owned businesses affected by rioters
National Organizations
Campaign Zero 
HOME – National Police Accountability Project (NPAP)   
Black Lives Matter: Home 
Portal Page – Advancement Project – Advancement Project 
Communities United for Police Reform | 
M4BL
The Marshall Project 
LDF
Sylvia Rivera Law Project
BLD PWR
LGBTQ+ organizations
Solutions Not Punishment Co.
Black AIDS Institute |
The Transgender District | San Francisco
Freedom Fund
House of GG – Griffin-Gracy Educational Retreat and Historical Center
Trans Justice Funding Project
The Okra Project
BreakOUT! – Fighting the criminalization of LGBTQ youth in New Orleans, LA
Marsha P. Johnson Institute – Marsha P. Johnson Institute
Alternative media covering protests
UNICORN RIOT – Your Alternative Media
Black News Channel
D.C. specific news
Families of victims of police brutality
Official George Floyd Memorial Fund organized by Philonise Floyd
I Run With Maud organized by Akeem Baker
(Note: the fundraiser for the family of Breonna Taylor has been closed. The family suggests signing this petition: standwithbre.com)
DONATE TIME
Resources for protestors from BLM
List of protests organized and curated by BLM. 
Read this list of 3,101 Black Lives Matter protests and other demonstrations
Assessing an Action Checklist by Malcolm X Grassroots Movement
How to Safely and Ethically Film Police Misconduct

DONATE SUPPLIES
Twin Cities (Minnesota)
Map and Spreadsheet of locations needing supplies or jail support 
Washington, D.C. 
Medical aids, supply donations. Contact for volunteering and which supplies are needed. 
Contact @freedomfightersdc on instagram 
Email: [email protected]
(240) 421-8162 
Atlanta, Georgia 
Call: 404-689-1519 (jail support)
Charlotte, North Carolina 
Call: (980) 224-2097
Delaware 
Call: (833)-362-9456 (Food Not Bombs)
Miami, Florida 
Call: 786-676-8806 (FemPower) 
New York City, New York
Using Signal, text HELLO (718) 550-2312 for jail support updates. They need new people and supplies every day. 
Portland, Oregon
Jail support through the GDC at [email protected] or by 503-442-0866

EDUCATE YOURSELF
The End of Policing free e-book 
SIGN THE PETITION: #DefundThePolice
A list of recommended resources for supporting the Black Lives Matter Movement
Ways To Help, from Black Lives Matter.
Educational materials provided from BLM:
"Stop sharing videos of Black people being murdered. "Seeing all sides" doesn't mean watching someone's murder. Believe Black people. It's gratuitous and exploitative. Imagine being his kin right now." 
Anti-racism resources 
Learn about Black history and activism 
Books by Black Activists 
Black History Month Library
Black Revolutionary Texts
Books: how to be actively antiracist
Book rec: Me and White Supremacy by Layla F Saad
Learn about unconscious bias 
Twitter thread of mental health resources for Black people
Twitter thread on why protesters attacked Target in MN 
Being Black and LGBTQ 
Twitter thread of documentaries 
Open Yale course – African American History: From Emancipation to the Present
ALEC Exposed 
MPLS Protests
Report: What Does it Take to Embed a Racial Equity & Inclusion Lens?
Twitter thread of misinformation
Twitter thread: "how can i help from the uk?"
Macpherson report 
Legislation that has been proposed/passed to address police brutality
SELF CARE FOR BLACK INDIVIDUALS 
https://www.instagram.com/p/CAvqtJdp7fq/?igshid=djzx0oeb0g81 
Free therapy provided by Well Williamsburg Therapy for BIPOC (www.wellwilliamsburg.com) 
Free self-healing resource with an emphasis on the healing of Black people (linktr.ee/yasminecheyenne) 
Organization that is centered around supporting Black mental health and emotional wellness. (https://www.beam.community/)
Organization dedicated to providing resources for the mental health of young Black women. (https://www.blackgirlssmile.org/)
RAISE YOUR VOICE
List of Petitions from BLM
Defunding NYPD Actions to Take 
Contacting Melanie Hartzog 
(212) 788-5900
Script: Hi my name is […] and I am a resident of [borough]. I am asking to call an emergency council meeting and deny the mayor's proposed budget. I would like to redirect money away from NYPD into these social service programs [List of social service programs important to you]. It is crucial that this meeting is called because police are currently being paid overtime for current protests. 
Email or call your own councilmember 
Find them at council.nyc.gov
Financial Division of NYCC Contact: (212) 788-6921
These resources were collected and compiled by AWOL reporters using several major resources and master documents from different organizations. Below you can find more information and see where these resources were gathered from:
#blacklivesmatter, document curated by BLM which includes information on protests, donations, educational materials and more.
Here's Where You Can Donate to Help Protests Against Police Brutality
George Floyd Protests: How to Help, Where to Donate
Home | northstarhealth
Where to Donate to Support the Black Lives Matter Movement
How to Protest in a Pandemic
How to Protest Police Brutality Safely During a Pandemic
Take Action: A List of Ways You Can Stand In Solidarity with the Black Community
https://www.papermag.com/where-to-donate-protests-minneapolis-2646128317.html?rebelltitem=3#rebelltitem3
Natl Resource List #GeorgeFloyd+
This resource will be updated as more information becomes available. If you can provide additional resources to include in this document, email [email protected]. 
AWOL will compile a list of AU specific resources to publish at a later date. 
Stay safe.