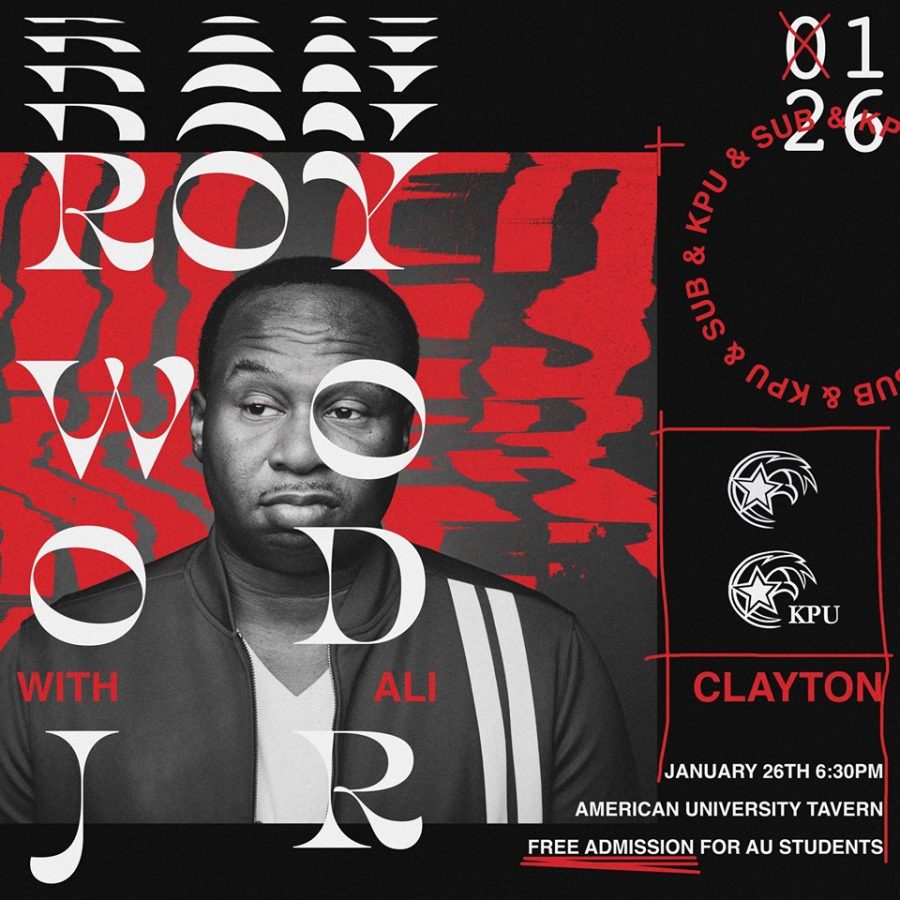 Sporting Beats headphones and a bright orange-red Hawaiian shirt, comedian Roy Wood Jr. arrived at the Mary Graydon Center as the sun set on the District for an event co-hosted by the Kennedy Political Union and the Student Union Board, this past Saturday.
"Just letting you know ahead of time, in case my girlfriend texts me, I'm not ignoring you," Wood said to the room of student reporters, who had a chance to interview him before the main event. "I'm trying to make sure she gets into the show okay. I just don't want you thinking I'm checking my twitter or somethin'," he said.
Wood, an African American comedian, first stepped into the limelight when he won third place on NBC's Last Comic Standing in 2010. Shortly after, Wood starred on TBS's sitcom Sullivan & Son, and has made appearances on The Late Show with Stephen Colbert, Late Night with Seth Meyers, and The Tonight Show with Jimmy Fallon. But he's best known for his role on Comedy Central's The Daily Show with Trevor Noah.
Wood attributes his success to his worth ethic, which stems from his upbringing as an African American in the South.
"I started in Tallahassee, and the South, for amateur comedians, the South is a wasteland," Wood said. "The opportunities are not nearly as frequent. They're better now, but I started in 1998… You can perform every week but every week you had to go to a different city."
What separates Wood from other comedians is his use of serious social issues as material. The New York Times recently reported on Wood's unique sense of humor, in which the reporter compared him to the late Dick Gregory, a civil rights-era comedian.
"I get why cops don't like firefighters. You've never seen firefighter and wondered if he's one of the good ones," Wood joked recently at the Comedy Cellar, according to the New York Times article.   
His unique sense of humor is why Wood enjoys performing at universities. He feels that students are more engaged with social issues, which is especially true at AU, which was ranked as America's Most Politically Active Campus by The Princeton Review in 2018.
"I enjoy performing at colleges. It's even more fun performing at colleges where I feel like the student body is engaged in what's happening in the world. Because my comedy is about what's happening in the world. I think I'm in synergy with a student body like [American University's]," he said.
Despite his perceived connection with the students of AU, Wood said that he is surprised at students' ability to make jokes.
"I'm surprised that as angry as young people are, that they're still able to find their sense of humor in the midst of all this bullshit that's going on in our country right now. If anything, that means that all is not lost if you can still find the way emotionally to deal with it."
He adds that students have a higher demand for comedy now because of the political environment.
"Trump being in office didn't make comedy better. It didn't make the comedians funnier. There's more pain so the comedy's more meaningful. Water tastes better when you're thirsty," Wood said.
The current political climate has changed comedy in America. Out of the 6,337 jokes made by late night talk show hosts during President Donald Trump's first year in office, 49 percent (3,128) of them were about President Trump.
Although late-night comedians use the ailing Trump administration as an endless source of comedic material, Wood explains that it is difficult for comedians to navigate the thin line that defines what is funny and what's offensive.
"A lot of [understanding] depends on where I place a joke in my act," Wood said. "The problem that we have now in 'outrage culture', people have a right to be upset but as comedians, we are starting to drift into a realm where people are booing the premise and not the punchline. My counter to that in these times is to be mindful about how I go into particular topics."
There is no clear definition of the term 'outrage culture,' despite its mainstream usage publications like the Huffington Post and The Atlantic. The Chicago Tribune's Heather Willhelm defined it as the "art of being offended by everything."
AU is ranked the ninth most liberal college in America, according to Niche, a college ranking and review website. AU's liberal student body does oppose certain topics in comedy.
"I do think there should be limits to comedy. Like hate speech shouldn't be allowed," sophomore Rose Cunningham said.
Sophomore Issac Pokryska agrees.
"Socially, there should be limits," Pokryska said. "You have the right to be offended, but you shouldn't outright ban someone from saying something offensive."
While he is known for his comedy, Wood has a bachelor's degree from Texas A&M in broadcast journalism and encourages students studying journalism to become experts in their field.
"It gives you more control to self-produce," Wood said. "It gives you more options when it's time to look for other jobs. Diversity on your resume will always reign supreme. With layoffs and mergers, more and more companies are looking for people who can do multiple things. I wouldn't be surprised if the hospitals ask the brain surgeon to also be the anesthesiologist."
Wood added that networking is critical for those interested in pursing a career as a standup comedian.
"It's about finding people at the local level who are doing it and attempting to find some level of commonality between them. Look at [comedy] like having a conversation," Wood said.
Following the interview, Wood ran up to stage greeted by a packed Tavern. Students were standing in the back in order to see the show, as those on staff scrambled to find more seats.
"How's everyone doing tonight? How did your basketball team do tonight?"
You can watch Wood on his special No One Loves You now streaming on Comedy Central. Catch him on Comedy Central's The Daily Show and This is Not Happening, which has a new episode premiering on Friday.