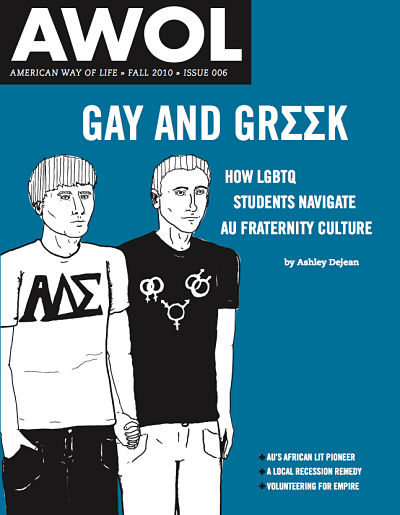 Greetings, all. We're excited to finally announce the official release of our fall magazine. We hope you enjoy the product of all our long and hard work. Some highlights:
In our cover story, Ashley Dejean does a thorough report on the intersection between two of AU's most visible and proud communities: fraternities and LGBTQ students.
Robbie Cavooris explores the ethical pitfalls of international volunteering, after second-guessing himself while teaching English in Colombia.
AWOL sits down for an in-depth conversation with Charles Larson, the AU literature professor who pioneered the study of African literature in the United States.
How have D.C. residents coped with the recession? Richard Phillips talks with members of the Save Our Safety Net campaign about local activists' efforts to raise money for social programs by imposing a "millionaire tax" on D.C.'s wealthy.
Erin Lockwood shows how AU's "WONK" campaign means a lot for the university, but very little for students.
Last time we checked, Katzen was a resource for students in the university's fine arts programs. But AU's administration doesn't think so. Emily Reid addresses the encroaching presence of non-student related events occupying the building's valuable space for the arts community.
Did you know that AWOL received almost $10,000 from the AU media board this year? Our editors discuss some of the ethical implications of this money, and how it affects the scope of our journalistic voice on campus.
Cuba made a deal with the devil, according to Chris Lewis's remarkable photo essay on the tourism industry's impact on this cash-strapped island nation.
You'd be surprised to see how our country counts its citizens. Nora Pullen recounts her experience as a census worker last summer and the questionable tactics the government uses to ensure accuracy.
There's much more to be found, so be sure to explore the site. Enjoy!